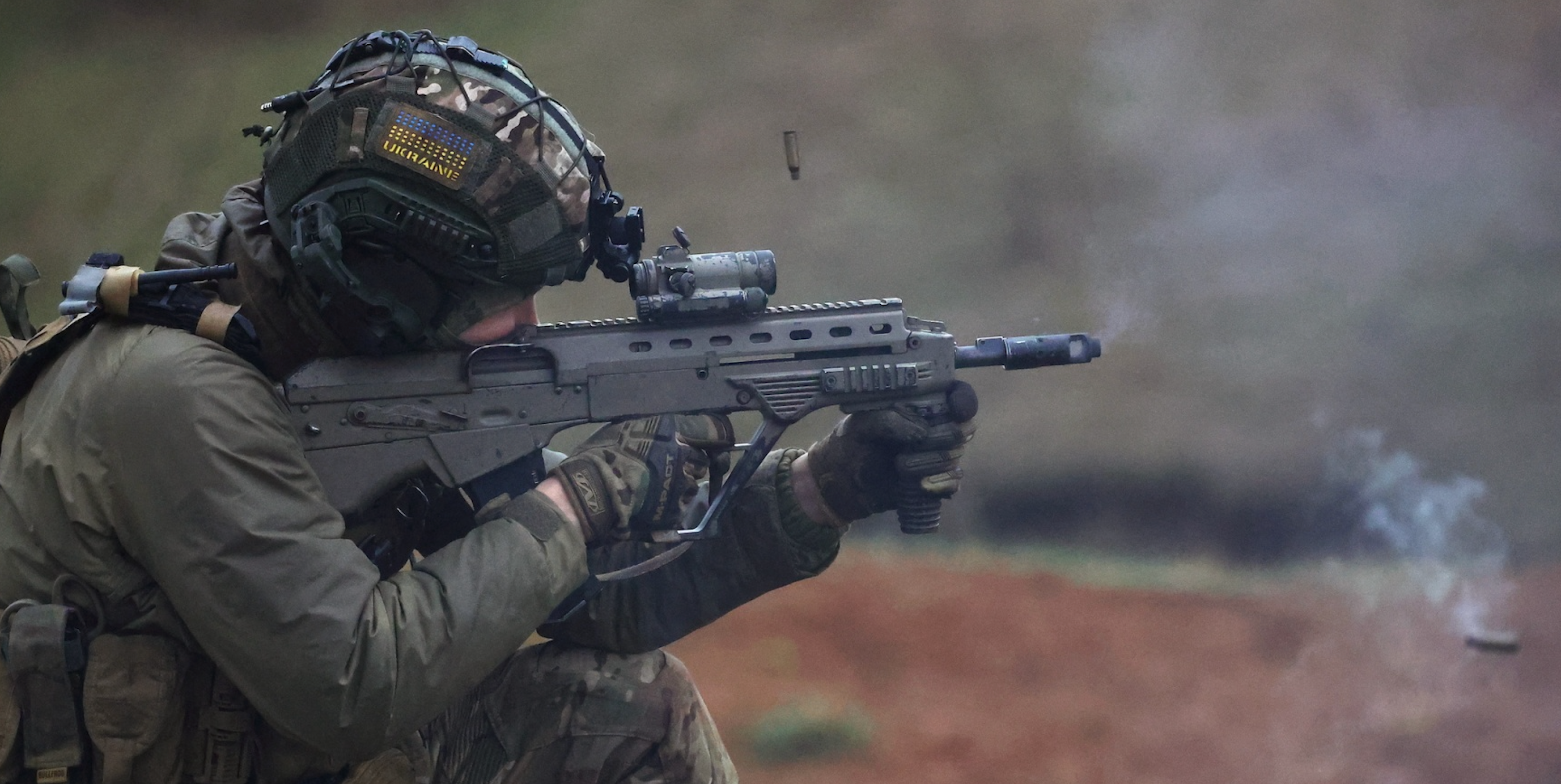 Ukrainian forces press southward, say strategic village recaptured from Russians
PHOTO CAPTION: Illustrative photo — A Ukrainian soldier is seen firing a Malyuk rifle. (Reuters photo by Kai Pfaffenbach via Al Jazeera)
(Reuters) - Ukrainian forces pressed their counteroffensive through the Russian-occupied southeast on Thursday, capturing the village of Staromaiorske in a campaign to drive a wedge through Russian defensive positions.

The counteroffensive has focused on securing villages on the southward push and areas around the eastern city of Bakhmut, taken by Russian forces in May after months of battles. Ukrainian officials have reported slow, steady progress.

Russian President Vladimir Putin acknowledged intensified Ukrainian attacks over the last few days, but said they had made no headway. He told Russian television that every Ukrainian assault had been beaten back, and that Moscow's forces had inflicted significant losses on their opponents.

A U.S. official, speaking on the condition of anonymity, said Ukraine had deployed additional Western-trained troops to at least one axis in the counteroffensive, but had held back some. Media reports spoke of a new phase in the drive.

A video posted on Ukrainian President Volodymyr Zelenskiy's Telegram channel showed Ukrainian soldiers celebrating the capture of Staromaiorske in the southeast.

"The 35th brigade and the 'Ariy' territorial defence unit have fulfilled their task and liberated the village of Staromaiorske. Glory to Ukraine!" said a soldier in the video that Reuters was unable to immediately geolocate.

The village lies to the south of a cluster of small settlements that Ukraine recaptured along the Mokri Yaly River as the counteroffensive began.

"Our defenders are now continuing to clear the settlement," said Ukrainian Deputy Defence Minister Hanna Maliar declaring Staromaiorske liberated.

Reuters could not independently verify battlefield reports.

Zelenskiy has said that the counteroffensive is proceeding more slowly than he would like but warned people not to expect rapid results akin to a movie scene.

Zelenskiy on Wednesday had obliquely hailed "very good results" on the battlefield, while giving no details.


PRESIDENT TOURS EAST, SOUTH

On Thursday, he toured southern and eastern regions, including the major city of Dnipro and the port of Odesa, where he discussed damage to port facilities from Russian air strikes, and the town of Ochakiv, subject to frequent Russian shelling.

In his nightly video address, he said little about the front, other than praising the recapture of Staromaiorske.

Ukrainian military analyst Oleksandr Kovalenko said the new focus of Ukrainian efforts on the southward drive was Staromlynivka, a village less than 5 km (three miles) away.

"It really serves as a stronghold for the Russian occupiers, the peak of the second defensive line in this location," he said in an interview with the RBC UA media outlet.

The drive southward is aimed at severing the land bridge Russian forces have created linking areas occupied in the east in the 17-month-old invasion and Crimea - annexed in 2014.

Despite gains achieved by Ukrainian troops, mostly in the northeast and far south late last year, Russia still holds about 20 percent of Ukraine's land.

On Wednesday, three different media outlets cited unidentified U.S. officials as saying Ukraine had launched a new phase of its ambitious counteroffensive.

Asked about these reports, Yuriy Sak, an adviser to Ukraine's defence minister, told Reuters that "there is nothing new" happening at front lines. "In the south, we are moving forward slowly but surely," he said.

In the east, Russia's defence ministry said Russian forces had repelled Ukrainian attacks around the village of Klishchiivka, which occupies elevated ground near Bakhmut, and north of Robotyne on the front line in the Zaporizhzhia region.

In her account, deputy minister Maliar wrote on Telegram that Ukrainian forces were "gradually moving forward" near Bakhmut, and that fighting was continuing near Klishchiivka and two other villages.

Maliar also said Ukraine had beaten back Russian attacks on two northern fronts near Kupiansk and Lyman.



(Reporting by Max Hunder and Felix Light; Writing by Ron Popeski, Editing by Mark Heinrich and Grant McCool)

MORE FROM THE
OAF NATION NEWSROOM