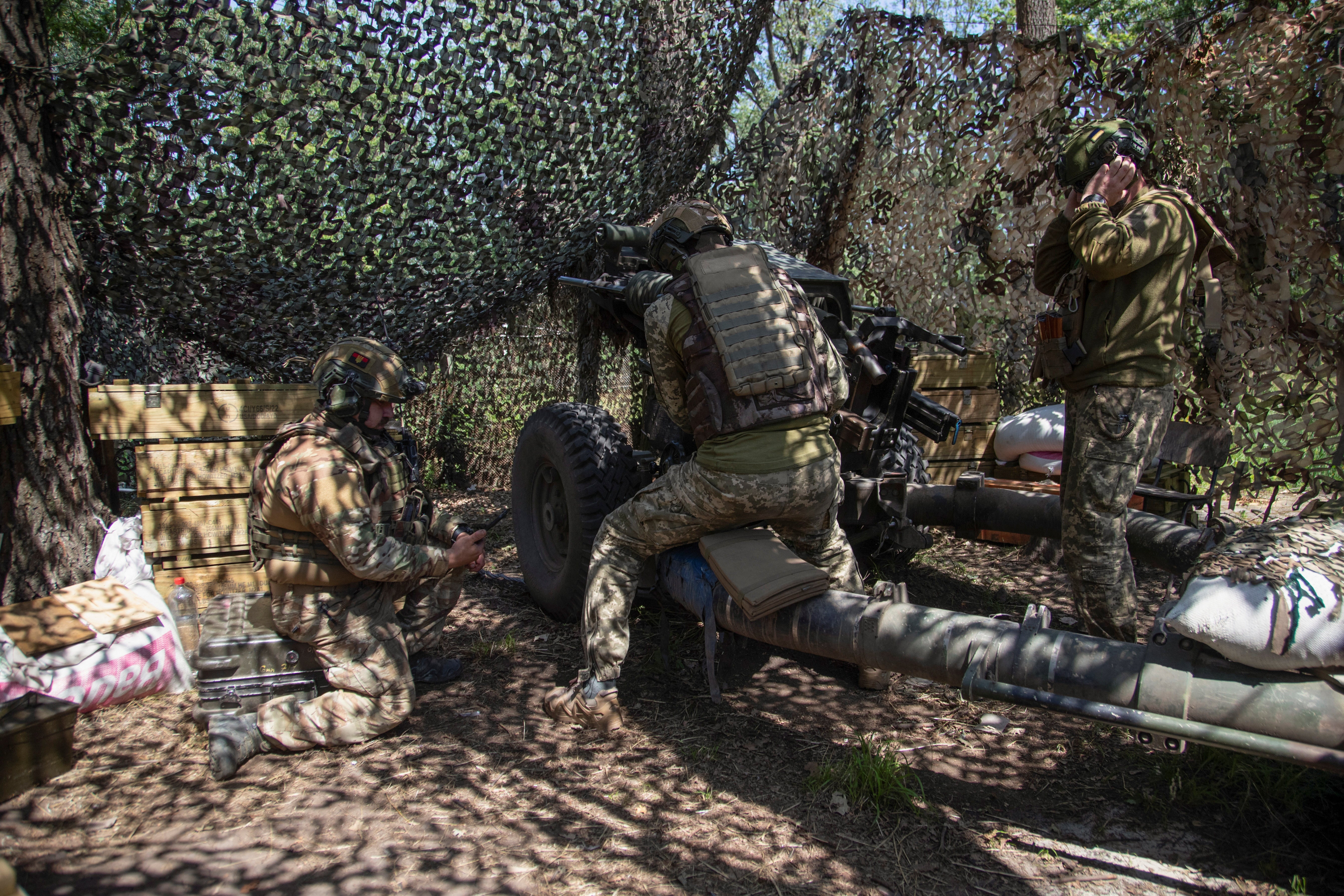 Ukrainian artillerymen praise US howitzers outside Russian-held town
PHOTO CAPTION: Ukrainian servicemen prepare a M119 howitzer for firing towards Russian troops at a position near a frontline, amid Russia's attack on Ukraine, in Donetsk region, Ukraine June 19, 2023. REUTERS/Oleksandr Ratushniak
By Max Hunder
NEAR KREMINNA, Ukraine (Reuters) - The artillerymen of Ukraine's 67th infantry brigade are delighted with the U.S.-supplied M119 howitzer amid an increase in military exchanges south of the Russian-held town of Kreminna.
The men now stationed in Ukraine's northeast have been redeployed from positions around the devastated town of Bakhmut - encircled and locked in fierce fighting for more than nine months before it fell last month to Russian mercenaries.
The northeast, where Ukrainian troops made big, rapid gains late last year, may be somewhat less intense, but it still saw plenty of exchanges. And the level of activity has risen noticeably in recent days.
Nearly 16 months after the Russian invasion, Ukraine has embarked on a counter-offensive focusing on the south and east and benefiting from supplies of U.S. and other Western weapons.
The M119 is described by military experts as a versatile, manoeuvrable and accurate weapon for light units, but with a specific, limited range of up to about 20 km (12.4 miles).
The artillerymen spent the day firing at enemy targets with the M119s, which they say they have had for seven months. And, by their account, work brilliantly in the area's gruelling artillery battles.
"It all happens in waves," said a gunner, aged 48, who introduced himself by his callsign, Skipper, and sported a cropped beard and cheeky grin.
"I can't say that it got more intense. Still, over the last five days, we observe that they (Russian troops) became more active."
Exchanges of fire, he said, had picked up on both sides where his unit was stationed.
"We also became more active, but everything else had better remain a secret. You'll see what's next."
The artillerymen moved quickly to load their gun, toiling in the heat of a sunny June day.
Near the front lines, the sky was a clear blue punctuated by thick columns of black, grey or white smoke rising in the distance where artillery had struck.
Some reached hundreds of metres into the air.
Skipper and several of his comrades lauded the M119 for its precision and compact size, which made it easier to operate, hide and move.
A gunner identifying himself as Cousin, 47, lavished praise on the weapon.
"It is wonderful … They say that modern war heavily relies on artillery, that's our mission," he said.
"What is most important is to have enough shells. We can manage everything else on our own."
(Reporting by Max Hunder near Kreminna; Editing by Ron Popeski and Stephen Coates)
MORE FROM THE
OAF NATION NEWSROOM