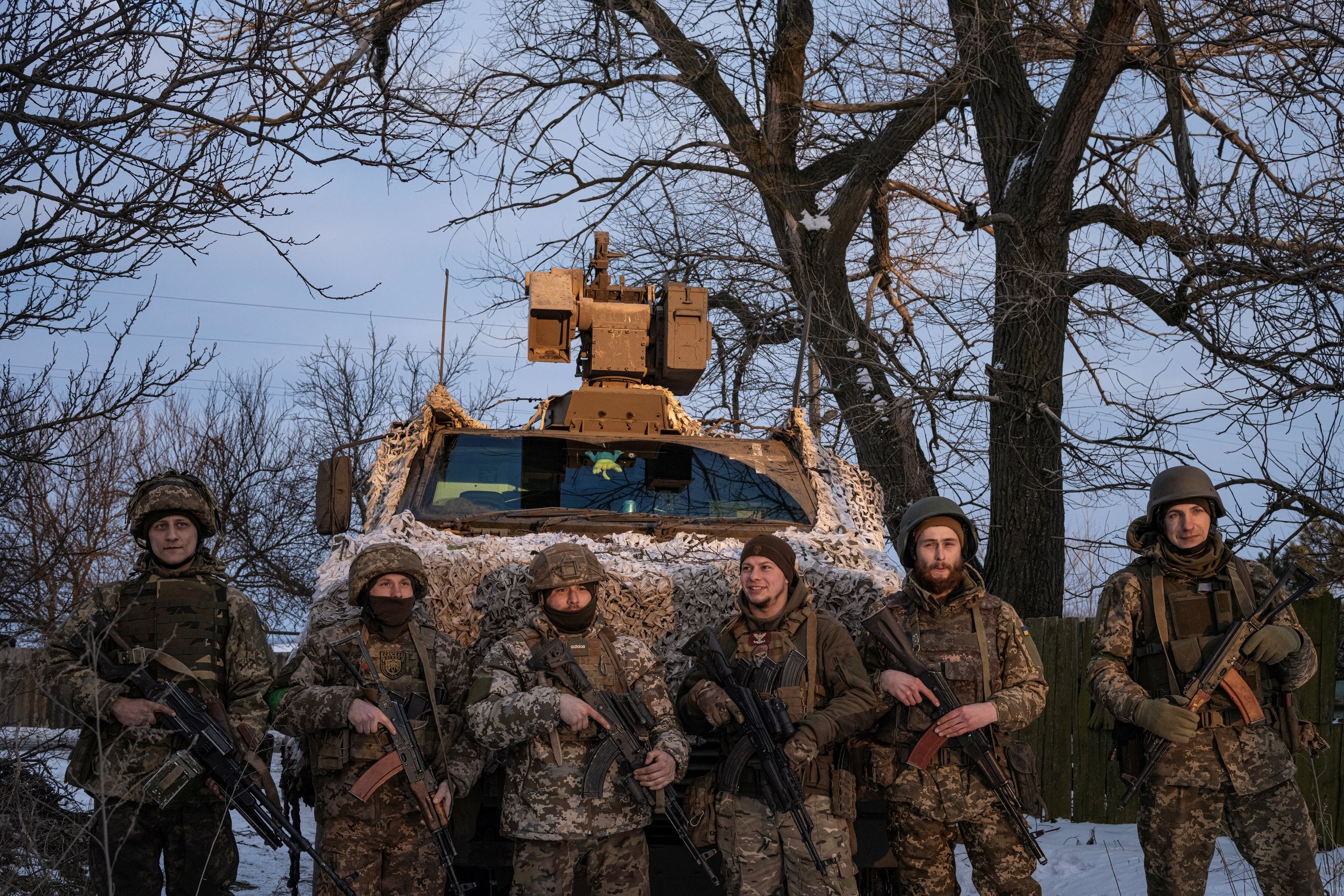 Ukraine's priority to hold the line as global security leaders meet in Munich
KYIV (Reuters) -Russian forces intensified attacks along front lines in eastern Ukraine on Friday as senior politicians and military leaders from around the world were due to meet in Germany with Ukrainian officials expected to address the security conference.
Bolstered by tens of thousands of reservists, Russia has intensified ground assaults across southern and eastern Ukraine as the first anniversary of its Feb. 24 invasion nears.
A major new Russian offensive appears to be taking shape and the governor of the Luhansk region in eastern Ukraine reported a significant increase in Russian attacks on Friday along front lines there.
"Today it is rather difficult on all directions because the number of attacks rose significantly, shelling also increased a lot, even with the air force," the governor, Serhiy Haidai, told a Ukrainian television broadcaster.
"There are constant attempts to break through our defence lines," he said of fighting near Kreminna city.
Russia rained missiles across Ukraine on Thursday and struck its largest oil refinery. Of about 36 missiles that Russia fired, about 16 were shot down, the air force said, a lower rate than normal.
There was no word from Russia on the latest fighting or the missile strikes and Reuters could not independently confirm the battlefield reports.
Ukraine said Thursday's barrage included missiles that its air defences cannot shoot down, which will only add urgency to its appeals for more Western military support.
German Chancellor Olaf Scholz, French President Emmanuel Macron and U.S. Vice President Kamala Harris are among many top officials attending the Munich Security Conference.
Last year's gathering took place days before the war began. As Russian troops massed on Ukraine's borders, Western leaders in Munich urged President Vladimir Putin not to invade and warned of dire consequences if he did.
This year, leaders will grapple with the consequences of Putin's decision to ignore their pleas and unleash the most devastating war in Europe since World War Two that has killed countless thousands and forced millions to flee.
Russian leaders will be notable by their absence at the conference, which runs until Sunday, but senior Ukrainian officials are expected to address it.
Ukrainian President Volodymyr Zelenskiy said in his nightly video address his priority was to hold off Russian attacks and get ready for an eventual Ukrainian counter-offensive.
"Holding the situation at the front and preparing for any enemy steps of escalation - that is the priority for the near future," he said.
U.S. officials have advised Ukraine to hold off with any counter-offensive until the latest supply of U.S. weaponry is in place and training has been provided.
'BODIES PILED UP'
Russia's focus is on the small eastern city of Bakhmut in Donetsk, one of two regions making up the Donbas, Ukraine's industrial heartland now partially occupied by Russia.
In battles led by the Wagner mercenary group swelled by prison recruits, Russia has for months been pounding and encircling Bakhmut. Most of its pre-war population of about 70,000 people have left, leaving Ukrainian soldiers dug in.
"They are sending a lot of troops. I don't think that is sustainable for them," the Ukrainian 80th Air Assault Brigade's press officer, Taras Dzioba, said of the Russians.
"There are places where their bodies are just piled up. There is a trench where ... they just don't evacuate their wounded or killed."
Dzioba spoke to Reuters as he stood near a Howitzer battery outside a defensive bunker close to the Bakhmut front lines.
Its capture would give Russia a stepping stone to advance on two bigger Donetsk cities further west, Kramatorsk and Sloviansk. But Ukraine and allies say seizing Bakhmut would be a pyrrhic victory given the months it has taken and the losses Russia has sustained.
In Munich, the war will reignite long-running debates on questions such as how much Europe should build up its own military capacity, and how much it should rely on the United States for its security.
Police in Moldova, where parliament on Thursday approved a new pro-Western government, said they again found missile debris near the border with Ukraine.
Meanwhile Belarus, which allowed Russia to use its territory to send troops into Ukraine at the beginning of the war, said it would only fight alongside its ally if it was attacked.
Germany said 1.1 million people arrived from Ukraine in 2022, exceeding a migrant influx of 2015-16.
Israeli Foreign Minister Eli Cohen travelled to Ukraine, the first such visit during the war from Israel, which coordinates with Russia over strikes on suspected Iranian targets in Syria and has stopped short of pledging arms to Kyiv.
On Twitter, Cohen said Israel would increase the aid it gives Ukraine and would help it rebuild.
(Reporting by Olena Harmash, Max Hunder, Pavel Polityuk, Yiming Woo, Caleb Davis, Tim Heritage, Jake Cordell, Gwladys Fouche, Sabine Siebold, Ron Popeski, David Ljunggren, Gabriela Baczynska, Andrew Gray, Andreas Rinke; Writing by Robert Birsel; Editing by Stephen Coates)
MORE FROM THE
OAF NATION NEWSROOM