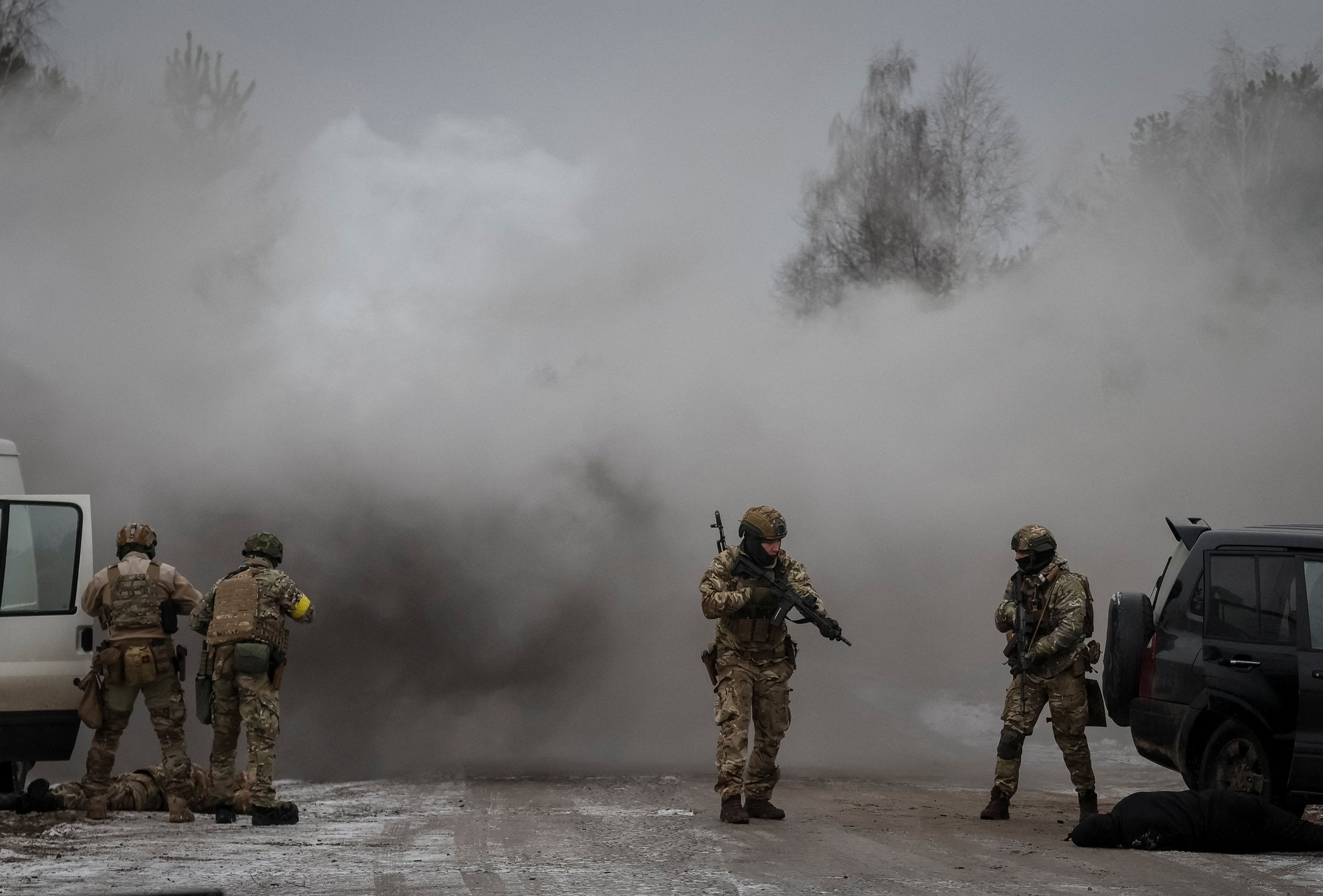 Ukraine stages drills near Belarus amid fears of Russian assault
RIVNE REGION, Ukraine (Reuters) -The crackle of gunfire and roar of armoured vehicles reverberated around sleepy west Ukrainian towns near the Belarusian border on Wednesday as Kyiv's forces trained for the threat of a fresh assault across a new front in the north.
Ukraine fears Russia could build up forces on the territory of its ally Belarus before striking in the northwest or even try to drive towards Kyiv as it did when it invaded last February.
By reopening a northern front, Russia would stretch Kyiv's forces, which have been focused for months on battles raging in the east and south, forcing it to divert troops to the north.
Colonel Roman Voloschuk of the 104th Territorial Defence brigade sought to project strength on the sidelines of military drills in three secret locations in Ukraine's northwest.
"They can try, but we're ready for them. We've prepared, every turn and every junction has been dug up. There will be colossal resistance from every building," he told Reuters.
Soldiers from his territorial defence unit, one of hundreds of militias raised shortly before Russia's Feb. 24 invasion, said they were well prepared to face down any new threat.
"They will get their comeuppance... we are waiting for them," said Artur Horodniuk, a 28-year-old machine gunner.
Anticipating what kind of attack Ukraine may face, Kyiv's troops on Wednesday practised urban warfare, firing assault rifles, driving armoured vehicles and freeing hostages.
In another exercise in the snowbound countryside, troops practised ambushing and destroying reconnaissance groups, a feature of the first Russian assault from Belarus that Moscow abandoned early last April.
Voloschuk said the mild winter so far would help defence efforts as it had left river levels higher than usual and many of his soldiers were battle-hardened from last year's fighting.
PRESSURE
Despite bringing colossal pressure onto the eastern town of Soledar in recent days, Russian forces have appeared on the back foot on the battlefield for months and a sudden assault from Belarus would mark an astonishing change of dynamic.
Konrad Muzyka, head of defence analysis firm Rochan Consulting, said a slow buildup of Russian forces could be observed in Belarus, but it was much smaller than the force which piled into northern Ukraine last February.
Nevertheless, a Russian offensive was possible and a push into west Ukraine could jeopardise supply lines of weapons from Europe, he added.
Serhiy Nayev, commander of Ukraine's Joint Forces, said Ukraine had enough troops to defend the current threat and would match any increases on the other side of the border if needed.
"At present, the balance of forces and equipment between our side and the enemy is not in favour of the enemy," he said.
Local Ukrainian commanders said there were 15,000 Russian troops in Belarus -- too few to launch a major offensive.
There has been a slew of military activity for months in Belarus, ranging from joint exercises to the establishment of a joint regional Belarusian-Russian military force.
Russian President Vladimir Putin visited Belarusian leader Alexander Lukashenko in December in a rare trip to Minsk, prompting speculation it preceded an attack on Ukraine, possibly with the direct involvement of the Belarusian army, even though Minsk has said it will not enter the war.
Muzyka put the chances of Belarus joining on Russia's side at 50-50, noting the intensity of the military training exercises there was the highest since the Cold War. Belarus could send 100,000 - 200,000 conscripts to the war, but its dated equipment would not provide new capabilities, he added.
Despite talking up the danger in comments last month, Ukrainian general Nayev now downplayed the threat of a new offensive from across the border. "We do not see an increase in the presence of Russian troops on Belarusian territory," he said, but he added anything was possible in future.
(Reporting by Max Hunder; Editing by Tom Balmforth, William Maclean, Alexandra Hudson)
MORE FROM THE
OAF NATION NEWSROOM