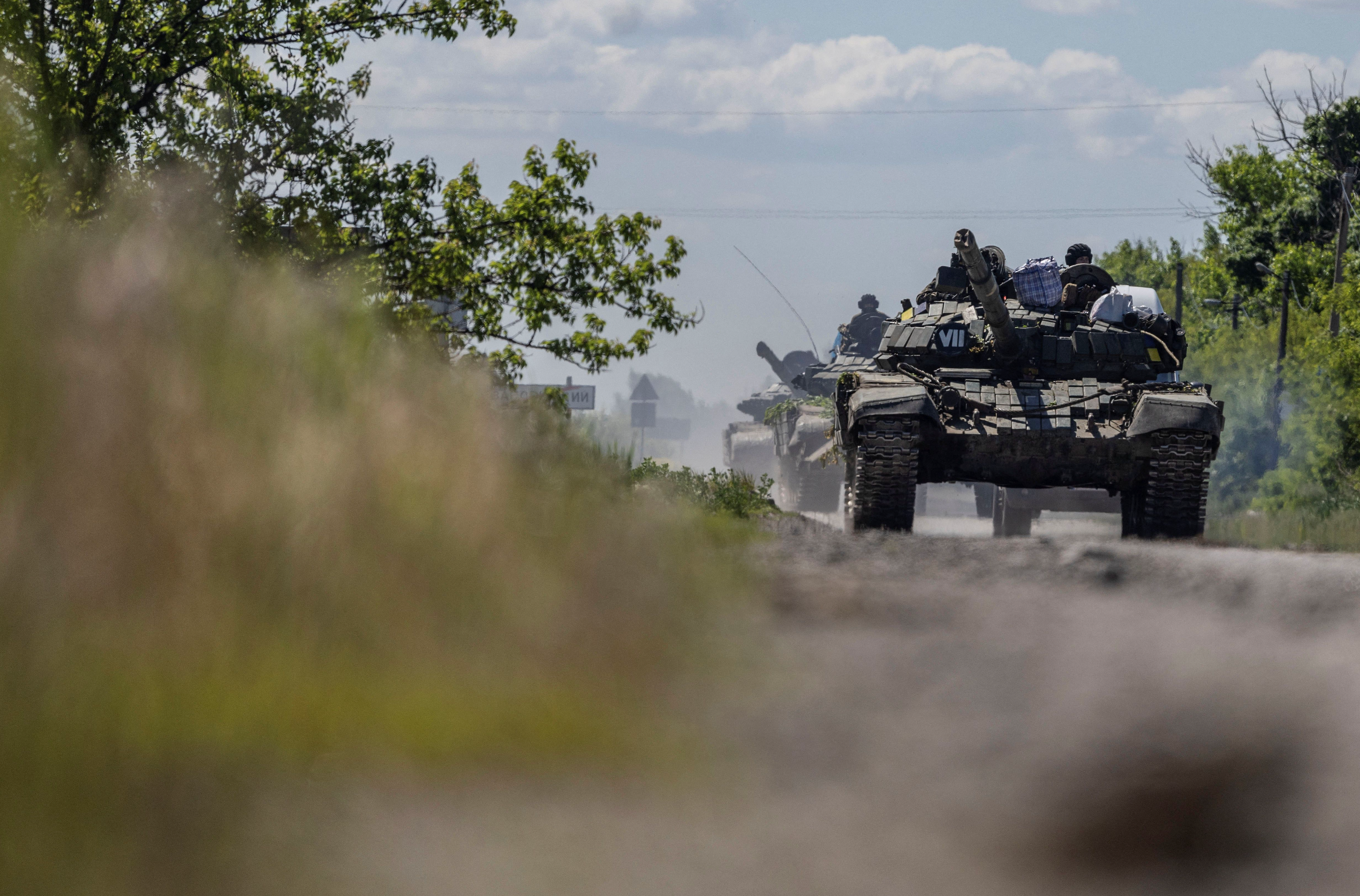 Ukraine reports fierce fighting, "some success" in counteroffensive
PHOTO CAPTION: Representational photo — Ukrainian service members ride on top of a tank along a road, amid Russia's invasion of Ukraine, near the town of Pokrovsk, Donetsk region, Ukraine, May 25, 2022. REUTERS/Carlos Barria
KYIV (Reuters) - Ukraine on Monday reported fierce fighting along its entire front line and "some success" in pushing back Moscow's troops in one part of the southeast where Ukrainian forces are trying to retake Russian-occupied territory.

Progress has been hampered by widespread Russian-laid minefields and strong fortifications, Deputy Defence Minister Hanna Maliar said.

But the Ukrainian military had pushed forward around the village of Staromaiorske, around 60 miles southwest of Russian-held Donetsk, and was pressing on two fronts in the south, Maliar said.

Troops were fighting for control of the neighbouring settlement of Urozhaine, she said. A Moscow-installed official in an occupied part of Ukraine's Zaporizhzhia region said on Sunday that Kyiv was attempting to pierce Russian lines by gaining a foothold in both villages.

"Hostilities are taking place in the vicinity of Urozhaine and the fight is for this particular locality," Maliar said in a statement to an official military platform. "There is some success on the southern and southeast axes in the vicinity of Staromaiorske."

Ukrainian forces have made incremental gains since kicking off their long-awaited operation in June, but officials in Kyiv have acknowledged that progress has been slower than they would have liked and hampered by rigid Russian defences.

In Monday's statement, Maliar described the nature of that challenge.

"The Armed Forces are facing complete mining of the territory, cement fortifications of the key heights, (and) constant mortar and artillery shelling," she said. "Additionally the Russians are densely using aviation."


Maliar added that the Ukrainian military managed to retake nearly 2 square miles during the past week around the ruined eastern city of Bakhmut, where Russian and Ukrainian forces fought the bloodiest battle of the nearly 18-month war.

She also said Russian troops were continuing their assault around the eastern towns of Kupyansk and Lyman, where she said they were regrouping.

"The Russians have intensified these offensives after success of the Ukrainian army on Bakhmut axis," Maliar said.

Russia still controls around a fifth of Ukraine, including the Black Sea peninsula of Crimea, Luhansk region in the east and swathes of the regions of Donetsk, Zaporizhzhia and Kherson. The occupied territory includes most of Ukraine's coast line and parts of its industrial heartland, the Donbas.



(Reporting by Dan Peleschuk; Editing by Angus MacSwan)
MORE FROM THE
OAF NATION NEWSROOM