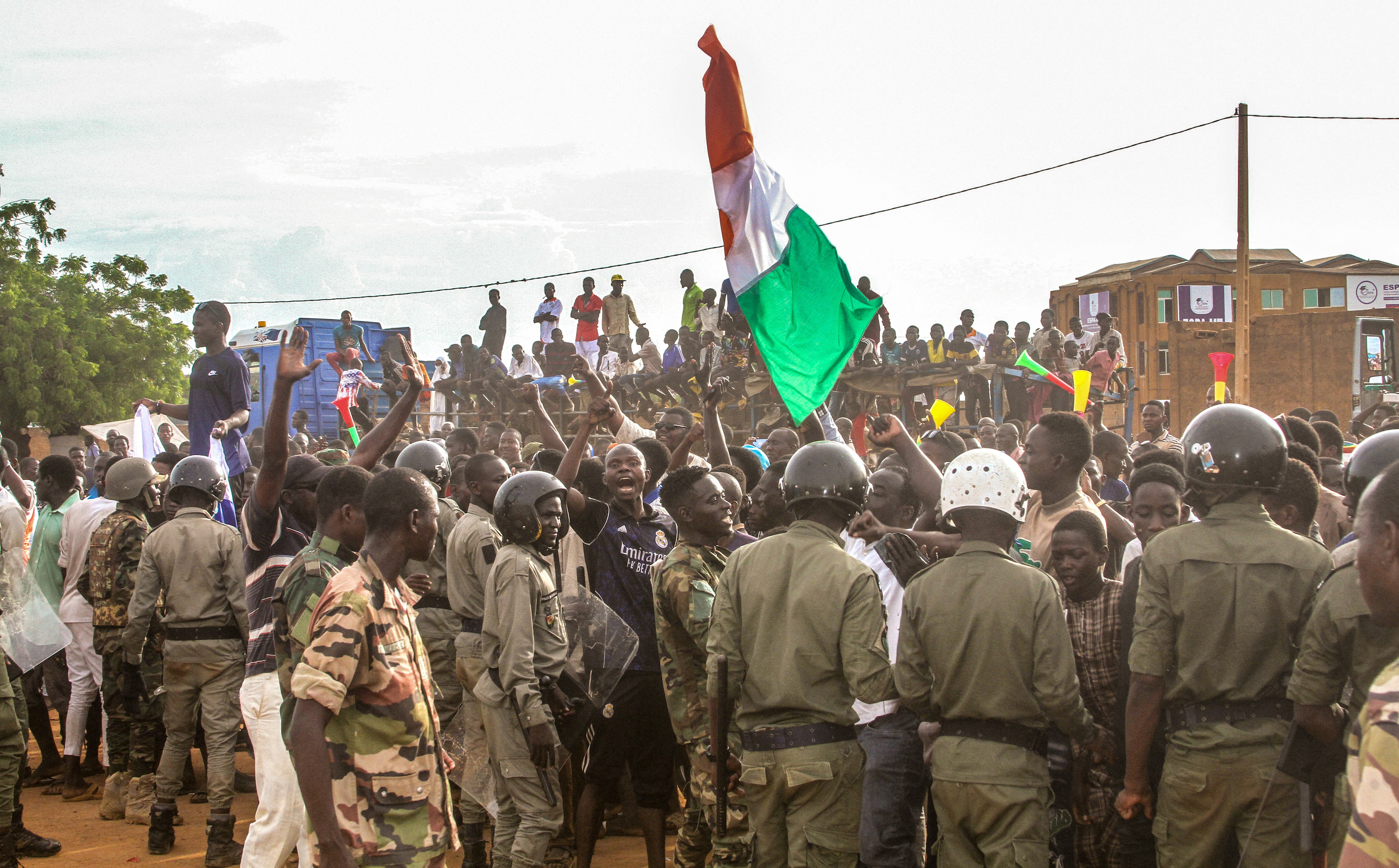 Niger junta says it will try ousted president for treason, West Africa bloc tries diplomacy again
PHOTO CAPTION: Niger's junta supporters take part in a demonstration in front of a French army base in Niamey, Niger, August 11, 2023. REUTERS/Mahamadou Hamidou/File Photo
NIAMEY (Reuters) -The military junta that seized power in Niger in a coup last month has said it will prosecute ousted President Mohamed Bazoum for high treason over his exchanges with foreign heads of state and international organisations.

The coup leaders have imprisoned Bazoum and dissolved the elected government, drawing condemnation from global powers and neighbouring West African countries, which have activated a standby military force that could intervene to reinstate Bazoum.

At stake is not just the fate of Niger - a major uranium producer and Western ally in the fight against an Islamist insurgency - but also the influence of rival global powers with strategic interests in the region.


Junta spokesperson Colonel Amadou Abdramane said in a statement read out on state TV late on Sunday that the military authorities had "gathered the necessary evidence to prosecute the ousted president...for high treason and undermining the internal and external security of Niger."

Abdramane also said there was a misinformation campaign against the junta to try to "derail any negotiated solution to the crisis in order to justify military intervention ... in the name of ECOWAS".

The African Union, the European Union, the United States and the United Nations have all said they are worried about the conditions in which Bazoum is being kept.

Bazoum's political party has said his family has no access to running water, fresh food or doctors, and Bazoum told Human Rights Watch that his son needed to see a doctor because of a serious heart condition.

But the junta said on Sunday that Bazoum was regularly seeing his doctor and that the last visit was on Aug. 12.

"After this visit the doctor raised no concerns about the state of health of the ousted president and members of his family," Abdramane said.


MORE TALKS

West Africa's main regional bloc ECOWAS is expected on Monday to push for more talks with the junta, which has signalled a potential willingness to find a diplomatic resolution to the standoff over the July 26 coup.

The bloc's parliament on Saturday said it wanted to send a committee to meet the junta in Niamey, but the proposed timing of that mission is not clear.

The Peace and Security Council of the 55-nation African Union is also expected to meet on Monday to discuss the situation in Niger, a sign of the level of concern over the possible fallout from West and Central Africa's seventh coup in three years.

U.S., French, German and Italian troops are stationed in Niger, in a region where local affiliates of al Qaeda and Islamic State have killed thousands and displaced millions.

Meanwhile, Russian influence has grown as insecurity increases, democracy erodes, and leaders seek new partners to restore order.

Western powers fear Russia's clout could increase if the junta in Niger follows Mali and Burkina Faso, which ejected the troops of former colonial power France after coups in those countries.

(Writing by Anait Miridzhanian and Alessandra Prentice; Editing by Alexander Winning, Lincoln Feast and Angus MacSwan)
MORE FROM THE
OAF NATION NEWSROOM