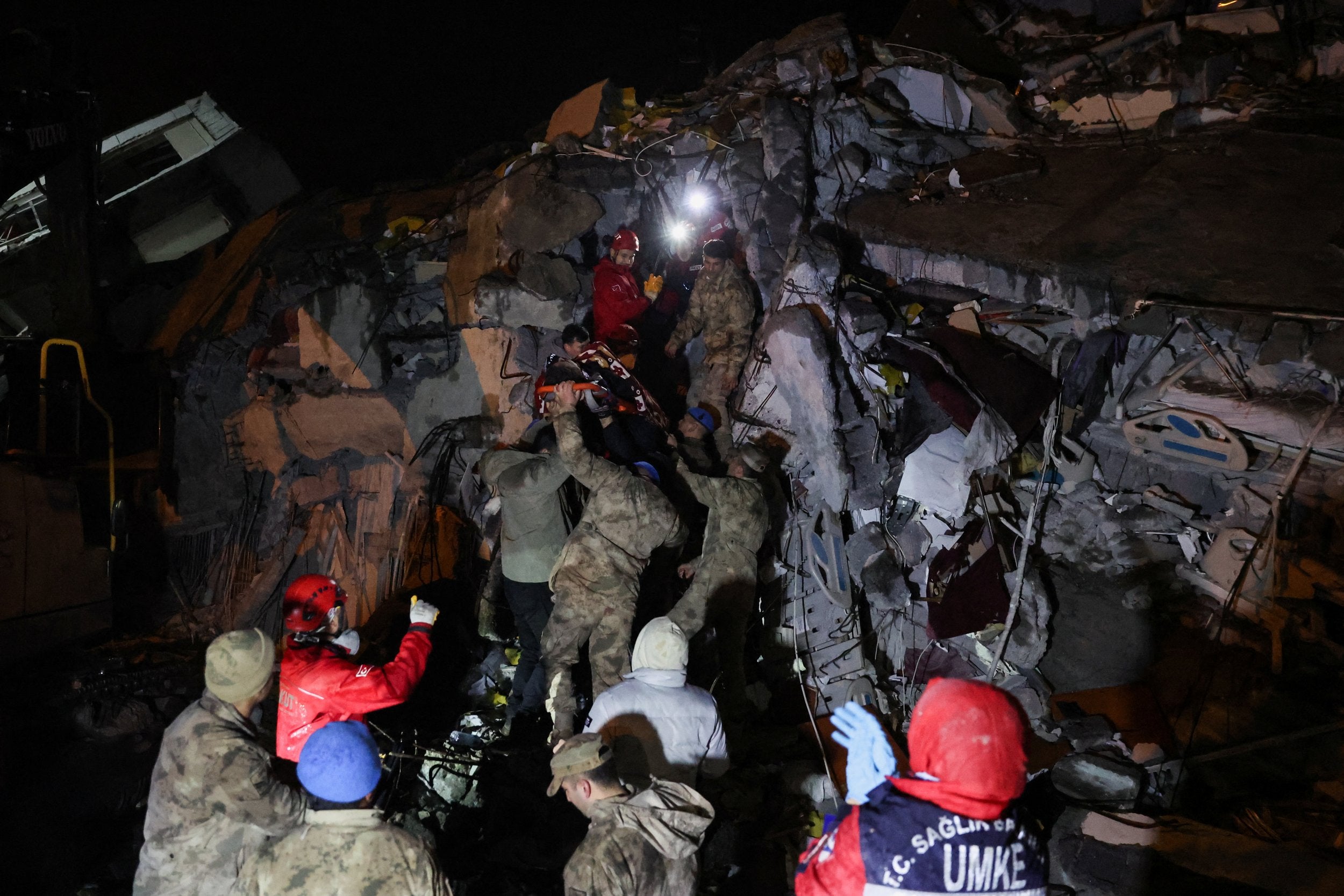 Turkish quake rescue teams comb through Iskenderun hospital debris
By Ece Toksabay and Huseyin Hayatsever
ISKENDERUN, Turkey (Reuters) - Rescue teams on Monday were searching through the wreckage of the state hospital in Iskenderun, Turkey, that was partly flattened by a huge earthquake that has already claimed almost 3,000 lives.
As darkness fell, a wounded person was pulled out of the rubble and taken away on a stretcher. The rescuers climbed up the enormous pile of debris that was once the part of the Iskenderun Hospital that provided intensive care. They were hopeful of finding more survivors, despite the rain and cold. Generators provided the power for lights.
Relatives gathered, searching for news of their loved ones.
"We have a patient who was taken into surgery but we don't know what happened," said Tulin, a woman in her 30s, standing outside the hospital, wiping away tears and praying. "God help us. We already lost three relatives today, including my aunt. My uncle is in there... God forbid we lose him too."
In the part of the hospital still standing, health workers were doing their best to tend to injured people amid chaotic scenes. With insufficient ambulances, people came in private cars, and dozens lay on mats on the floor by the hospital entrance.
An ambulance worker arrived, shouting: "Child coming, child, child!" and a colleague rushed forward with a blanket.
An intensive care unit nurse who gave her name as Merve said she had been on night shift when the quake happened before dawn.
"All of a sudden, the building started to shake, and it gradually grew. My friends and I did not try to leave the building, we didn't leave our patients. Then we heard a terrible noise, the building started to collapse," she said.
"The stairs were damaged, we couldn't leave the building. We did not know the majority of the building was collapsed at first. But when we left our room, the corridor was in ruins."
Merve was eventually rescued, but her colleagues and patients in the other part of the building were not so lucky, she said.
"Fifteen hours have passed, I can't contact any of my colleagues, none of them under ruins were able to be rescued. My colleagues did not leave their patients, I don't know what to say."
More than 1,200 buildings were destroyed by the quake in Hatay province alone, where Iskenderun is located. At least 520 people have been killed in Hatay, said Turkey's Health Minister Fahrettin Koca.
"Iskenderun state hospital's old building collapsed in the earthquake. The rescue efforts continue for patients and personnel under the rubble," Koca said.
(Reporting by Ece Toksabay and Huseyin Hayatsever, Writing by Rosalba O'Brien, Editing by Hugh Lawson)
MORE FROM THE
OAF NATION NEWSROOM