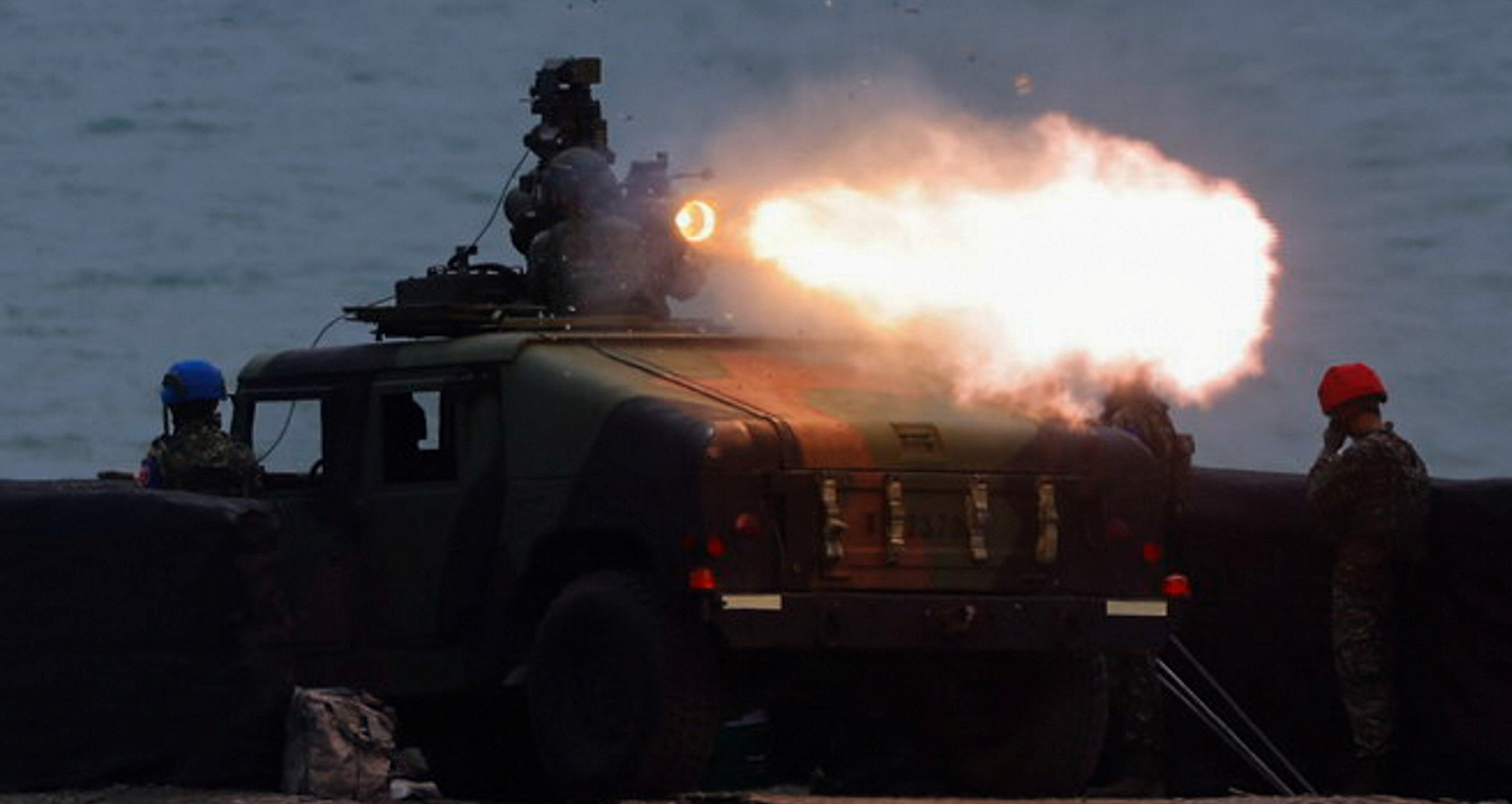 Taiwan military holds live fire drills on strategic southern coast
PHOTO CAPTION: A solider launches a US-made TOW 2A missile during a live fire drill in Pingtung, Taiwan July 3, 2023. REUTERS/Ann Wang
By Fabian Hamacher and Ann Wang
FANGSHAN, Taiwan (Reuters) - Taiwan's military carried out live fire drills on its strategically-located southern coast on Monday, firing missiles from highly mobile armoured cars to destroy targets close to shore in a simulation of repelling invading forces.
China, which views democratically governed Taiwan as its own territory, has ramped up military pressure over the past three years to try to assert its sovereignty claim, and the island's armed forces routinely practice seeing off a Chinese attack.
Camouflaged Taiwan army Humvees roared around the coastal drill area in Pingtung county's Fangshan near the far southern tip of the island, before firing off U.S.-made TOW anti-tank missiles to destroy static targets near the shoreline.
"Most of the drills we carried out today involved live artillery because the defence exercise needs to be similar to actual combat, allowing our army to be confident and have the capability to protect our homeland," Defence Ministry spokesperson Sun Li-fang told reporters.
Pingtung, which looks out on the Taiwan Strait, South China Sea, Pacific Ocean and Bashi Channel that separates Taiwan from the Philippines, is a highly strategic spot to watch Chinese military activity, and a potential landing site in an invasion.
Taiwan holds its most important drills, the annual Han Kuang exercises, at the end of this month, with a focus on combating a blockade and preserving the fighting ability of its forces.
Those drills are expected to see air force jets operating at civilian airports, including the island's main international airport at Taoyuan, to practice using their facilities in case air bases are rendered unusable in a war.
China practised precision strikes and blockading the island in drills around it in April after Taiwan President Tsai Ing-wen met U.S. House of Representatives Speaker Kevin McCarthy in Los Angeles.
Beijing has never renounced using force to bring the island under its control. Taiwan rejects Beijing's sovereignty claims and has vowed to defend its freedom and democracy.
(Reporting by Fabian Hamacher and Ann Wang; Writing by Ben Blanchard; Editing by Clarence Fernandez)
MORE FROM THE
OAF NATION NEWSROOM