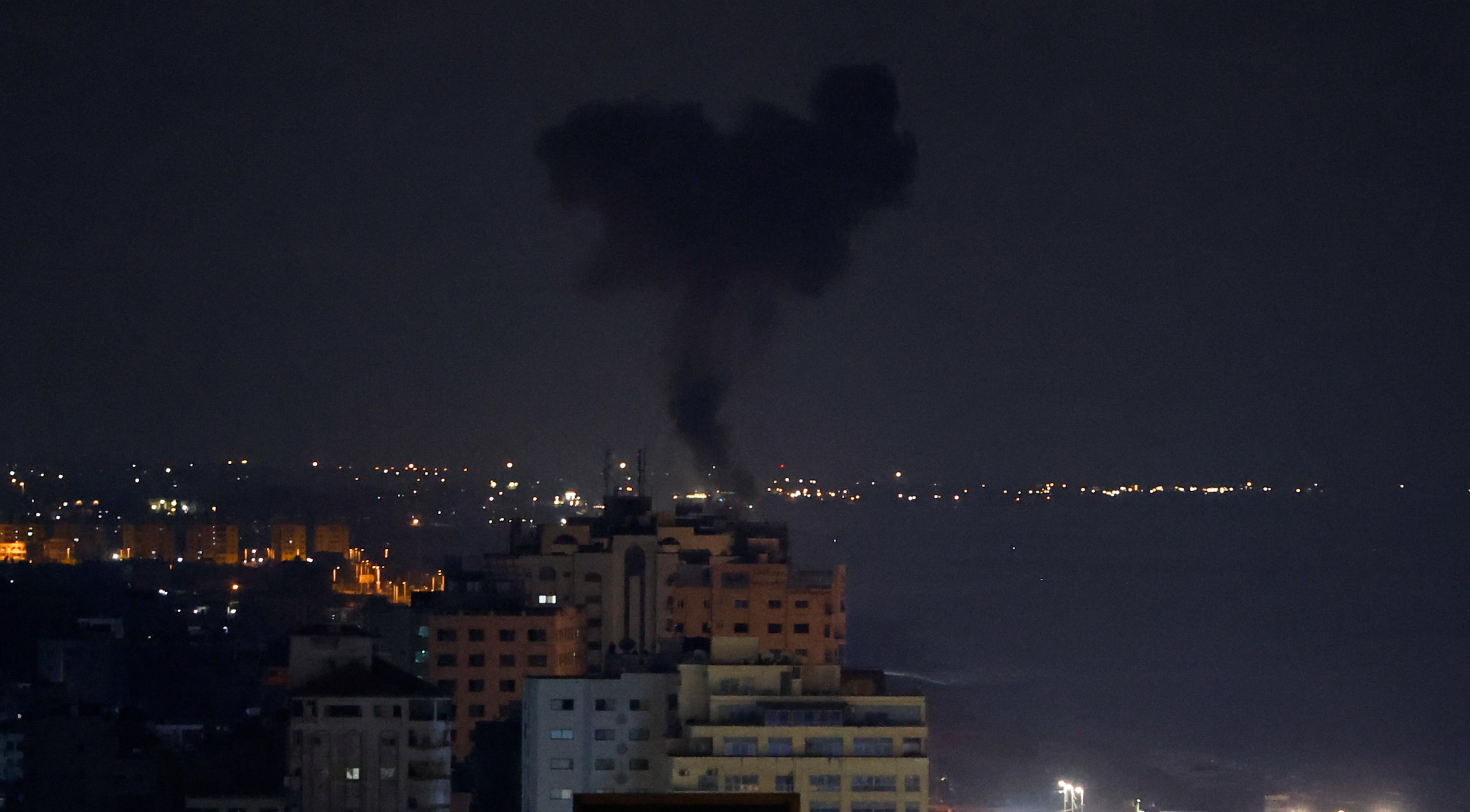 Israeli troops withdraw from West Bank, Gaza rockets fired
PHOTO CAPTION: Smoke rises during Israeli airstrikes in Gaza City July 5, 2023. REUTERS/Mohammed Salem
By Ali Sawafta
JENIN, West Bank (Reuters) -Militants from the Gaza Strip fired rockets on Wednesday after Israeli forces withdrew from the Palestinian city of Jenin on Tuesday, following one of their biggest military operations in the occupied West Bank for years.
Israeli jets hit an underground weapons manufacturing facility in response, the military said, but it was not immediately clear whether there would be any further escalation.
Hours earlier, two Reuters reporters saw convoys of Israeli military vehicles leaving Jenin after dark in what appeared to signal an end to an Israeli operation that began early on Monday.
Twelve Palestinians, at least five of them fighters, and one Israeli soldier had been killed.
The operation, which the army said was aimed at destroying militant infrastructure and weapons in the Jenin refugee camp, was launched with a drone strike on Monday, and over 1,000 troops were deployed.
After they left, residents who had vacated the camp during the fighting began returning to its dark streets. Some surveyed the damage to the light of their mobile phones.
The densely populated refugee camp, where some 14,000 people live in less than half a square kilometre, has been one of the focal points of a wave of violence that has swept the West Bank for more than a year, drawing growing international alarm.
A few hours after the forces began withdrawing, Palestinian militants in the Gaza Strip fired five rockets toward Israel, the military said. The rockets were intercepted and there were no immediate reports of casualties.
There was further escalation on Tuesday with a car-ramming and stabbing attack claimed by the Palestinian Hamas militant group in Israel's business hub Tel Aviv, in which eight people were hurt.
As Israeli troops were leaving Jenin, explosions could still be heard in the northern West Bank city amid reports of a gunbattle near a Jenin hospital. Reuters could not immediately verify that report.
Doctors Without Borders said Israeli forces had fired tear gas at a hospital where its teams were working.
The Israeli military said it had no knowledge of its forces firing in the vicinity of a hospital but that it did carry out an air-strike at gunmen that had taken up positions in a cemetery and posed a threat to the withdrawing troops.
"At this moment we are completing the mission, and I can say that our extensive activity in Jenin is not a one-time operation," Israeli Prime Minister Benjamin Netanyahu said at a checkpoint near the city.
500 FAMILIES EVACUATED
Palestinian fighters from militant groups including Hamas, Islamic Jihad and Fatah had fortified the camp with obstacles and watching posts to counter regular army raids.
Power and water supplies remained cut off in the camp and in some areas of the city after bulldozers that ploughed up roads looking for improvised bombs cut cables and a main water pipe.
Israeli forces uncovered underground explosives caches, one concealed in a tunnel under a mosque, confiscated 1,000 weapons and arrested 30 suspects, the military said.
The Palestinian Red Crescent said it had evacuated 500 families from the camp, around 3,000 people.
Jihad Hassan, 63, who fled the camp after his son was wounded, said a drone strike had prompted him to leave.
"You don't hear a sound, you just see the explosion," he said, as he waited with his son at the Jenin Government Hospital. "It is something, when a person is forced to leave their home."
Around 100 people have been injured, the Palestinian health ministry said, 20 of them seriously.
The Islamic Jihad claimed four of the 12 fatalities as its fighters. Hamas claimed a fifth. The status of the others was unclear. Israeli officials said as far as they were aware, no civilians had been killed.
The fighting underlined once more the lack of any sign of a political solution to the decades-long conflict and international reaction to the operation was mixed.
The United States said it respected Israel's right to defend itself but said it was imperative to avoid civilian casualties. The EU said it was gravely concerned by the escalation and U.N. bodies voiced alarm at the scale of the military action.
The U.N. Security Council said it will meet behind closed doors as requested by the United Arab Emirates. Saudi Arabia and Bahrain condemned the operation.
Many businesses across the West Bank closed on Tuesday in response to calls for a general strike to protest the operation, which the Palestinian Authority has described as a "war crime".
(Additional reporting by Maayan Lubell and Dan Williams in Jerusalem; Nidal al-Mughrabi in Gaza; Raneen Sawafta in Jenin; Ronen Zvulun near Jenin; Michelle Nichols in New York; Writing by James Mackenzie; Editing by Raju Gopalakrishnan and Conor Humphries, Mark Heinrich, David Gregorio, Andrea Ricci and Michael Perry)
MORE FROM THE
OAF NATION NEWSROOM