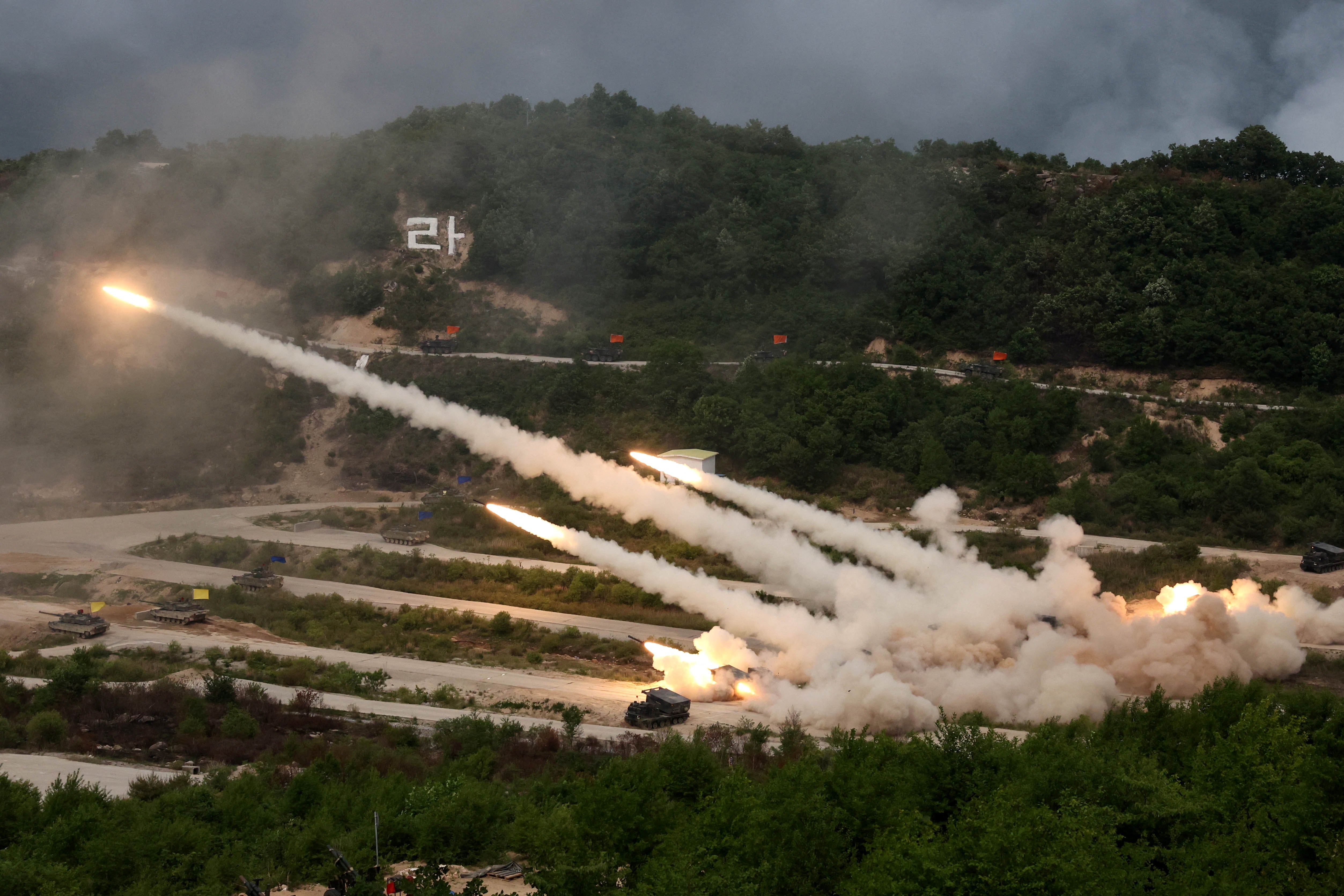 SKorea, US hold largest live-fire drills to respond to "full-scale" attack
PHOTO CAPTION: The South Korean army's multiple launch rocket systems fire rockets during South Korea-U.S. joint military drills at Seungjin Fire Training Field in Pocheon, South Korea May 25, 2023. South Korean Defence Ministry/Yonhap via REUTERS
By Soo-hyang Choi and Daewoung Kim
SEOUL/POCHEON, South Korea (Reuters) -South Korean and U.S. forces began live-fire exercises simulating a "full-scale attack" from North Korea on Thursday in what they said were the biggest such drills to demonstrate their "overwhelming" military capability against the North's threats.
Howitzers pounded into a mountainside in Pocheon near the fortified border with North Korea, while battle tanks manoeuvred and fired their guns at targets, sending smoke, dust and shockwaves across the valley.
Some 2,500 troops from the South and the United States took part in the exercises, which will be held four more times from now until mid-June, South Korea's defence ministry said.
"The exercise demonstrated our military's capability and readiness to strongly respond to North Korea's nuclear and missile threats and to a full-scale attack," the ministry said in a news release, vowing to maintain "peace through overwhelming strength".
Last week, North Korea's state media reported that leader Kim Jong Un had approved final preparations for the launch of the North's first military spy satellite. Kim has said it is necessary to counter threats from the U.S. and South Korea.
Analysts say the satellite will improve North Korea's surveillance capability, enabling it to strike targets more accurately in the event of war.
Recent commercial satellite imagery showed progress on a new launch pad in the North's satellite launching station, with activity at a "new level of urgency," most likely in preparation for the launch, the U.S.-based monitoring group 38 North said.
U.S. and South Korean forces have been carrying out various training exercises in recent months, including air and sea drills involving U.S. B-1B bombers, after many drills were scaled back amid hopes for diplomatic efforts and COVID-19 restrictions.
North Korea has reacted angrily to the drills, which it characterises as preparation by U.S. and South Korean forces for an invasion.
(Reporting by Soo-hyang Choi in Seoul and Daewoung Kim in PocheonEditing by Simon Cameron-Moore, Robert Birsel and Frances Kerry)
MORE FROM THE
OAF NATION NEWSROOM