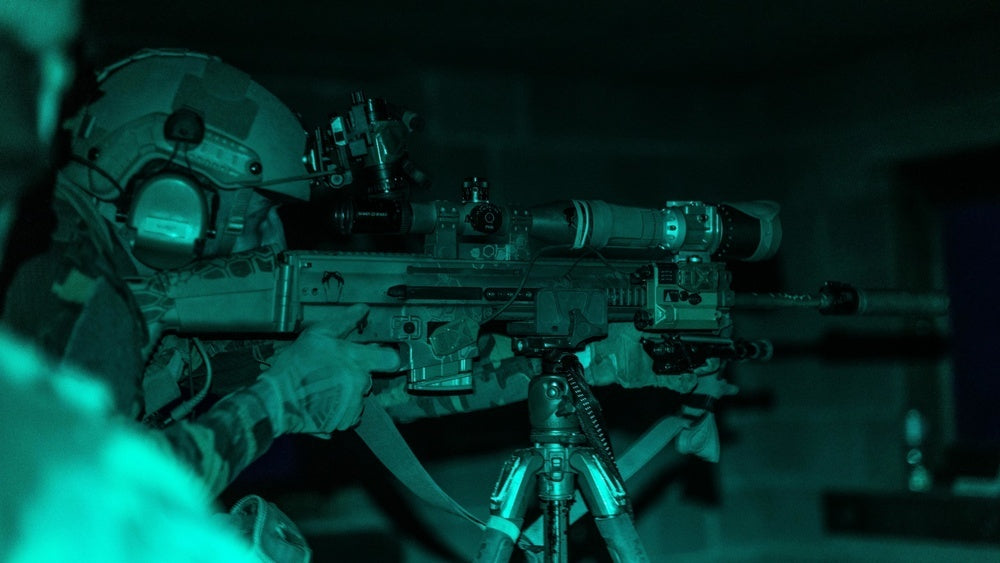 SKorea, EU agree to boost security ties amid Ukraine, NKorea tension
Illustrative photo — A Belgian special operations forces (SOF) sniper engages a target under the cover of darkness at the International Special Training Center's Urban Sniper Course, June 3, 2021, Hohenfels Germany. (U.S. Army Photo by Sgt Patrik Orcutt via U.S. Defense Visual Information Distribution Service)
SEOUL (Reuters) - South Korea and the European Union agreed on Monday to step up cooperation on security amid tension over Russia's invasion of Ukraine and North Korean nuclear threats. 
South Korean President Yoon Suk Yeol held a summit in Seoul with European Commission President Ursula von der Leyen and European Council President Charles Michel, during which the leaders also pledged to work together on climate change, health and supply chains.
"South Korea and the EU are important partners that share universal values of freedom, human rights and rule of law," Yoon told a joint press conference.
    Yoon has been pushing for greater security ties with Europe and other U.S. allies to address global challenges, including the conflict in Ukraine and tension over China's stance towards self-ruled Taiwan. He also wants cooperation to curb North Korea's nuclear ambitions. In June, he attended a NATO summit for the first time as a South Korean leader.
At Monday's talks, which mark the 60th anniversary of bilateral relations, Yoon and the EU leaders in a joint statement condemned Russia's invasion of Ukraine as a grave violation of international law. They also criticised North Korea's ongoing efforts to develop its nuclear arsenal and Pyongyang's threats of the possible use of nuclear weapons against South Korea. 
    "Russia must stop its aggression and immediately, completely and unconditionally withdraw all of its military forces from the entire territory of Ukraine," the statement said. 
A major producer of artillery shells, Seoul has not provided lethal weapons to Ukraine, citing its ties with Russia, but Yoon signalled a possible shift in his stance against arming Ukraine in an interview with Reuters last month.
At the press conference, von der Leyen thanked Yoon for South Korea's financial and humanitarian aid to Ukraine.
    Yoon and the EU leaders also called for freedom of overflight and navigation in the South China Sea, as well as peace and stability across the Taiwan Strait, saying they oppose any unilateral attempts to change the status quo in the Indo-Pacific. 
    South Korea and the EU will also reinforce cooperation on economic security, including early warning systems to detect and address potential supply chain disruptions in key industries, such as semiconductor chips. 
    South Korea is a staunch U.S. ally and hosts some 28,000 U.S. troops. It has also developed a crucial economic relationship with China, South Korea's largest trading partner.
    Yoon faces a tricky task of balancing those two relationships, while at the same time fending off a belligerent North Korea, which is ramping up its arsenal of nuclear weapons and the missiles to deliver them.
    On other global issues, a "green partnership" will be created with the EU to spur an environmentally friendly transition, the statement said, warning that a triple planetary crisis of climate change, biodiversity loss and pollution poses an "existential threat." 
    Both sides also reached an agreement to boost health cooperation, under which they will work together to identify and counter health threats, and assist other countries to prevent and respond to them. 
(Reporting by Hyonhee Shin; Editing by Ed Davies and Sharon Singleton)
MORE FROM THE
OAF NATION NEWSROOM