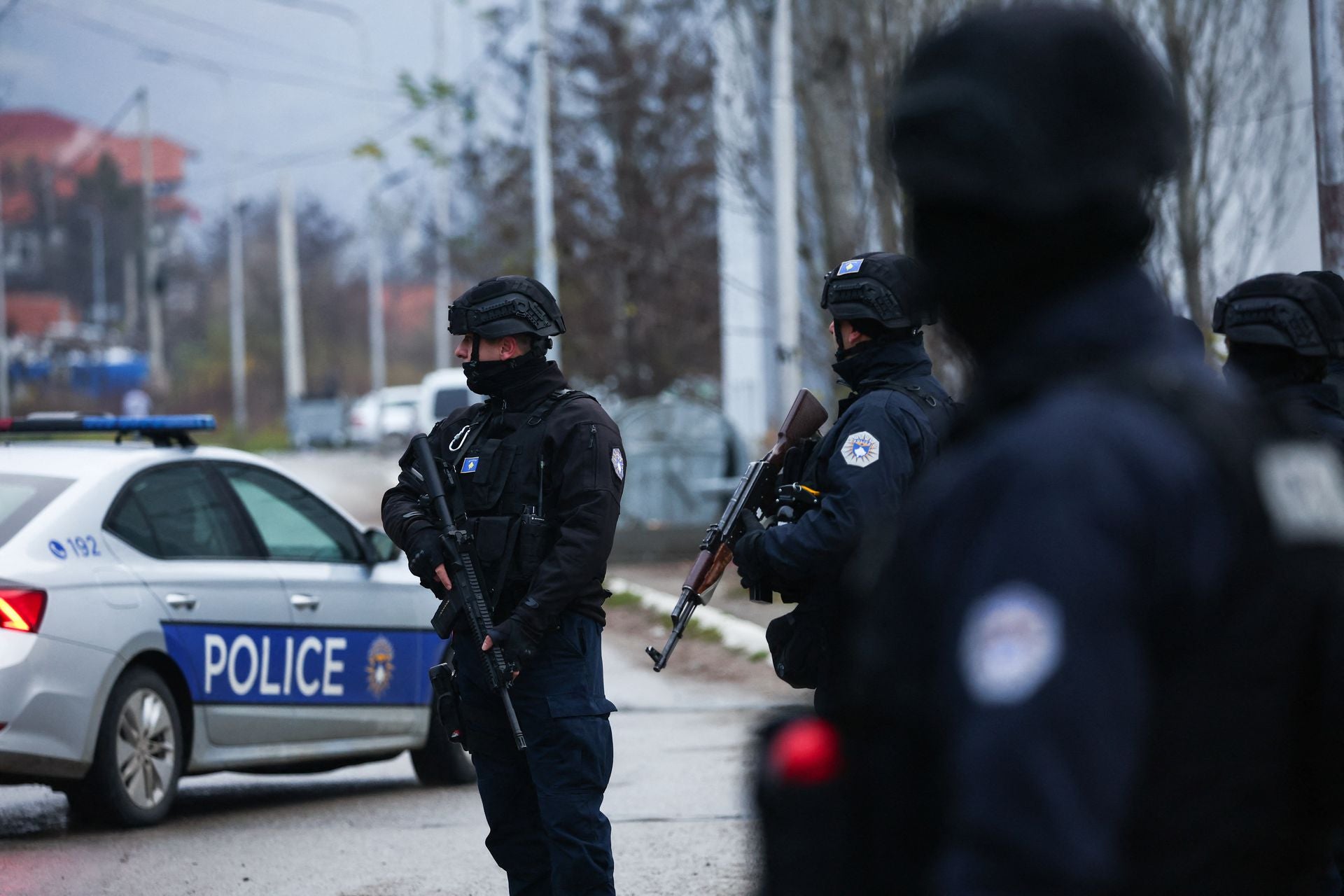 Serb court orders release of three Kosovo policemen
PHOTO CAPTION: Kosovo police officers patrol an area in the northern part of the ethnically-divided town of Mitrovica, Kosovo, December 13, 2022. REUTERS/Florion Goga
BELGRADE (Reuters) - A Serbian court ordered the release of three Kosovan policemen on Monday more than a week after they were detained along the border between the two countries, easing a mounting standoff between the former wartime foes.
Serb authorities said the three - identified only by their initials, B.S., R.Z. and S.M. - were arrested inside Serbia, and charged them with the unauthorised production, possession, carrying and trafficking of weapons and explosive substances.
Kosovo says Serbs kidnapped the officers inside its territory. It demanded their release, as did the European Union and the United States.
A panel in the High Court in the southwestern city of Kraljevo "confirmed the indictment against the aforementioned defendants and issued a decision terminating the defendants' detention," the court said in a statement.
The ruling effectively allowed the Serb authorities to maintain their charges while letting the three return to Kosovo, beyond the reach of the Serb court.
Albanian-majority Kosovo, formerly a southern province of Serbia, declared independence from Belgrade in 2008 with the backing of the West following a 1998-99 war. Serbia still considers Kosovo a part of its territory.
Violence flared in four northern Kosovo municipalities late last month after ethnic Albanian mayors took office following a local election. Turnout was just 3.5% after ethnic Serbs, who make up the majority of the population there, boycotted the vote.
Brussels and Washington have urged Serbia to remove protesters from the four municipalities, and called on Kosovo to withdraw police and mayors from the area, and organise snap local elections.
Kosovo's Prime Minister Albin Kurti confirmed the release of the three policemen on Monday.
"Even though we are joyous that they get to return to their families, this abduction consists of a serious human rights violation and must be reprimanded. The Serbian aggression must be held accountable," Kurti said on Twitter.
(Reporting by Aleksandar Vasovic; Editing by Toby Chopra and Andrew Heavens)
MORE FROM THE
OAF NATION NEWSROOM