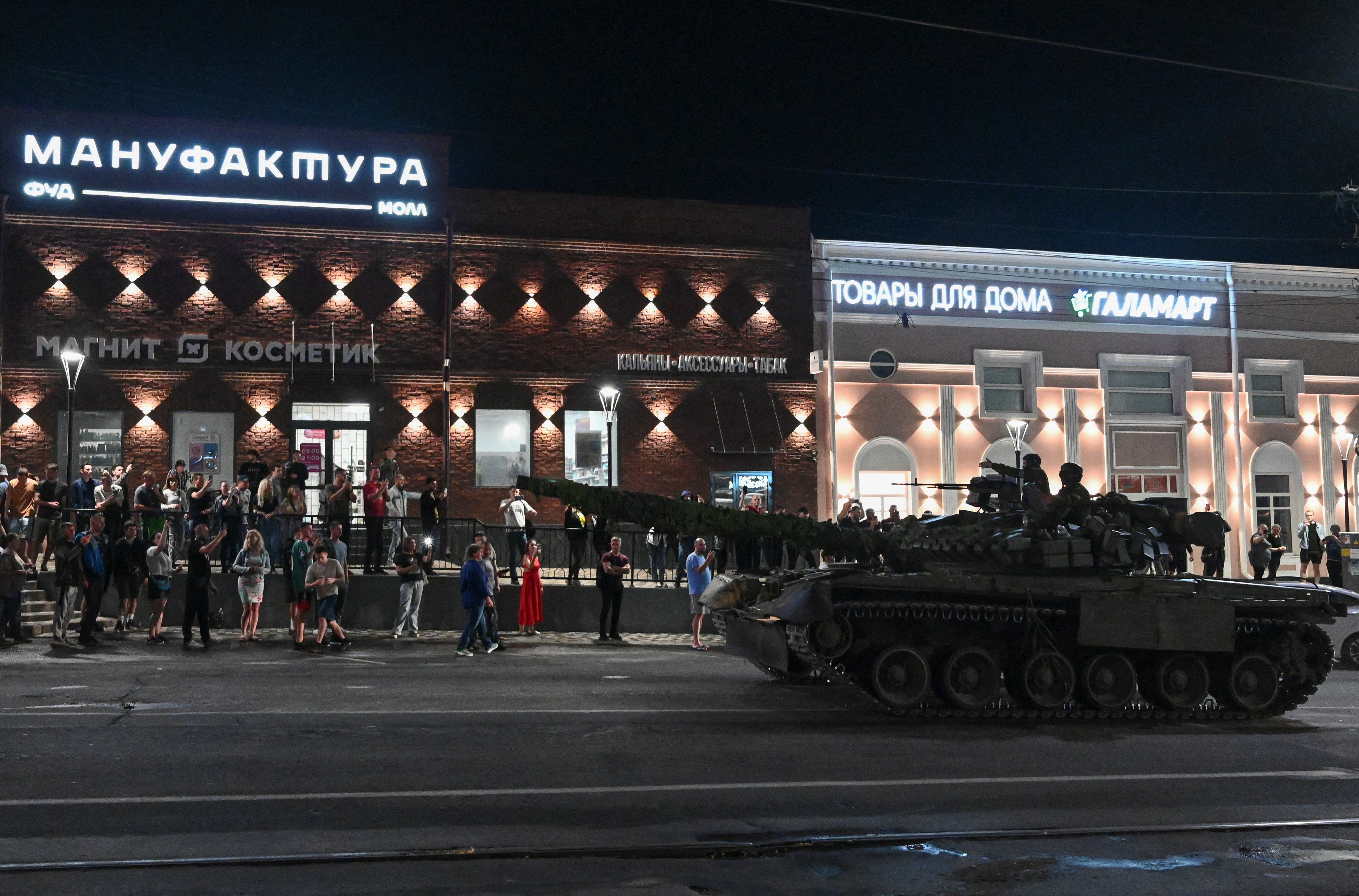 Russian mercenaries return to bases after challenge to Putin's authority
PHOTO CAPTION: Fighters of Wagner private mercenary group pull out of the headquarters of the Southern Military District to return to base, in the city of Rostov-on-Don, Russia, June 24, 2023. REUTERS/Alexander Ermochenko
ROSTOV-ON-DON/VORONEZH, Russia (Reuters) -Heavily armed Russian mercenaries withdrew from the southern Russian city of Rostov under a deal that halted their rapid advance on Moscow but raised questions on Sunday about President Vladimir Putin's grip on power.
Ending their short-lived mutiny, fighters of the Wagner group began heading back to their bases late on Saturday in return for guarantees for their safety. Their commander, Yevgeny Prigozhin, will move to Belarus under the deal mediated by Belarusian President Alexander Lukashenko.
U.S. Secretary of State Antony Blinken suggested the turmoil in Russia could take months to play out, while Italy's foreign minister said it had shattered the "myth" of Russian unity.
Putin has not commented publicly since the deal was struck to de-escalate one of the biggest challenges since he rose to power more than two decades ago.
He said he was giving top priority to the conflict in Ukraine in excerpts from an interview aired by state television on Sunday, but it appeared to have been recorded before the mutiny and he made no reference to Saturday's events.
State television said Putin would attend a meeting of Russia's Security Council this coming week, without elaborating, and Belarus' Belta news agency said Putin and Lukashenko spoke again on Sunday, after at least two calls on Saturday.
Prigozhin, 62, was seen leaving the district military headquarters in Rostov, hundreds of miles south of Moscow, late on Saturday in a sport utility vehicle. His whereabouts on Sunday were not known.
A former Putin ally and ex-convict whose forces have fought the bloodiest battles of the 16-month war in Ukraine, Prigozhin said his decision to advance on Moscow was intended to remove corrupt and incompetent Russian commanders he blames for botching the war.
Ukrainian President Volodymyr Zelenskiy discussed the events in Russia in separate phone calls with U.S. President Joe Biden and Canadian Prime Minister Justin Trudeau.
Biden and Trudeau both expressed their ongoing support of Ukraine as it pursues a counteroffensive to recover territory seized by Russia, according to official statements.
"The world must put pressure on Russia until international order is restored," Zelenskiy said on Twitter.
'CRACKS' IN THE FACADE
Western leaders expressed concern over the events in Russia, which has the world's largest nuclear arsenal.
"We've seen more cracks emerge in the Russian facade," U.S. Secretary of State Anthony Blinken told NBC's "Meet the Press" program on Sunday.
China, a key ally of Putin, made no initial public reference to the turmoil, eventually saying after talks with a visiting senior Russian diplomat on Sunday that it supported Russia in maintaining national stability.
After capturing Rostov, the main rear logistical hub for Russia's invasion of Ukraine, the mercenaries began what Prigozhin called a "march for justice" on Saturday, transporting tanks and armoured trucks hundreds of miles north and smashing barricades set up to stop them before the deal to stand down.
Videos shared on social media from Rostov that night purportedly showed the mercenaries withdrawing in a convoy of armoured vehicles, tanks and coaches to the sound of cheers, chants of "Wagner" and celebratory gunfire from residents.
Reuters was able to verify the location of the video but not the date that it was filmed.
"Take care of yourselves," shouted one woman.
The show of support for Wagner's short-lived insurrection was striking in a country that is increasingly intolerant of public criticism of Putin and his rule.
The mood on the streets of Rostov on Sunday was mainly one of relief.
"It was scary... Everyone is glad that nothing bad happened... It did not come to an armed clash," said resident Dmitry, who declined to give his surname. "There are very serious problems in the country, and they need to be solved."
In Moscow, where there was little evidence on Sunday of increased security, some expressed a measure of understanding for Prigozhin's position.
"The opinions of a person who has a certain weight in society should probably be heard by the authorities," said Oleg, a Moscow resident who also did not provide a last name.
Monday has been declared a non-working day in the Russian capital to allow time for things to settle.
DEAL BROKERED
Under the deal, brokered late on Saturday, Kremlin spokesman Dmitry Peskov said a criminal case opened against Prigozhin for armed mutiny would be dropped, Prigozhin would move to Belarus, and Wagner fighters who rallied to his cause would face no action, in recognition of their previous service to Russia.
Peskov said Lukashenko had offered to mediate, with Putin's approval, because he had known Prigozhin personally for around 20 years.
In a televised address during Saturday's drama, Putin said the rebellion put Russia's very existence under threat, vowing to punish those behind the revolt and drawing parallels with the chaos of 1917 that had led to the Bolshevik revolution.
Prigozhin has for months accused Defence Minister Sergei Shoigu and the chief of the general staff, Valery Gerasimov, of incompetence and of withholding ammunition from his fighters as they battled to take Bakhmut in Ukraine.
This month, Prigozhin defied orders to place his troops under Defence Ministry command. He launched the rebellion on Friday after alleging the military had killed some of his men in an air strike. The Defence Ministry denied this.
Wagner, whose men in Ukraine include thousands of ex-prisoners recruited from Russian jails, has grown into a sprawling international business with mining interests and fighters in Africa and the Middle East.
Dr Marina Miron, from King's College London's Defense Studies Department, told Reuters it would take time to find a replacement for these operations so Prigozhin might continue to lead them for a while.
She said the swift ending of the turmoil indicated that Putin's rule would not be undermined by it alone.
Other outsiders said Saturday's events had weakened both Putin and Russia's fighting force in Ukraine.
"The myth of the unity of Putin's Russia is over... It's the inevitable outcome when you support and finance a legion of mercenaries," Italy's Foreign Minister Antonio Tajani was quoted as saying by Italian newspaper Il Messaggero.
Brian Taylor, professor of Russian studies at Syracuse University, said the events would have shocked members of the public and the elite and weakened Putin.
Russia's ministry of digital affairs recommended that IT, telecoms and media companies give employees the day off on Monday.
"Saturday was a very emotional and tense day," the ministry said.
(Reporting by Reuters journalistsWriting by Gareth Jones and Philippa Fletcher;Editing by Frank Jack Daniel, Jane Merriman and Chris Reese)
MORE FROM THE
OAF NATION NEWSROOM