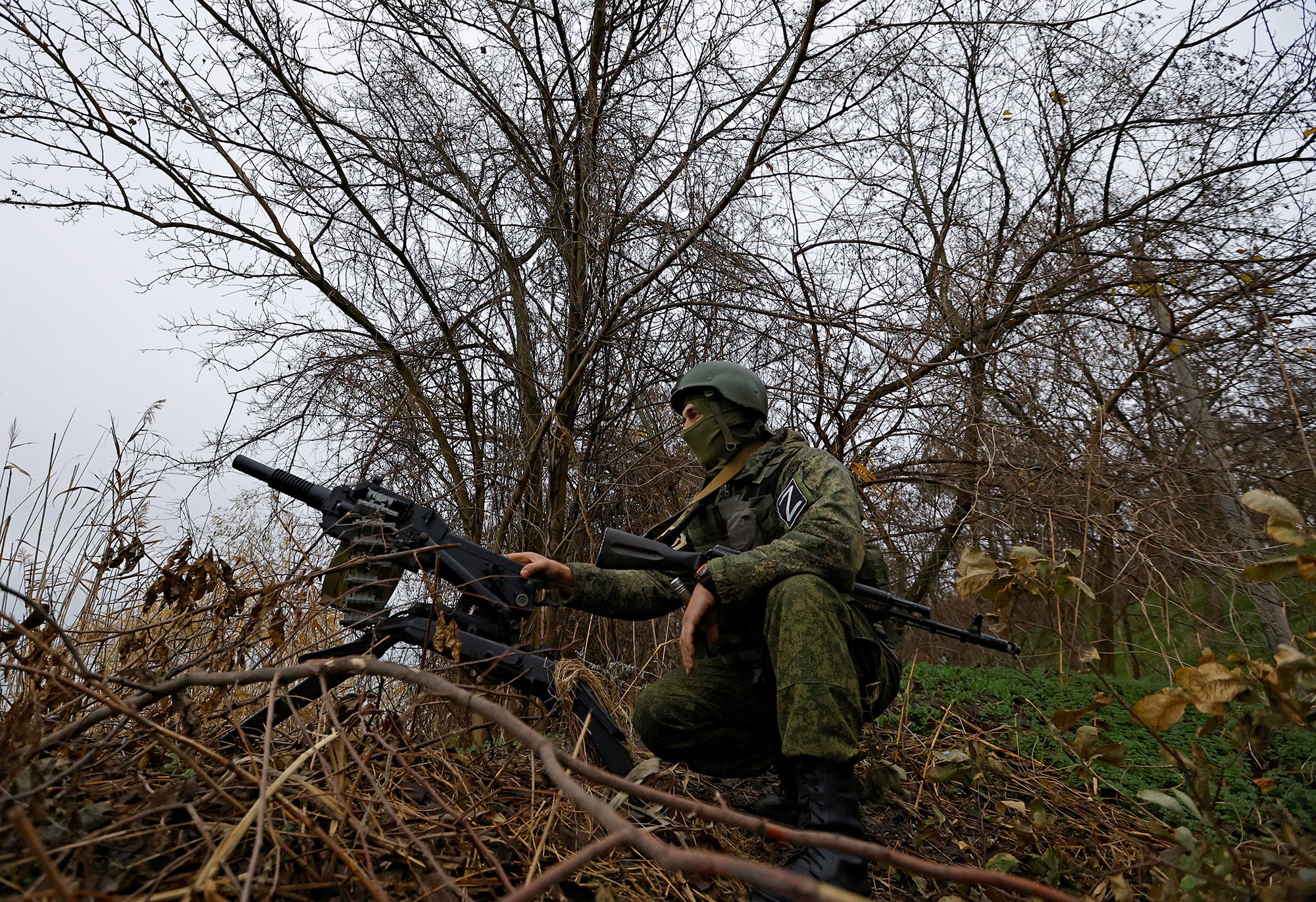 Russia's Wagner group vows to quit Bakhmut, Ukraine says they are piling in
A Russian service member sits by an automatic grenade launcher, Ukraine, Nov. 26, 2022 (Alexander Ermochenko/Reuters)
By Felix Light and Caleb Davis
(Reuters) -Russia's main mercenary group announced plans on Friday to pull out of the eastern Ukrainian city of Bakhmut, but Ukraine said the mercenaries were reinforcing their positions to try to seize it before Russia marks victory in World War Two day next week.
Wagner Group leader Yevgeny Prigozhin said his men had been starved of ammunition and would expect the army to take their place inBakhmut next Wednesday, jeopardising what has long been Russia's main target in its attempt to carve up its neighbour.
"My lads will not suffer useless and unjustified losses in Bakhmut without ammunition," Prigozhin said in a video accompanying a written withdrawal announcement addressed to the head of general staff, the defence ministry, and President Vladimir Putin as supreme commander.
The announcement said "bureaucrats" had held back supplies despite knowing that Wagner's target date to capture the city was May 9, when Moscow holds its World War Two Victory Day.
"If, because of your petty jealousy, you do not want to give the Russian people the victory of taking Bakhmut, that's your problem," Prigozhin added in the video.
The battle for Bakhmut, which Russia sees as a stepping stone to other cities in Ukraine's industrial Donbas region still beyond its control, has been the most intense of the conflict, costing thousands of lives on both sides in months of grinding trench warfare.
Ukrainian troops have been pushed back in recent weeks but have clung on in the city to try to inflict as many losses as possible on their Russian opponents ahead of Kyiv's planned big push against the invading forces along the 1,000 km (620 mile) front line.
"Because of the lack of ammunition, our losses are increasing exponentially every day," Prigozhin's official withdrawal statement said.
"On May 10, 2023, we are obliged to transfer positions in the settlement of Bakhmut to units of the defence ministry and withdraw the remains of Wagner to logistics camps to lick our wounds."
SMOKESCREEN?
It was not clear if Prigozhin, who often makes impulsive comments, would go ahead with the withdrawal if his men got extra ammunition or if the row might even be a smokescreen.
A senior Ukrainian official said Russia was bringing Wagner mercenary fighters from along the front line to Bakhmut so as to capture it by Victory Day.
"We are now seeing them pulling (fighters) from the entire offensive line where the Wagner fighters were, they are pulling (them) to theBakhmut direction," Deputy Defence Minister Hanna Maliar said on Ukrainian television.
The Kremlin declined to comment on Prigozhin's statement, citing the fact it was related to what it calls its "special military operation" inUkraine, where it has declared southern and eastern regions that it has partly seized as annexed to Russia.
Moscow says Ukraine's moves towards the West threaten its security. Kyiv says the invasion is simply a land grab.
In a further indication of disarray on the Russian side, former Russian deputy defence minister Colonel General Mikhail Mizintsev joined Wagner as a deputy commander, Russian pro-war social media channels reported.
Earlier, Prigozhin was pictured surrounded by corpses he said were his men, shouting abuse at Russian Defence Minister Sergei Shoigu and Chief of General Staff Valery Gerasimov.
"Shoigu! Gerasimov! Where is the ******* ammunition?" he shouted into the camera, using a torrent of expletives that were bleeped out by his press service.
Prigozhin has frequently posted impetuous remarks and last week withdrew one which he said he had made as a "joke".
But the threat and the video highlighted the pressure Russian forces are under as Ukraine makes the final preparations for a counter-offensive backed by thousands of Western-donated armoured vehicles and freshly trained troops.
Ukraine said two people had been killed in the eastern Donetsk region and nine wounded over the past 24 hours and electricity distribution networks had been damaged by shelling in Donetsk and the southern Kherson region.
Russia has been largely untouched by the conflict, but Russian news agencies reported a second drone attack in as many days on the Ilsky oil refinery in the south on Friday, causing a fire but no casualties. It was not immediately clear who was responsible.
Ukrainian officials do not usually claim responsibility for what have been sporadic attacks on fuel depots in Russia, although they sometimes celebrate them.
Moscow accused Ukraine of firing drones at the Kremlin in the early hours of Wednesday in an attempt to kill Putin. Kyiv denied it, and the United States dismissed Kremlin claims it was behind the incident as "lies".
Russian Foreign Minister Sergei Lavrov said on Friday that the incident was a "hostile act" and Russia would respond with "concrete actions". A Kremlin spokesman said the security council was likely to discuss the incident on Friday.
Analysts say that while it is not clear who launched the drones, the Kremlin may use the incident to rally the population behind its actions in Ukraine and escalate the conflict.
(Additional reporting by Olena Harmash and Pavel Polityuk in KYIV; writing by Philippa Fletcher; editing by William Maclean and Conor Humphries)
MORE FROM THE
OAF NATION NEWSROOM