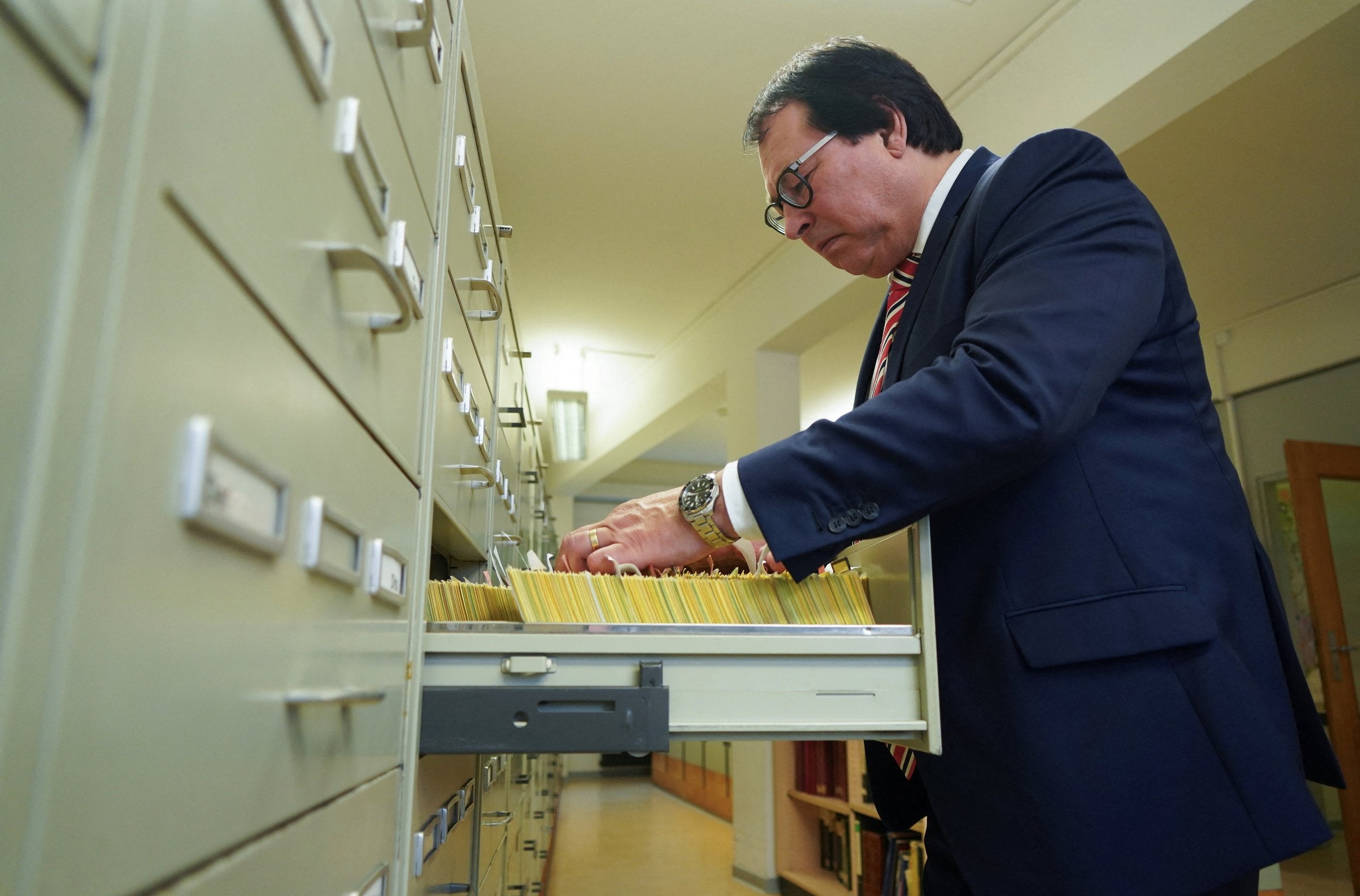 Race against the clock for Germany's top Nazi hunter
LUDWIGSBURG, Germany (Reuters) - Germany's top Nazi hunter, Thomas Will, is hopeful of securing further convictions over the Holocaust even as the remaining suspects, many now in their late 90s, die.
Will told Reuters that he has handed over five cases to local prosecutors in Germany that he believes still have a chance of going to trial.
"Murder is not subject to a statute of limitations. So as long as perpetrators are still alive, we will pursue the cases," he said from his office outside Stuttgart in southwestern Germany.
Will heads Germany's Central Office of State Judicial Authorities for the Investigation of National Socialist Crimes. In 2015, German justice ministers agreed it should keep operating "as long as there are prosecution tasks to fulfill." Will said its work sends the signal to anyone committing such acts today that they will never be off the hook.
As survivors of the Holocaust die, there are fears that knowledge of the genocide of six million European Jews across German-occupied Europe could decline or be denied. Continuing convictions highlight the crimes that took place.
A survey published on Wednesday showed nearly a quarter of Dutch people born after 1980 believe the Holocaust was a myth or that the number of its victims was greatly exaggerated.
In Israel, Holocaust survivors are using artificial intelligence (AI) to record their memories for future generations.
Since it was founded in 1958, the Central Office has launched 7,694 investigations into World War Two-era crimes, some involving multiple suspects, supporting many of the 18,688 cases which have come before German courts.
Now, with Friday marking the 78th anniversary of the liberation of the Auschwitz concentration camp and International Holocaust Remembrance Day to honour millions of victims, just a handful of cases remain outstanding in Germany.
The conviction last month of a 97-year-old woman who worked as a concentration camp secretary "was certainly one of the last", Will said. But the five cases he has referred "could still lead to charges. So perhaps this was not the final word after all", he said.
One case with authorities in Coburg in Bavaria is of a 98-year-old. Prosecutors say they are investigating the man for the alleged aiding and abetting of murder during his time as a guard at the Ravensbrueck concentration camp from 1943 to 1945.
"At present, he is considered fit to stand trial," a spokesperson for the prosecutors said. It is unclear whether the person, if convicted, would be sentenced as a youth or adult due to his young age at the time of the alleged crimes.
In a separate case, authorities in Giessen, north of Frankfurt, are conducting a preliminary investigation into a 98-year-old who allegedly worked as a guard at the Sachsenhausen concentration camp, also from 1943 to 1945.
In Hamburg, prosecutors said they are investigating a former marine, now 96, who allegedly worked for a few months in 1945 at a concentration camp as a guard.
Will, standing among rows of filing cabinets, flipped through documents and explained that his office has catalogued names of people and places of interest on more than 1.7 million index cards. The office is surrounded by a high stone wall for security.
Russia's war with Ukraine has provided another hurdle to his investigations. Trips to Moscow, which has original German documents from the camps, are no longer possible, he said.
Will's organization eventually plans to become a centre for remembrance and education. Until then, Will vows to keep on the trail.
(Writing by Tom Sims, Editing by Miranda Murray, Alexandra Hudson)
MORE FROM THE
OAF NATION NEWSROOM