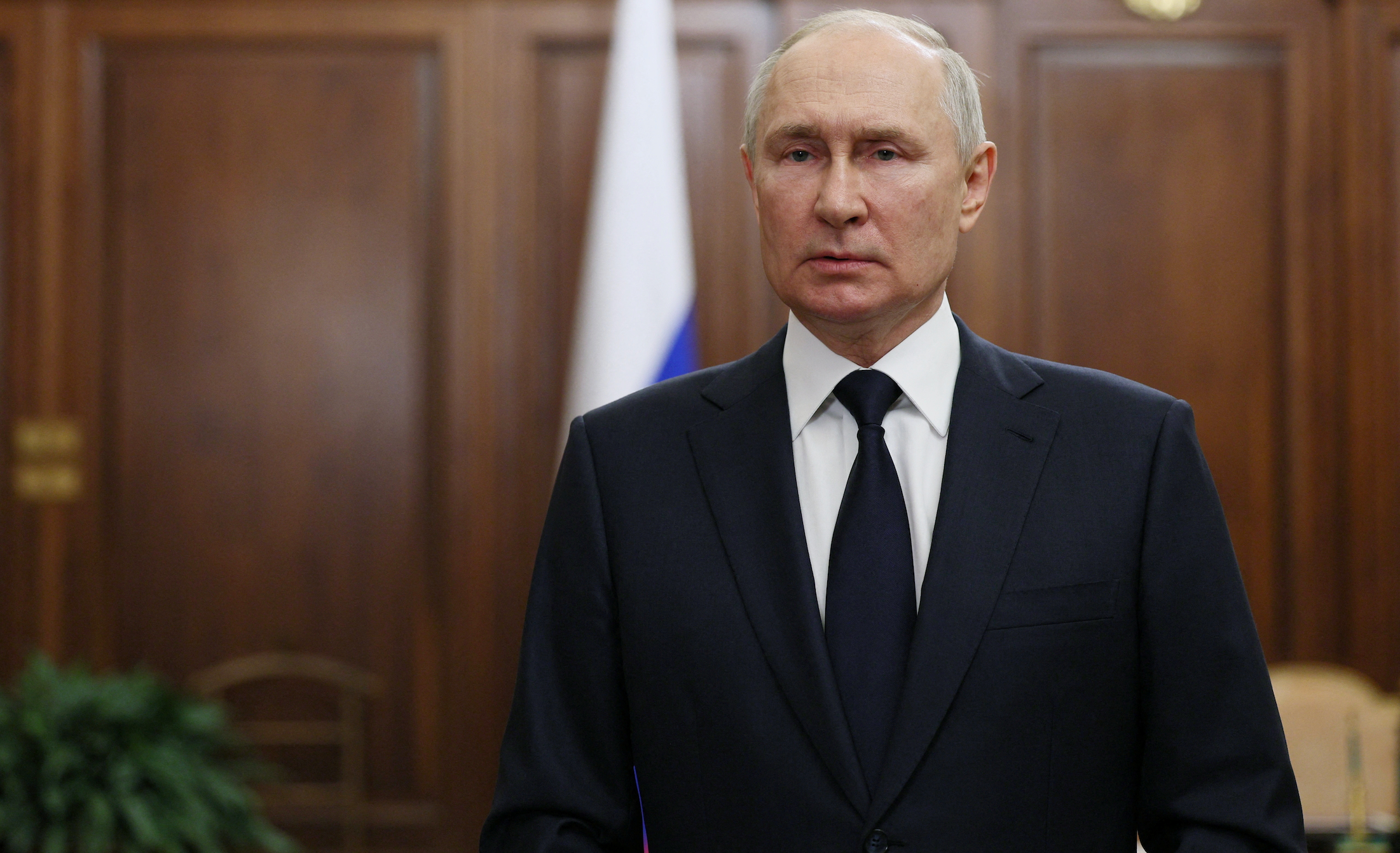 Putin praises Russian troops for putting down mutiny as Prigozhin jet reaches Belarus
PHOTO CAPTION: Russian President Vladimir Putin gives a televised address in Moscow, Russia, June 26, 2023. Sputnik/Gavriil Grigorov/Kremlin via REUTERS/File Photo
(Reuters) -President Vladimir Putin praised members of Russia's military and security forces in a ceremony on Tuesday as he sought to reassert his authority following an aborted mutiny by mercenaries led by Wagner Group chief Yevgeny Prigozhin.
A jet linked to Prigozhin arrived in Belarus from Russia, believed to be carrying the mercenary boss into exile, three days after he abruptly called off his mutiny with his fighters bearing down on the capital.
Authorities dropped a criminal case against Wagner, state news agency RIA reported, apparently fulfilling one condition of a deal agreed late on Saturday that defused the crisis.
Putin told some 2,500 security personnel mustered on a square in the Kremlin complex that the people and the armed forces had stood together in opposition to the rebel mercenaries.
He was joined by Defence Minister Sergei Shoigu, whose dismissal had been one of the mutineers' main demands.
Putin also requested a minute of silence to honour Russian military pilots killed in the revolt. The fighters had shot down several aircraft during their run towards Moscow, although they faced no resistance on the ground.
Prigozhin, a former Putin ally and ex-convict whose mercenaries have fought the bloodiest battles of the Ukraine war and taken heavy casualties, had said he would go to neighbouring Belarus at the invitation of its president, close Putin ally Alexander Lukashenko.
Details of his proposed journey into exile were not made public and there was no confirmation of his whereabouts in the three days since the mutiny, including whether he was on board the plane tracked into Belarus on Tuesday morning.
Flight tracking service Flightradar24's website showed an Embraer Legacy 600 jet, bearing identification codes that match a plane linked to Prigozhin in U.S. sanctions documents, descending to landing altitude near the Belarus capital Minsk.
It first appeared on the tracking site above Rostov, the southern Russian city Prigozhin's fighters had captured during the mutiny.
He was last seen in public on Saturday night, smiling and high-fiving bystanders as he rode out of Rostov in the back of an SUV after ordering his men to stand down.
Putin said in a televised address on Monday night that the mutiny leaders had betrayed their motherland, although he did not mention Prigozhin by name. Wagner fighters would be permitted to establish themselves in Belarus, join the Russian military or go home, he said.
Kremlin spokesman Dmitry Peskov told a news briefing on Tuesday the deal ending the mutiny was being implemented, and he had no information on where Prigozhin was. He also said he did not know how many Wagner fighters would sign contracts with the Defence Ministry.
He dismissed the idea that Putin's grip on power had been shaken by the mutiny, calling such thoughts "hysteria".
DEMONSTRATION OF PROTEST
Prigozhin, 62, said he launched the mutiny to save his group after being ordered to place it under command of the defence ministry.
His fighters had halted their campaign on Saturday to avert bloodshed after nearly reaching Moscow, and regretted being forced to shoot down aircraft on the way, he said.
"We went as a demonstration of protest, not to overthrow the government of the country," Prigozhin said in an audio message on Monday.
In Putin's overnight speech, his first public comments since the mutiny, he confirmed that Russian pilots had been killed, and thanked Russians for showing patriotic solidarity.
Russia's enemies wanted to see the country "choke in bloody civil strife" but Russsia would not succumb to "any blackmail, any attempt to create internal turmoil," Putin said.
Russian leaders have tried to convey that the situation is returning to normal after the aborted mutiny. Putin met on Monday night with the heads of security services, including Defence Minister Shoigu.
In Ukraine, President Volodymyr Zelenskiy said in his nightly address that the military had made advances on Monday in all sectors of the front line, calling it a "happy day".
Kyiv hopes the chaos caused by the mutiny attempt in Russia will undermine Russian defences as Ukraine presses on with a counteroffensive to recapture occupied territory. It claimed on Monday to have captured a ninth village in the south where it has been advancing since early June.
Explosions were heard in the central Ukrainian central city of Kremenchuk after a Russian air strike on Tuesday, a Ukrainian air force spokesman said.
Kremenchuk is the site of a Ukrainian oil refinery that has been attacked repeatedly by Russia since it invaded Ukraine last year. Ukrainian officials have said it is no longer functioning.
(Reporting by Reuters journalistsWriting by Angus MacSwanEditing by Peter Graff)
MORE FROM THE
OAF NATION NEWSROOM