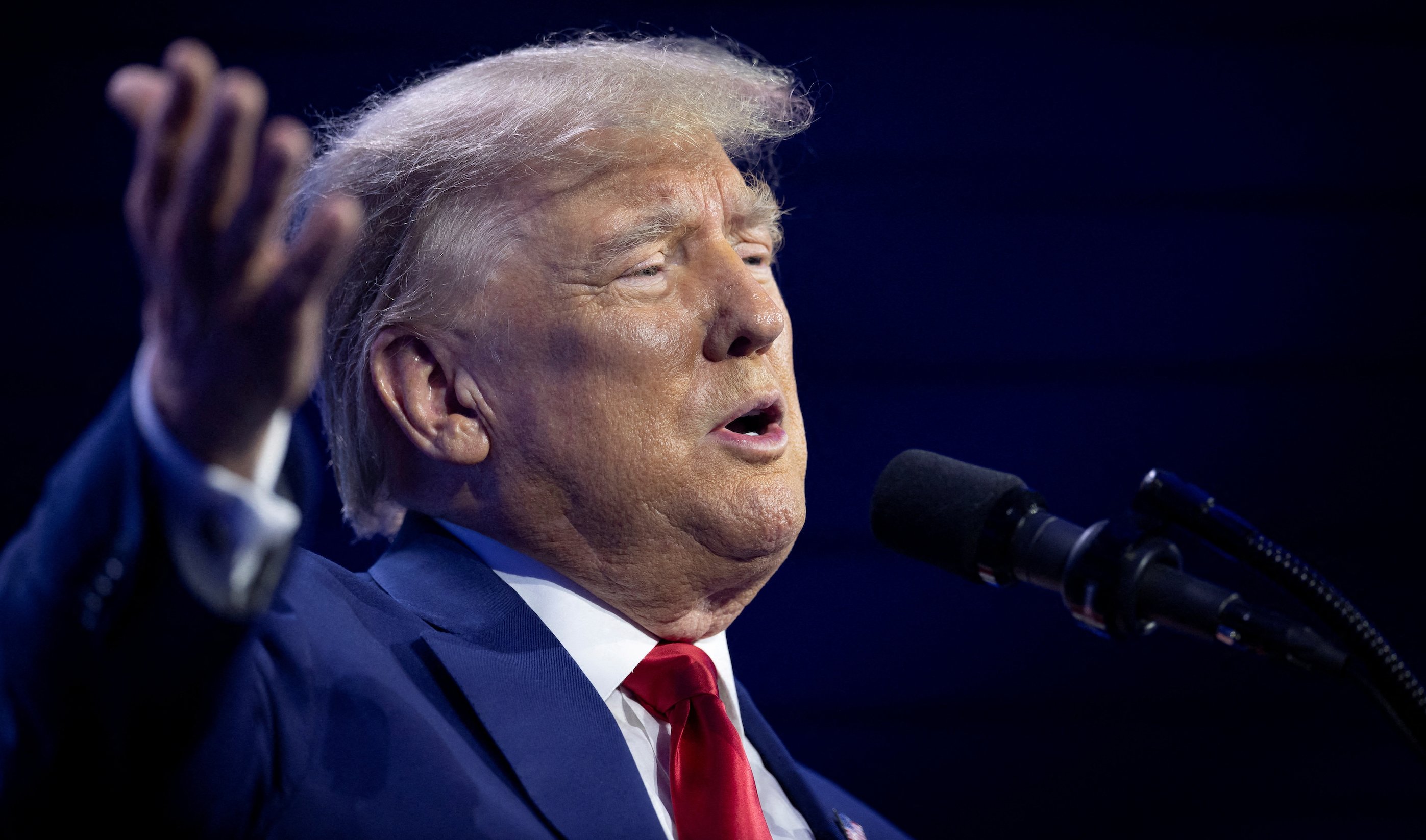 Prosecutors seek evidence protection order after Trump's "coming after you" post
PHOTO CAPTION: Former U.S. President and Republican presidential candidate Donald Trump gestures as he speaks during the Turning Point Action Conference in West Palm Beach, Florida, U.S. July 15, 2023. REUTERS/Marco Bello/File Photo
By Joseph Ax

(Reuters) -U.S. prosecutors flagged a threatening social media post from Donald Trump in a late-night court filing on Friday, arguing that it suggests he might intimidate witnesses by improperly disclosing confidential evidence received from the government.

On his Truth Social site on Friday, the former president wrote, "IF YOU GO AFTER ME, I'M COMING AFTER YOU!" A day earlier, he pleaded not guilty to charges that he orchestrated a criminal conspiracy to try to reverse his 2020 election loss to Democrat Joe Biden.

Meanwhile, in Georgia, where other prosecutors are investigating Trump's efforts to overturn election results in that state, authorities tightened security around the Fulton County courthouse in Atlanta. That city has been preparing for the possible announcement of what would be Trump's fourth criminal indictment this year.

In the filing in Washington federal court, the office of Special Counsel Jack Smith said Trump's social media post raised concerns that he might publicly reveal secret material, such as grand jury transcripts, obtained from prosecutors.

It sought a protective order prohibiting Trump and his lawyers from sharing any discovery materials with unauthorized people.


On Saturday, U.S. District Judge Tanya Chutkan gave Trump until 5 p.m. on Monday to respond. Trump's attorneys asked for three more days to prepare their response but Chutkan quickly denied the request. Chutkan added she will determine whether a hearing is needed after reviewing Trump's response.

Under the process known as discovery, prosecutors must provide defendants with the evidence against them so they can prepare their defense.

Without a protective order, Trump could begin issuing public posts using grand jury transcripts or other material that "could have a harmful chilling effect on witnesses or adversely affect the fair administration of justice in this case," prosecutors wrote in their filing. They added Trump has a history of attacking judges, attorneys and witnesses in other cases against him.

At his arraignment on Thursday, Trump swore not to intimidate witnesses or communicate with them without legal counsel present.

Protective orders are routine in cases involving confidential documents, but prosecutors said it was particularly important to restrict public dissemination given Trump's social media statements.

A Trump spokesperson issued a statement defending the former president's social media post and attacking people dubbed "Republicans in Name Only" or RINOs.

"The Truth post cited is the definition of political speech, and was in response to the RINO, China-loving, dishonest special interest groups and super PAC's," the statement said.


SECURITY AROUND ATLANTA COURT

For at least the next two weeks, officials are locking down security around the courthouse in Atlanta. Fulton County District Attorney Fani Willis has indicated she plans to bring charges in that investigation within weeks.

While the downtown court building will remain open, officials are closing surrounding roads to general traffic and have told most employees to work from home, the Atlanta Journal-Constitution reported. Magistrate court hearings, typically held for minor criminal and civil cases, will be conducted virtually.

The sheriff's office has canceled all time off for the next few weeks and police are working 12-hour shifts, the AJC reported. Orange barricades began appearing around the courthouse last month, as officials prepared for potential demonstrations should Trump be indicted in the coming weeks.

Trump has pleaded not guilty in two other criminal cases. He faces federal charges in Miami for allegedly retaining classified documents after leaving office and obstructing justice, and New York state charges in Manhattan for allegedly falsifying business records to hide hush money payments to a porn star.

The former president has capitalized on his indictments since the first charges were filed in April, increasing his lead in the Republican nomination contest over his closest rival, Florida Governor Ron DeSantis.

Trump has solidified his status as front-runner despite his growing array of legal troubles, public opinion polls show, but about half of Republicans would not vote for Trump if convicted of a felony, according to a new Reuters/Ipsos poll.

Trump has portrayed all of the investigations as part of a political witch hunt intended to stymie his 2024 campaign.

(Reporting by Joseph Ax; Additional reporting by David Shepardson, Joel Schectman, Eric Beech and Gursimran Kaur; Editing by Simon Cameron-Moore, Daniel Wallis and David Gregorio)
MORE FROM THE
OAF NATION NEWSROOM