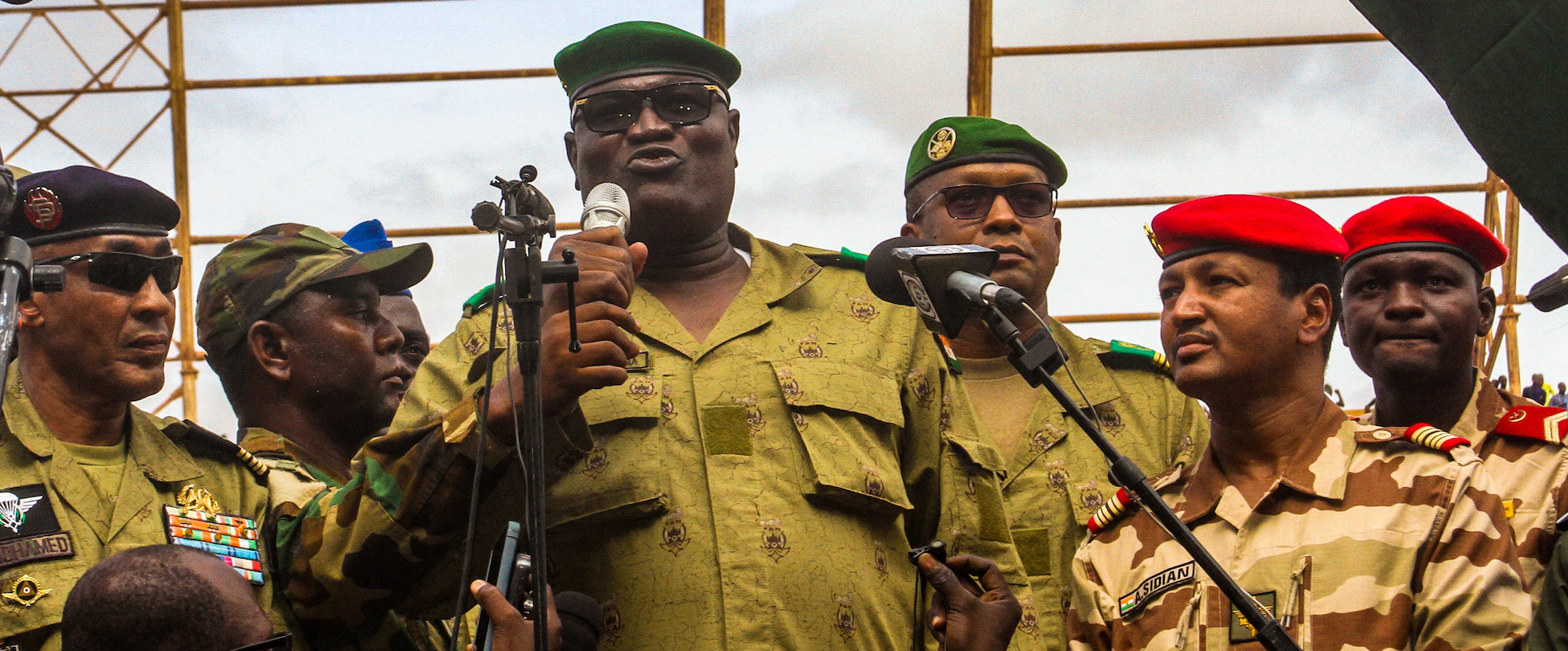 Niger awaits West African bloc's response after junta rejects ultimatum
PHOTO CAPTION: Members of a military council that staged a coup in Niger attend a rally at a stadium in Niamey, Niger, August 6, 2023. REUTERS/Mahamadou Hamidou
By Abdel-Kader Mazou

NIAMEY (Reuters) -Niger's junta braced for a response from the West African regional bloc on Monday after ignoring its deadline to reinstate the ousted president or face the threat of military intervention.

The Economic Community of West African States (ECOWAS), which has sent military forces into troubled member states in the past, said it would issue a statement on its next steps, responding to the junta's refusal to stand down by Sunday.

The bloc has taken a harder stance on the July 26 power grab, the region's seventh coup in three years, than it did on previous ones. Its credibility is at stake because it had said it would tolerate no further coup.

On Sunday, as the ECOWAS deadline expired, the junta closed its airspace until further notice.

"Niger's armed forces and all our defence and security forces, backed by the unfailing support of our people, are ready to defend the integrity of our territory," a junta representative said in a statement on national television.


Landlocked Niger is more than twice the size of France and many flight paths across Africa would normally pass through its airspace. Air France suspended flights to and from Ouagadougou in Burkina Faso and Bamako in Mali, which both border Niger, until Aug. 11 and warned that some flight times would increase.

An escalation in Niger's stand-off with ECOWAS would further destabilise one of the world's poorest regions, which is in the grip of a hunger crisis and battling an Islamist insurgency that has killed thousands and forced millions to flee.

Niger's uranium and oil reserves and its pivotal role in a war with Islamist militants in the Sahel region give it economic and strategic importance for the United States, Europe, China and Russia.

ECOWAS defence chiefs agreed on a possible military action plan if the detained president, Mohamed Bazoum, is not released and reinstated, although they said the operational decisions of when and where to strike would be decided by heads of states.

Regional unity is compromised by a promise from the ruling juntas in Mali and Burkina Faso to come to Niger's defence if needed. Both countries were sending delegations to Niamey to show solidarity, the Malian army said on social media on Monday.

Flight tracking website Flightradar24 showed that a Burkina Faso military plane arrived in Niamey from Ouagadougou at around 1120 GMT.


HOPE FOR DIPLOMACY

African and Western allies have imposed sanctions and cut aid to Niger in attempts to pressure the junta to step down. Germany said on Monday that sanctions were on the table and described the junta's flight ban as a setback.

Italian Foreign Minister Antonio Tajani, however, said in an interview published on Monday that ECOWAS should extend its deadline for the reinstatement of Bazoum.

"The only way is the diplomatic one," Tajani told La Stampa newspaper.

"It is right that he (Bazoum) should be freed, but we cannot do it. The United States are very cautious about this, it is unthinkable that they would start a military intervention in Niger," Tajani added.

Italy said on Sunday that it had reduced its troop numbers in Niger to make room in its military base for Italian civilians who may need protection if security deteriorates.

France warned its citizens against all travel to Niger, while the Chinese embassy in Niamey said its nationals in Niger should leave for a third country or return home if they had no reason to stay.

Bazoum said in an opinion piece published last week that he was a hostage and called on the United States and the international community to restore constitutional order.

U.S. Secretary of State Antony Blinken on Friday called for "the immediate restoration of Niger's democratically elected government", and said the U.S. would pause certain foreign assistance programmes that benefit the government of Niger.

"There is a rather extraordinary alignment of the West, and of Africa... to condemn what is happening," French European Affairs Minister Laurence Boone said on Monday.

"I hope that we will be able to restore democracy and the constitution without blood and in peace," she said on French television channel LCI.

(Additional reporting by Tiemoko Diallo in Bamako, Alvise Armellini in Rome and Ingrid Melander in Paris; Writing by Alessandra Prentice, Nellie Peyton and Estelle Shirbon; Editing by Lincoln Feast, Toby Chopra, Nick Macfie and Conor Humphries)
MORE FROM THE
OAF NATION NEWSROOM