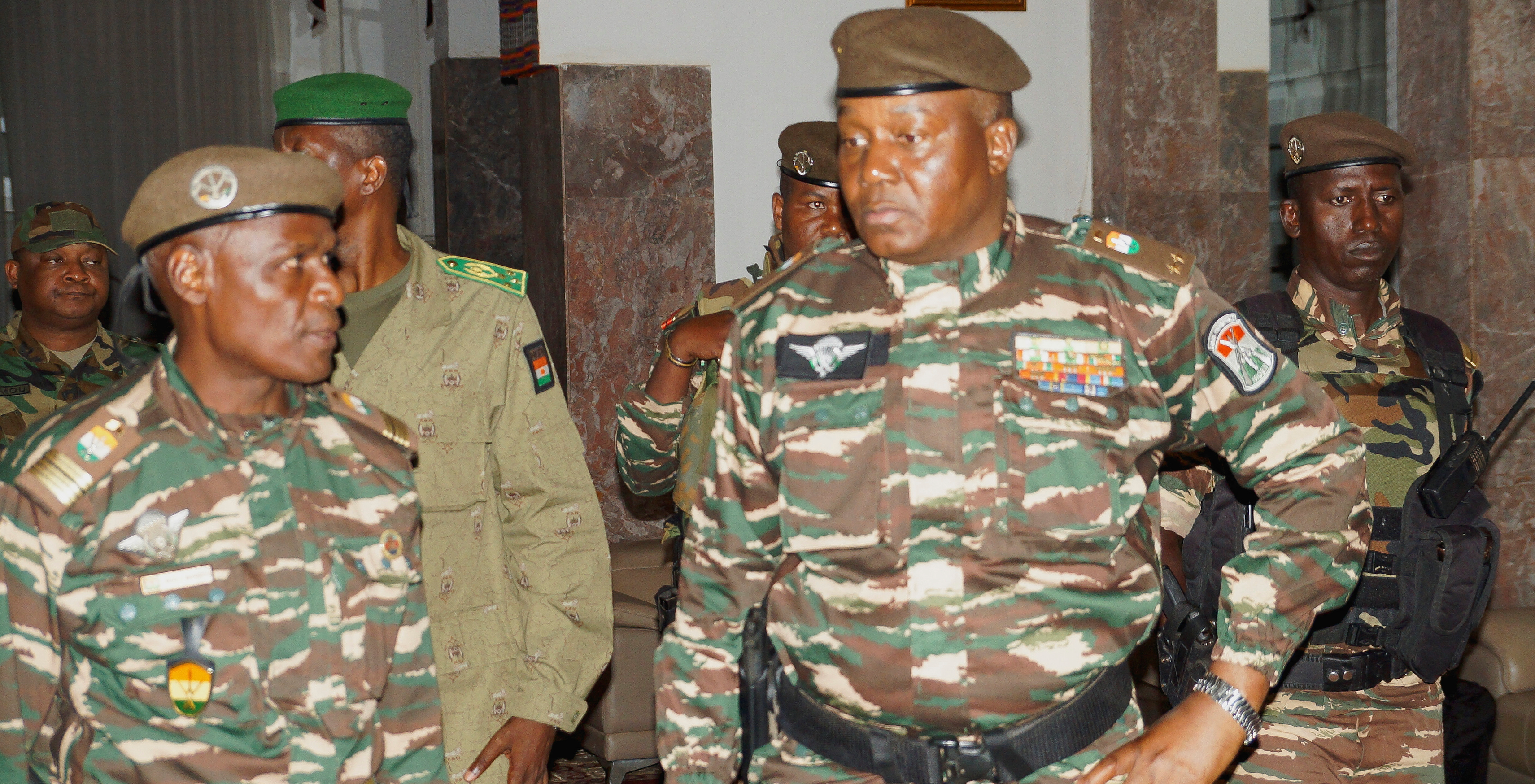 Niger junta says it will not back down despite "inhumane" sanctions
PHOTO CAPTION: General Abdourahmane Tiani, who was declared as the new head of state of Niger by leaders of a coup, arrives to meet with ministers in Niamey, Niger July 28, 2023. REUTERS/Balima Boureima
By Camillus Eboh

NIAMEY/ABUJA (Reuters) -The self-declared new leader of Niger on Wednesday said the junta would not bow to pressure to reinstate ousted President Mohamed Bazoum, intensifying a standoff with the West African bloc which has threatened to intervene after last week's coup.

The Economic Community of West African States (ECOWAS) has imposed sanctions on Niger and said it could authorise the use of force if the coup leaders do not restore Bazoum's presidency within a week from last Sunday.

The bloc also sent a delegation to Niger on Wednesday to negotiate with the military officers who seized power, hoping to find a diplomatic solution before they have to decide whether or not to intervene.

In a televised address, Abdourahamane Tiani said the junta "rejects these sanctions altogether and refuses to give into any threats, wherever they come from. We refuse any interference in the internal affairs of Niger".

ECOWAS has struggled to contain a democratic backslide in West Africa and had vowed that coups will no longer be tolerated after military takeovers in member states Mali, Burkina Faso and Guinea and an attempted coup in Guinea-Bissau in the last two years.

"The military option is the very last option on the table, the last resort, but we have to prepare for the eventuality," said Abdel-Fatau Musah, ECOWAS Commissioner for Political Affairs, Peace and Security.

"There is a need to demonstrate that we cannot only bark but can bite," he told reporters earlier on Wednesday, as regional defence chiefs started a two-day meeting in the Nigerian capital Abuja.


Nigeria cut power supplies to Niger, a Niger state utility document showed on Wednesday, while truckers in Niamey were stranded by border closures - early signs of fallout from the bloc's sweeping sanctions that Tiani described as "illegal, unjust, and inhumane."

Tiani, the former head of Bazoum's presidential guard, shut Bazoum in his palace last Wednesday and later declared himself head of state.

The 15-nation regional bloc has taken its hardest line yet on the coup, prompting Mali and Burkina Faso, also ruled by juntas, to say that any military intervention in Niger would be considered a declaration of war against them too.

"The task of restoring democratic governance in Niger is fraught with potential hurdles and complications," said General Christopher Musa, Nigeria's Chief of Defence and Chairman of the ECOWAS Defence Chiefs.

"Our decisions will send a strong message about our commitment to democracy, our intolerance for unconstitutional changes of government, and our dedication to regional stability," he said at the meeting in Abuja.

Niger is a main Western ally in a fight against Islamist insurgents, and the coup has been condemned by foreign powers who fear it could allow the militants to gain ground.

"The UK very much welcomes ECOWAS' actions and (they) are indeed decisive actions with a strong commitment to democracy," said British Foreign Secretary James Cleverly after meeting Nigerian President Bola Tinubu on Wednesday.

In a further sign of the mounting pressure on the junta, the World Bank on Wednesday suspended disbursements to Niger until further notice.


FOREIGNERS EVACUATED

The United States said it was set to evacuate some staff and families from its embassy in Niger even as the mission remains open and senior leadership continues working there.

France and Italy have been evacuating European citizens from Niger amid growing fears of conflict. The first military planes carrying European nationals landed in Paris and Rome on Wednesday.

"Yesterday and today, with the help of our French friends, we were already able to fly more than 40 Germans out of Niger," said German Foreign Minister Annalena Baerbock, adding there would be more flights.

"It is also with this same unity and determination that we, as the European Union, support international efforts to restore constitutional order in Niger," she said.

France said it had evacuated more than 350 French people so far.

France, the United States, Germany, and Italy have troops in Niger on counterinsurgency and training missions, helping the army to fight groups linked to al Qaeda and Islamic State.

There has been no announcement of troops being withdrawn so far. Germany's defence minister said on Wednesday that there were no concerns about the safety of German soldiers.

Niger is the world's seventh-biggest producer of uranium, the radioactive metal widely used for nuclear energy and treating cancer.

The European Union said earlier this week that it had sufficient inventories of natural uranium to mitigate any short-term supply risks.

(Reporting by Camillus Eboh and Felix Onuah; Additional reporting by Christophe Van Der Perre and Anait Miridzhanian; Writing by Ingrid Melander, Nellie Peyton and Alessandra Prentice; Editing by Alex Richardson, Nick Macfie and Grant McCool)
MORE FROM THE
OAF NATION NEWSROOM