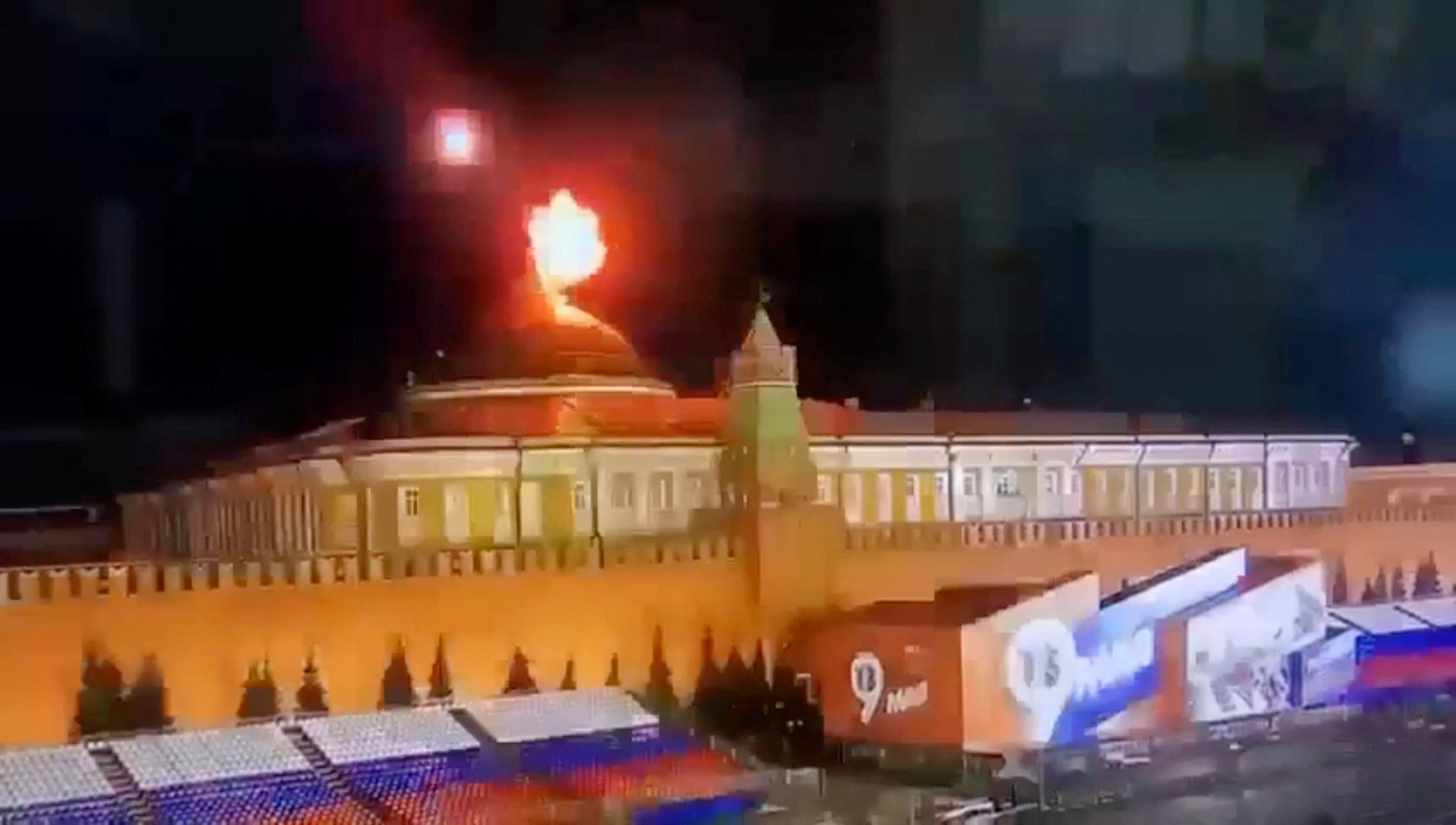 Moscow says US behind Kremlin drone attack, Russian forces target Kyiv
A still image taken from video shows a flying object exploding in an intense burst of light near the dome of the Kremlin Senate building during the alleged Ukrainian drone attack in Moscow, Russia, in this image taken from video obtained by Reuters May 3, 2023. Ostorozhno Novosti/Handout via REUTERS
KYIV (Reuters) -Russia said on Thursday that the United States was behind what it says was a drone attack on the Kremlin that aimed to kill President Vladimir Putin, while Moscow's forces fired more combat drones at Ukrainian cities including the capital Kyiv.
Ukrainian President Volodymyr Zelenskiy, speaking in The Hague after visiting the International Court of Justice (ICC), said that Putin must be brought to justice over the war and said Kyiv would work to create a new tribunal for this purpose.
Putin's spokesman Dmitry Peskov, without providing evidence, said Ukraine had acted on U.S. orders with the alleged drone attack on the Kremlin citadel in the early hours of Wednesday.
White House national security spokesman John Kirby said Peskov was "just lying" and said the United States neither encouraged nor enabled Ukraine to strike outside its borders. He added it was still unclear what had happened at the Kremlin.
Kyiv has also denied involvement in the incident, which followed a string of blasts over the past week targeting freight trains and oil depots in western Russia and Russian-controlled Crimea. Moscow has blamed Ukraine for those attacks too.
"Attempts to disown this (attack on the Kremlin), both in Kyiv and in Washington, are, of course, absolutely ridiculous. We know very well that decisions about such actions, about such terrorist attacks, are made not in Kyiv but in Washington," Peskov told reporters.
Peskov said an urgent investigation was under way and that any response would be carefully considered and balanced.
Separately, Russia's foreign ministry said the alleged drone attack "must not go unanswered" and that it showed Kyiv had no desire to end the 15-month old war at the negotiating table.
Russia has increasingly accused the United States of being a direct participant in the war, intent on inflicting a "strategic defeat" on Moscow. Washington denies this, saying it is arming Kyiv to defend itself and retake land illegally taken by Moscow.
KYIV, ODESA TARGETED
Earlier, Russia fired two dozen combat drones at Ukraine, hitting Kyiv for the third time in four days and also striking a university campus in the Black Sea city of Odesa, ahead of a major counteroffensive by Ukraine to recapture occupied land.
There were no reports of any casualties.
Kyiv's city administration said Russia had probably fired ballistic missiles as well as drones but that they had all been shot down.
    "The Russians attacked Kyiv using Shahed loitering munitions and missiles, likely the ballistic type," it said.  
Ballistic missiles are difficult to shoot down, and their downing could indicate Ukraine used sophisticated Western-supplied air defence systems against them.
    In total, air defences shot down 18 of 24 "kamikaze" drones in the pre-dawn attack, officials said. Of 15 drones fired at Odesa, 12 were downed but three struck the university campus, the southern military command said.
    Shelling in the Donetsk region damaged a power station owned by electricity company DTEK Energo, but no casualties were reported, DTEK and the Energy Ministry said.
The death toll from Russian shelling of Kherson and its environs in southern Ukraine on Wednesday rose to 23, regional governor Oleksandr Prokudin said.
"The enemy's targets are the places where we live. Their targets are our lives, and the lives of our children," he said in an online video on Thursday, after a hypermarket, a railway station and residential buildings were hit.
Russia denies targeting civilians in Ukraine.
Russian emergency services quickly extinguished a fire at the Ilsky oil refinery, one of the largest in southern Russia, after a drone attack set product storage facilities ablaze, TASS news agency reported.
Ukraine rarely claims responsibility for what Moscow says are frequent drone strikes against infrastructure and military targets, particularly in regions close to Russia.
'FULL POWER OF JUSTICE'
In a speech in The Hague, Zelenskiy said: "The aggressor must feel the full power of justice. This is our historical responsibility."
The ICC in March issued an arrest warrant for Putin for suspected deportation of children from Ukraine.
Russia, which is not a member of the ICC and rejects its jurisdiction, denies committing atrocities during its "special military operation" in Ukraine, which it says is needed to protect its own security against a hostile West.
Dutch Prime Minister Mark Rutte, Zelenskiy's host, also said Russia must be held accountable for any war crimes and pledged the Netherlands' "unwavering" support for Kyiv, saying there were "no taboos" when it comes to military aid.
Belgian Prime Minister Alexander De Croo, speaking alongside Zelenskiy and Rutte, said Belgium was preparing a package of new military aid for Ukraine and was also examining how frozen Russian assets could be used to help Kyiv's war effort.
Zelenskiy has vowed to drive all invading Russian forces back to the borders set in 1991 following the collapse of the Soviet Union. He said on Thursday the whole of Ukrainian society was preparing for the counteroffensive, which he said would be successful against what he called a "demotivated" Russia.
There are currently no peace talks to end the war, which has devastated Ukrainian towns and cities, killed thousands of people and driven millions from their homes.
The Kremlin said on Thursday it was aware that Pope Francis was thinking about ways to end the war, but that it did not know of any detailed peace plans from the Vatican.
(Reporting by Kyiv, Moscow and Amsterdam burosWriting by Gareth JonesEditing by Nick Macfie)
MORE FROM THE
OAF NATION NEWSROOM