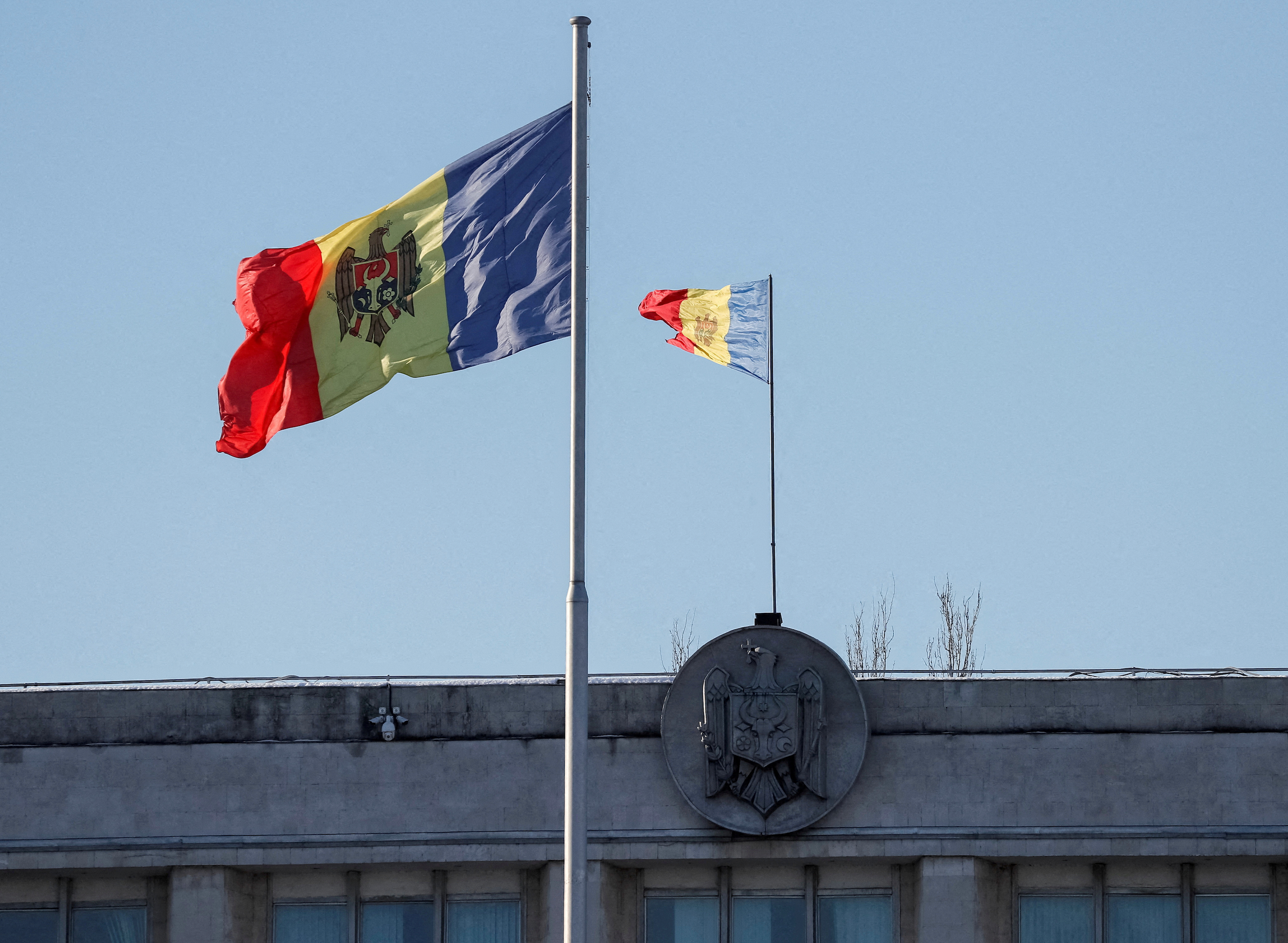 Moldova moves to bar members of banned pro-Russia party from elections
PHOTO CAPTION: Two Moldovan national flags are seen in central Chisinau, Moldova January 19, 2019. Picture taken January 19, 2019. REUTERS/Gleb Garanich
By Alexander Tanas

CHISINAU (Reuters) -Moldova's parliament began moves on Wednesday to prevent members of the banned pro-Russian Shor party running in local elections for other parties or as independent candidates.

The Constitutional Court declared the opposition party unconstitutional in June, but said on Tuesday that its members have the right to run in the local elections on Nov. 5 if they do not represent the banned party.

The party, headed by exiled businessman Ilan Shor, led months of protests against President Maia Sandu and her government over rising prices. Sandu has accused both Shor and Russia of trying to destabilise Moldova since Moscow's February 2022 invasion of Ukraine, which she has fiercely criticised.

In a move aimed against Shor party members, Moldova's parliament approved an amendment to the Electoral Code to bar "specific people" from the local elections in its first and second readings.

The amendment, which has now completed its passage through parliament, envisages law enforcement agencies submitting a list of such people to the central election commission, which will draw up a final list.


Shor, writing from exile in Israel, denounced the measures.

"Parliament today declared a total dictatorship in Moldova, where laws and courts have no force and there is no constitutional framework," he wrote on Facebook.

Marina Tauber, his most prominent political ally and a candidate for mayor next month in Moldova's second largest city, Balti, denounced the move as "sad and pitiful".

A government commission on emergency situations headed by Prime Minister Dorin Recean had earlier on Wednesday ordered such a list to be drawn up "to ensure democratic processes in the upcoming elections and eliminate the danger to the state".

"The Kremlin wants its oligarch (Shor) to come to power in Moldova in order to get rid of all criminal cases, dance to the Kremlin's tune and stick a knife in Ukraine's back. We will not allow this," the parliament's deputy chairman, Mihai Popsoi, told the chamber.

Shor was sentenced in absentia to 15 years in jail in April over a $1 billion bank scandal and money laundering, and the United States and European Union have imposed sanctions on him.

He and Russia deny wanting to destabilise Moldova. Moscow, which has about 1,500 troops stationed in Moldova's breakaway region of Transdniestria, also denied allegations by Sandu that it tried to overthrow her but relations have soured.

Chisinau's ambassador to Moscow was summoned by the Russian Foreign Ministry on Tuesday and informed that Moscow was taking reciprocal measures after the expulsion of the head of the Sputnik Moldova news agency from Moldova on Sept. 13.

(Reporting by Alexander Tanas, Writing by Yuliia Dysa, Editing by Timothy Heritage)
MORE FROM THE
OAF NATION NEWSROOM