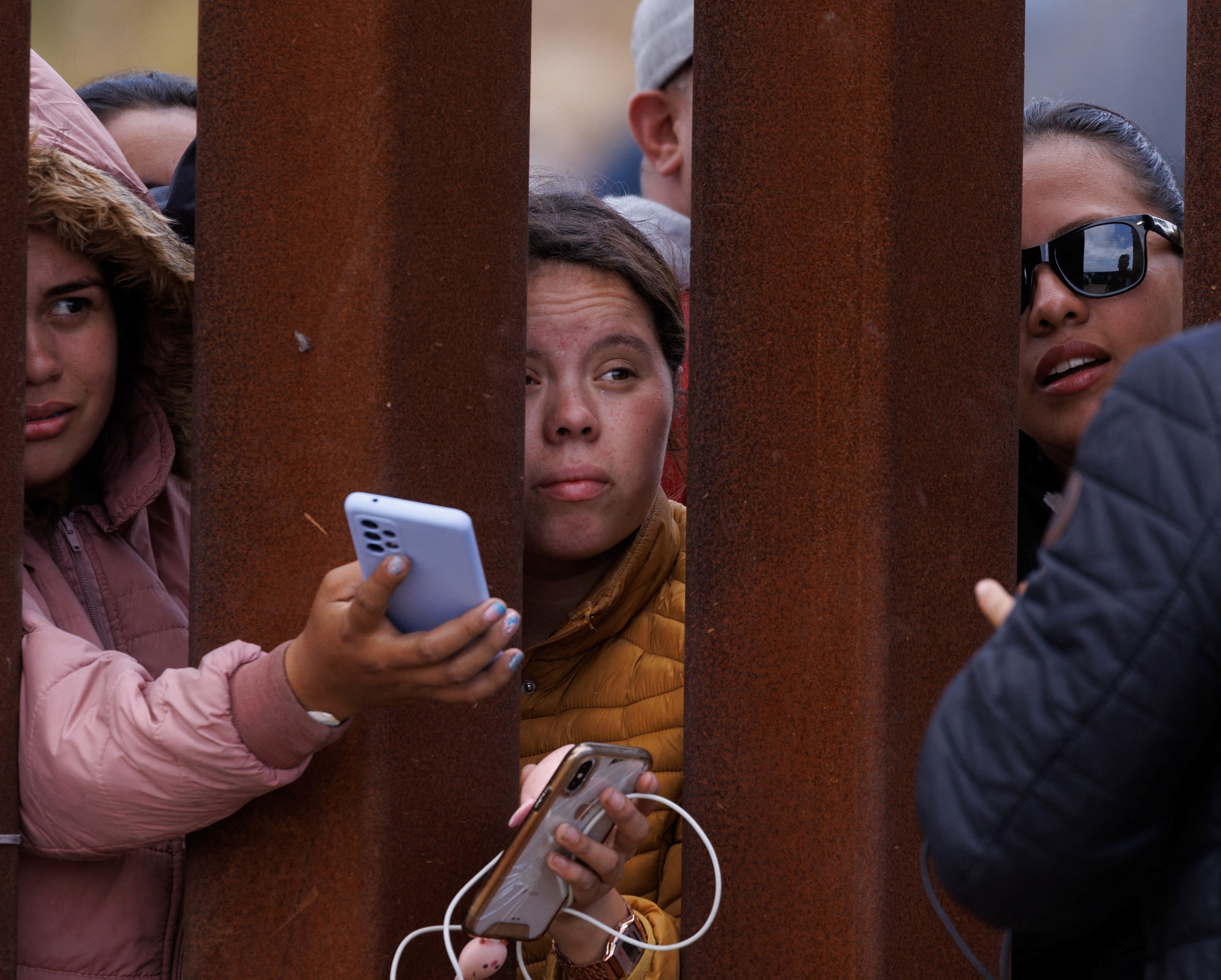 Migrant detentions at US-Mexico border hit record highs as Title 42 ends
Migrants reach out from the border fence to try and get their phones charged while stuck between primary and secondary border fences as the United States prepares to lift COVID-19 era Title 42 restrictions that have blocked migrants at the U.S.-Mexico border from seeking asylum since 2020 near San Diego, California, U.S., May 10, 2023. REUTERS/Mike Blake
YUMA, Arizona (Reuters) - Migrants gathered on both sides of the U.S.-Mexico border on Thursday hours before immigration restrictions known as Title 42 expire, with some rushing to cross ahead of tough new asylum rules that will replace a COVID-era order.
U.S. Customs and Border Protection (CBP) has in recent days been holding up to 28,000 migrants at its facilities, far beyond its stated capacity and in what appeared to be a record, two federal officials requesting anonymity and the Border Patrol's union said.
The busiest border detention facilities are in the Rio Grande Valley and El Paso in Texas and two areas in Arizona, according to union President Brandon Judd.
This week, the number of people caught crossing illegally topped 10,000 per day.
Due to the high volume of arrivals, agents on Wednesday began releasing some migrants without a notice to appear in immigration court where they can make an asylum claim, telling them to report to an immigration office later, Judd said.
On Thursday night, a federal judge in Florida blocked such releases, saying they were similar to a policy previously enjoined in March due to a failure to follow proper regulatory procedures.
CBP did not respond to a request for comment.
On average, people are spending nearly three days in custody, Judd said.
In Yuma, Arizona, hundreds of migrants lined up in the chilly hours before dawn at a gap in the towering border fence, waiting to turn themselves in to U.S. agents.
Some - like 40-year-old Jovanna Gomez from Colombia - decided to try their luck crossing now after hearing about the U.S. policy change.
"In my country, you hear that immigration will only be allowed until May 11, so we came racing against the clock," she said. "It wasn't easy."
Under Title 42, in place since March 2020 and set to expire at midnight, hundreds of thousands of migrants have been quickly expelled to Mexico.
But because Mexico only accepted the return of certain nationalities - mostly their own citizens and Central Americans, and more recently Venezuelans, Cubans, Haitians and Nicaraguans - migrants from other countries have largely been allowed in to pursue their immigration claims.
That is set to change as President Joe Biden's administration sends more personnel and funds to the border while implementing the new regulation, which will deny asylum to almost all migrants who cross illegally.
The measure will bar anyone who has passed through another country without seeking refuge elsewhere or who failed to use legal pathways to enter the United States.
It will take effect when Title 42 lifts, along with the declared end of the broad COVID public health emergency on Thursday.
Top U.S. officials repeated a warning to illegal crossers. "Our borders are not open," Homeland Security Secretary Alejandro Mayorkas told reporters at a White House briefing.
The CBP reiterated in a statement that Venezuelans, Cubans, Haitians, and Nicaraguans that cross the southwest border illegally after the end of Title 42 will continue to be sent back to Mexico, which can accept a total of up to 30,000 migrants from those countries monthly.
The U.S. has opened up legal options for migrants of those nationalities to apply for entry from abroad, in an effort to discourage people from coming to the border.
POLITICAL FINGER-POINTING
U.S. border cities have struggled to shelter the new arrivals and provide transportation to other destinations. Far from the border, other cities say they are also struggling to cope, such as New York, where Mayor Eric Adams temporarily loosened right-to-shelter rules because of strained resources.
U.S. Senator Kyrsten Sinema, an Arizona independent who left the Democratic Party five months ago, criticized the administration on Thursday, telling reporters the president had failed to adequately prepare for the end of Title 42.
She said small towns in her state have been struggling to transport arriving migrants with little access to resources like buses or shelters.
Republicans fault Biden, a Democrat running for re-election in 2024, for scrapping the restrictive policies of former President Donald Trump, a Republican seeking to win back the White House.
And Biden administration officials in recent days have escalated their attacks on Republicans, saying they failed to fix immigration laws or provide adequate border funds.
"I asked the Congress for a lot more money for the Border Patrol," Biden said on Wednesday. "They didn't do it."
Since Biden took office in January 2021, the country has seen a record 4.6 million arrests of migrants crossing illegally, although the tally includes many repeat crossers. A Reuters/Ipsos poll released this week showed that only 26% approved of Biden's handling of immigration.
In Texas, Republican Governor Greg Abbott, a fierce critic of the president's border policies, expanded a National Guard deployment this week "to help intercept and repel large groups of migrants trying to enter Texas illegally."
Some organizations are welcoming the migrants. In Yuma, Fernando Quiroz, a 50-year-old member of a volunteer group known as the AZ-CA Humanitarian Coalition, was pulling a wagon filled with water bottles to hand out to migrants awaiting processing in the middle of the night.
"The reason we are here is our faith, our compassion, our empathy for a lot of these individuals," Quiroz said. "We just want to be that friendly smile.
"Who knows what happens when they get on that bus?" he said. "This is just the first step of a very long journey."
(Reporting by Liliana Salgado in Yuma, Arizona and Ted Hesson in Washington; Additional reporting by Mike Blake in San Diego, Lizbeth Diaz in Mexico City, Jose Luis Gonzalez in El Paso, Texas, Kristina Cooke in San Francisco, and Doina Chiacu in Washington; Writing by Mica Rosenberg; Editing by Jonathan Oatis, Deepa Babington and Kim Coghill)
MORE FROM THE
OAF NATION NEWSROOM