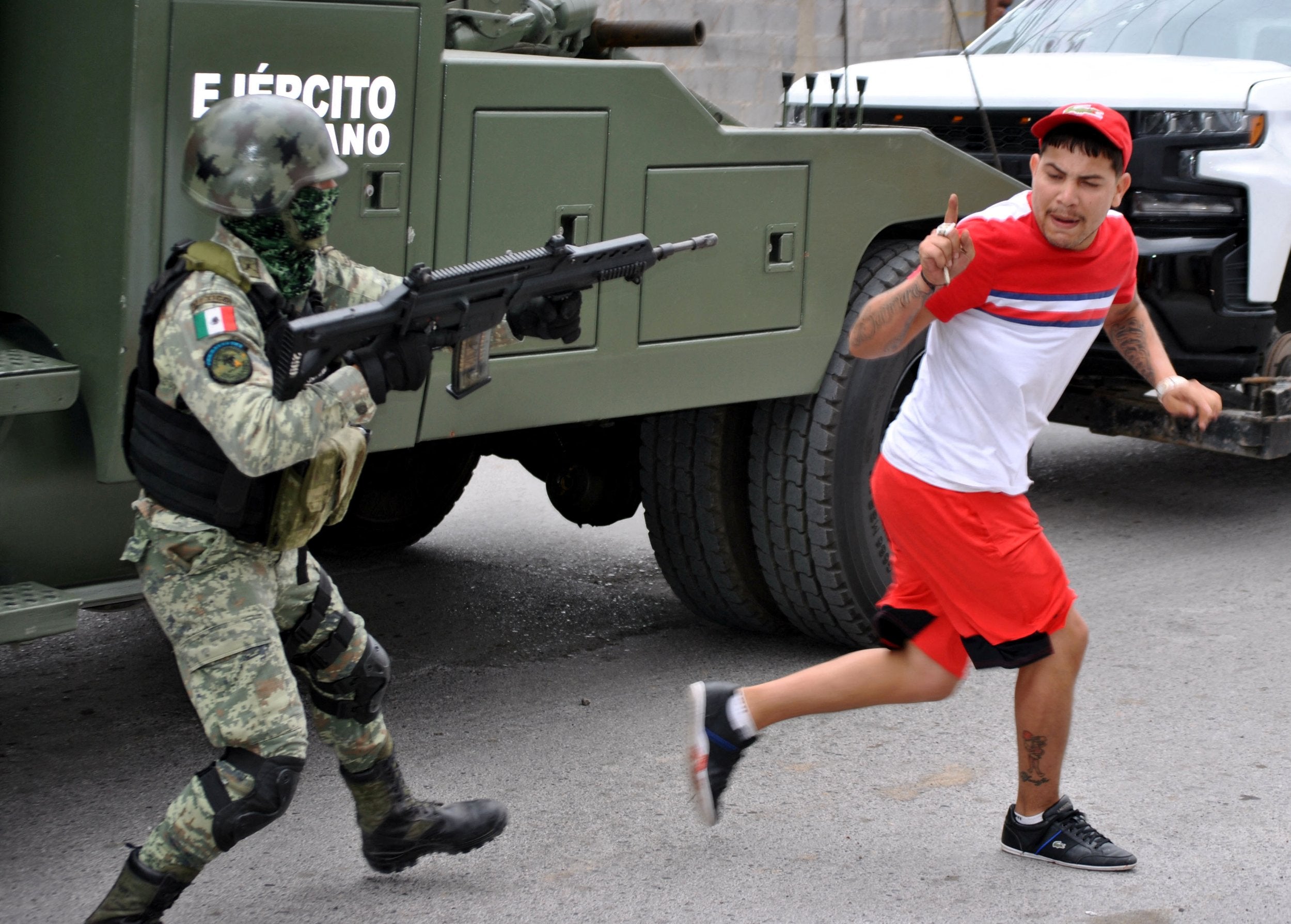 Mexican soldiers kill five men in border city, rights group says
MEXICO CITY (Reuters) -Soldiers in a northern Mexican border city allegedly killed five, unarmed young men who were driving to their homes in a pick-up truck, a local human rights group said on Monday, as it called on the government to investigate the shootings.
The victims were shot on Sunday while driving in the city of Nuevo Laredo near the U.S.-Mexico border, the Nuevo Laredo Human Rights Committee said in a statement, before announcing on Monday it had filed a complaint with federal prosecutors on behalf of the victims and their relatives.
A sixth person in the truck survived and was hospitalized with gunshot wounds.
Mexico's defense ministry did not immediately respond to a request for comment.
Nuevo Laredo Mayor Carmen Lilia Canturosas on Monday said the army along with the Attorney General's Office and the National Human Rights Commission are investigating the case and collecting evidence. None of the victims were minors, she added.
A spokesman for the U.S. Department of State said it had seen reports that one of the victims was a U.S. citizen, but said it could not confirm that "at this time."
The rights group, in its statement, said family members of the victims and a journalist who arrived at the scene were met with a violent response from soldiers.
"The Mexican army is out of control," said Raymundo Ramos, head of the Nuevo Laredo Human Rights Committee. "Prosecutors have to clear up what happened and the president must stop protecting (the soldiers)."
In September, Mexico's Congress gave the army control over the National Guard, a change that drew criticism from rights groups and international bodies, including the United Nations.
Tyler Mattiace, a Mexico researcher for Human Rights Watch, said the killings highlight a faulty strategy to reduce crime.
"Sending soldiers out onto the streets with weapons of war has led to more violence, not less," he said.
(Reporting by Lizbeth Diaz; Additional reporting by Brendan O'Boyle, Daina Beth Solomon and Ted Hesson; Editing by Aurora Ellis and Leslie Adler)
MORE FROM THE
OAF NATION NEWSROOM