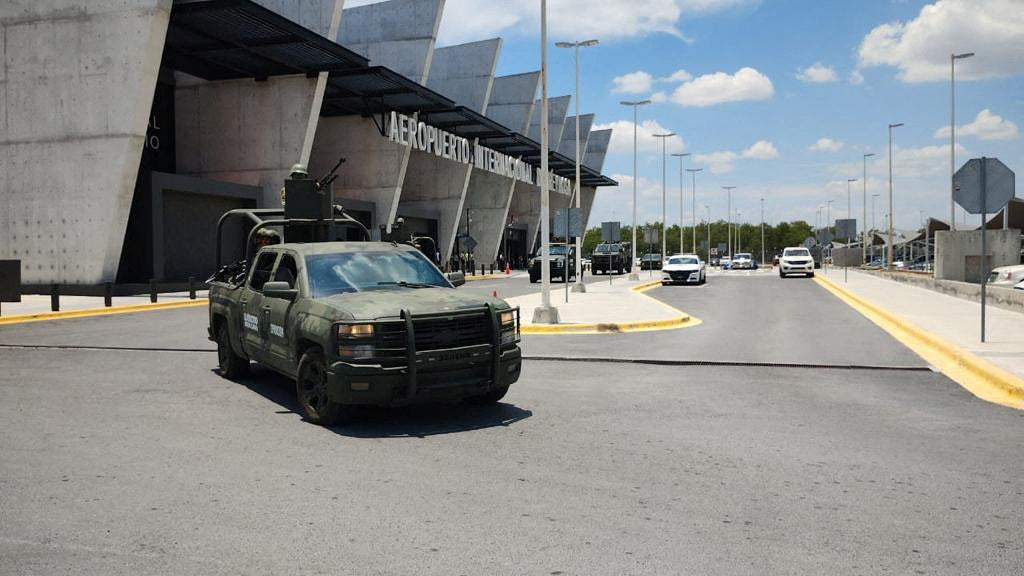 Mexican official attacked by gunmen in border state
PHOTO CAPTION: Military personnel leave the Reynosa International Airport after their arrival following an attack by gunmen to the Tamaulipas state's interior minister Hector Villegas in the early hours of Monday while on the Reynosa-San Fernando highway, in Reynosa, Mexico in this handout distributed to Reuters on July 3, 2023. Mexico Defense Ministry (SEDENA)/Handout via REUTERS
MEXICO CITY (Reuters) -A top official in the northern Mexican state of Tamaulipas was shot at on Monday while traveling by car and was unharmed, authorities said, the latest outbreak of violence against officialdom in the country.
Hector Villegas, the border state's interior minister, came under attack in the early hours of Monday while on the Reynosa-San Fernando highway, thestate's security spokesperson said on Twitter. He is now at work as usual, the tweet added.
Pictures on social media appeared to show the minister's car with a series of bullet holes. Local media described the attack as an assassination attempt.
Reuters could not immediately verify the photos.
One hundred soldiers from the Mexican army arrived in the Tamaulipas' municipalities of Nuevo Laredo, Reynosa and San Fernando, according to astatement shared later on Monday by the Defense Ministry (SEDENA).
The deployment aims to reinforce security operations to stop criminal groups' activities and ensure safety for the population, the statement said.
Tamaulipas has long been notorious for gang violence, as have other parts of Mexico.
Last year, the mayor of a small northern town was abducted in the Tamaulipas city of Nuevo Laredo before being freed.
Gunmen affiliated with a drug gang killed a town mayor alongside 19 others in the southern Mexican state of Guerrero in October, officials said.
Mexican consulting firm Etellekt Consultores said at least 88 Mexican politicians or candidates for office were killed between September 2020 and the June 2021 legislative elections.
(Reporting by Isabel Woodford and Lizbeth Diaz; editing by Grant McCool and Chris Reese)
MORE FROM THE
OAF NATION NEWSROOM