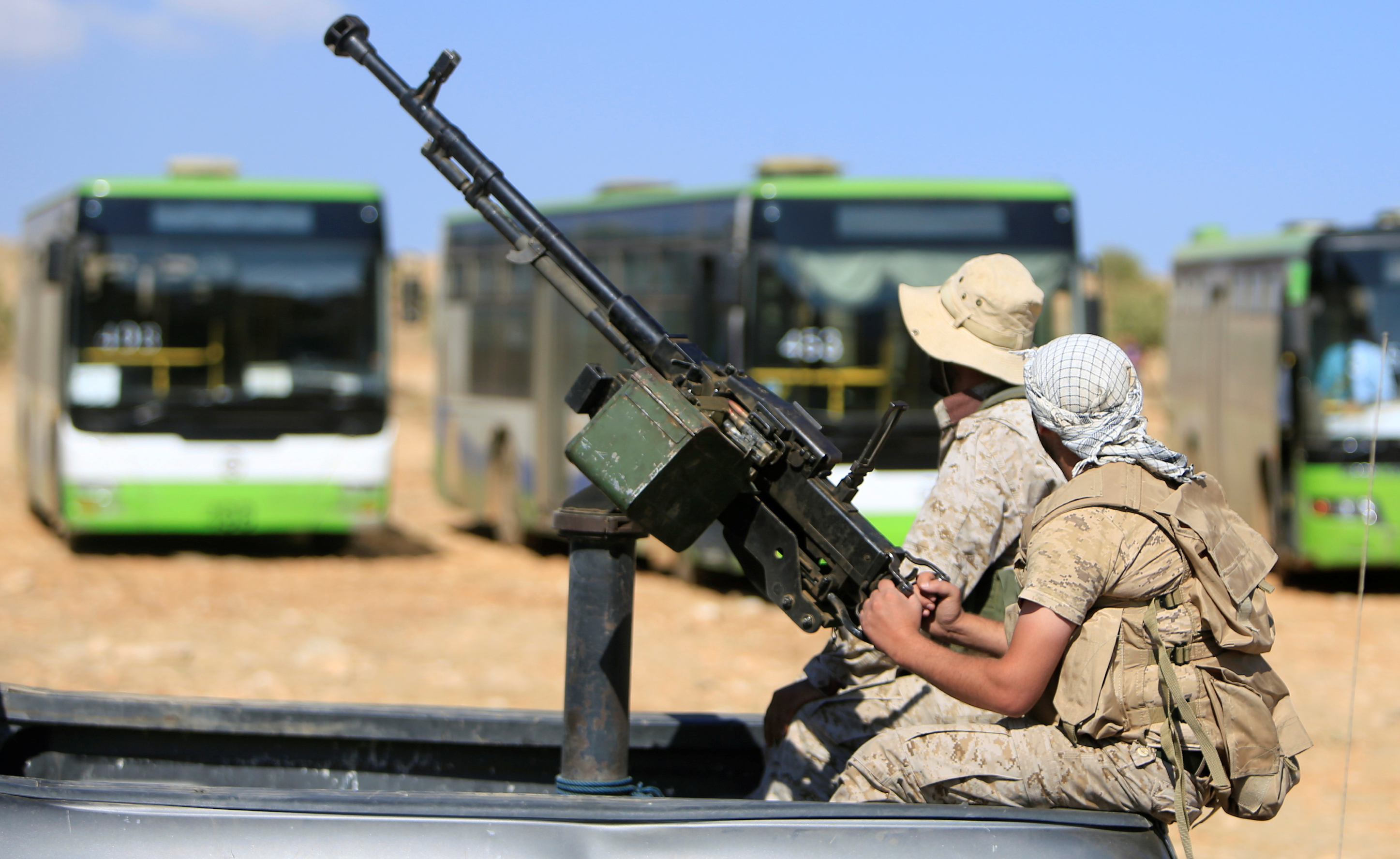 Lebanon's Hezbollah seeks to harass Israel without opening new front, sources say
PHOTO CAPTION: Hezbollah fighters sit on a back of a truck mounted with a machine gun in Jroud Arsal, near Syria-Lebanon border, August 13, 2017. REUTERS/Ali Hashisho
BEIRUT (Reuters) -Lebanon's Hezbollah has moved carefully since Hamas and Israel went to war, keeping Israeli troops busy with attacks at the Lebanese border but not opening a big front, sources familiar with its thinking say.

The Iran-backed group is on a war footing, deploying special forces and priming its rockets in preparation for the possibility of war.

Tensions are higher than at any point since it fought a 2006 conflict with Israel, the sources said. Three Hezbollah fighters have already been killed.

Hezbollah's Palestinian allies, Hamas and Islamic Jihad, have also entered the fray, attacking Israel from Lebanon for the first time, including a cross-border infiltration on Monday in which the Israeli army says three of its soldiers and two gunmen were killed.

But while Hezbollah is not ruling out war, the sources said its moves so far have been designed to be limited in scope, preventing a big spillover into Lebanon while keeping Israeli forces occupied in northern Israel.

One of the sources, speaking on condition of anonymity, said Hezbollah was mounting strikes here and there and responding to Israeli fire into Lebanon while closely observing the situation in the Gaza Strip and the south.

Hezbollah was taking things "day by day", the source said.

A major war between Israel and Hezbollah, battled hardened by wars across the region including Syria, would leave the Israeli army fighting on two fronts as it seeks to crush Hamas some 200 km away in Gaza.

Hamas ignited the war on Saturday when its gunmen infiltrated Israel from Gaza, killing 1,200 people and abducting dozens more. Israeli bombardment of Gaza has killed 1,055 Palestinians.

Founded by Iran's Revolutionary Guards in 1982 to fight Israeli forces that invaded Lebanon, Hezbollah has long served as a model for other Tehran-backed groups in the region including Hamas and Islamic Jihad.

The United States has warned Iran not to get involved and has sent an aircraft carrier strike group closer to Israel, describing this as a "strong message of deterrence" to stop the conflict from broadening.

The U.S. ambassador to Lebanon and other Western officials have been telling Lebanese state officials that Hezbollah must not get involved, a senior Lebanese politician and a U.N. source said. The U.S. Embassy referred Reuters to the State Department, which did not immediately respond to a request for comment.

Hezbollah did not immediately respond to a request for comment.


NASRALLAH FOLLOWING

Mohanad Hage Ali of the Carnegie Middle East Center said Hezbollah's next steps would be shaped by Israel's plans for a Gaza ground incursion.

The prospect of Hamas being dealt a killer blow would "propel Hezbollah to intervene, along with Palestinian factions (in Lebanon), and increase the possibility of things going out of hand," he said.

Hezbollah has said it is in direct contact with Palestinian militants in Gaza and expressed its support for them.

Hezbollah leader Sayyed Hassan Nasrallah, known for threatening Israel in fiery televised addresses, has not delivered a speech since the violence began on Saturday.

The sources said he is following events in Gaza and the south by the minute.

Earlier this year, Hezbollah invited media to watch its elite Radwan forces simulate an invasion of northern Israel.

Israel has long seen Hezbollah as the biggest threat at its borders. The 2006 war killed 1,200 people in Lebanon, mostly civilians, and 157 Israelis, mostly soldiers.

Lebanon took years to rebuild from the 2006 war and can ill afford another one, four years into a financial crisis that has impoverished many Lebanese and paralysed the state.

All-out war would likely derail Lebanon's offshore oil and gas exploration efforts, for which Hezbollah has voiced strong support. Last year, it gave the nod for a U.S.-brokered deal between Lebanon and Israel to draw a disputed maritime boundary.

Ibrahim al-Amin, editor of the pro-Hezbollah Lebanese newspaper al-Akhbar, wrote on Wednesday that "matters will witness a big change" if Israel "widened the battle to displace the people of the Gaza Strip, or carried out any crazy act" against the Palestinian armed groups.

(Reporting by Beirut bureau; Writing by Tom Perry; Editing by Angus MacSwan)
MORE FROM THE
OAF NATION NEWSROOM