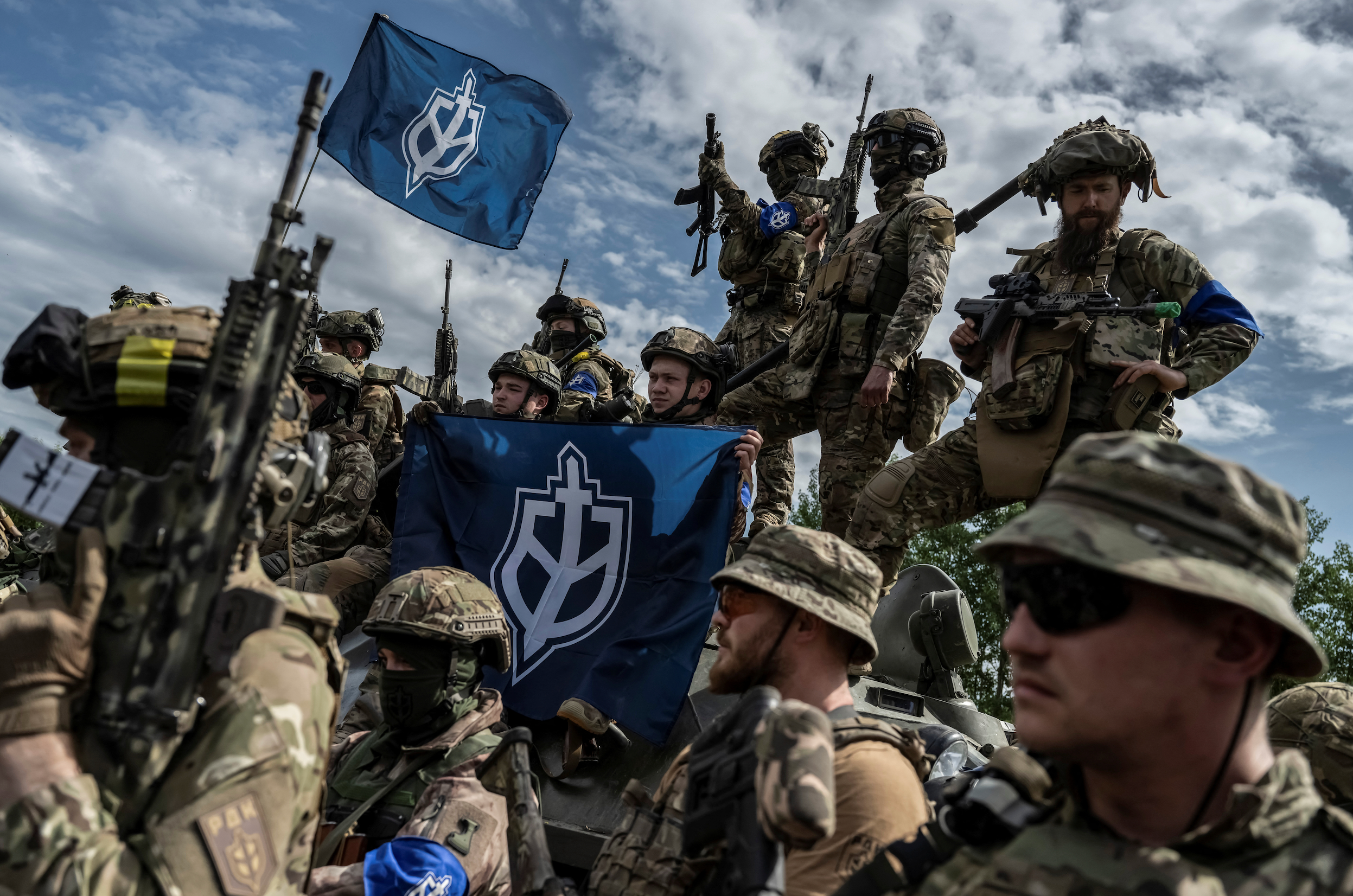 Leader of cross-border raid tells Russia to expect more incursions
PHOTO CAPTION: Members of the Russian Volunteer Corps are seen, amid Russia's attack on Ukraine, near the Russian border, in Ukraine May 24, 2023. REUTERS/Viacheslav Ratynskyi
By Vitalii Hnidyi
NEAR THE RUSSIAN BORDER, Ukraine (Reuters) -The Russian commander of a militia that conducted a raid on a Russian border region this week said on Wednesday his group would soon launch more incursions into Russian territory.
Denis Kapustin, who described himself as the commander of the Russian Volunteer Corps (RVC), spoke to reporters on the Ukrainian side of the border with Russia a day after Moscow said it had repelled the raid on the Belgorod region.
Kyiv has said the attack was carried out by Russian citizens, casting it as homegrown, internal Russian strife. Two groups operating in Ukraine - the Russian Volunteer Corps (RVC) and Freedom of Russia Legion - have claimed responsibility.
The Russian military said it had routed the militants, who carried out their attack using armoured vehicles, and pushed those who survived back into Ukraine.
Kapustin said two of his fighters had been "lightly wounded", and that total losses on his side for the operation were two killed and 10 wounded. Moscow claimed it killed over 70 'Ukrainian nationalists'.
Kapustin also said the fighters had taken a Russian armoured vehicle and anti-drone gun as trophies.
"I think you will see us again on that side," said Kapustin, who introduced himself by his call-sign White Rex. "I cannot reveal those upcoming things, I cannot even reveal the direction. The ... border is pretty long. Yet again there will be a spot where things will get hot."
He was asked repeatedly about Western media reports that his militia had used U.S. military equipment that was meant to help Ukraine defend itself against Russia's invasion, but declined to answer directly.
"I know exactly where I got my weapons from. Unfortunately not from the Western partners", he said.
He also suggested that Western military equipment had been captured by Russia in the battle for Bakhmut in eastern Ukraine and that such equipment could be bought on the black market.
"I think I explained that the Western military aid unfortunately goes back and forth, being raided. In Bakhmut for instance I know that a lot of armoured vehicles, American armoured vehicles, got raided by the Russian forces," he said.
Kapustin said Ukraine only supported the RVC with information, petrol, food and medicine.
"And, of course, the Ukrainian military took our wounded. But anything more than this would make things difficult."
"Every decision we make ... beyond the state border is our own decision. Obviously we can ask our (Ukrainian) comrades, friends for their assistance in planning," he said.
The RVC says it is made up of Russians fighting for Ukraine, and against Russian President Vladimir Putin.
"Our future plans are new territories of the Russian Federation, which we will definitely enter... You should be a just a little bit patient, and wait just a couple of days," Kapustin said.
The U.S.-based Anti-Defamation League has described Kapustin as "a Russian neo-Nazi who lived in Germany for many years". 
Kapustin said his group was right-wing, and when asked if he was minded being labelled a Nazi, he said he didn't "think it's an insult."
But he added: "I have my set of views, it's a patriotic set of views, it's a traditionalist set of views, it's a right-wing set of views. You know, you'll never find me waving a flag with a swastika, you'll never find me raising my hand in a Hitler sign. So why would you call me that?"
(Additional reporting by Felix Hoske, Writing by Max Hunder, Editing by Timothy Heritage and Sharon Singleton)
MORE FROM THE
OAF NATION NEWSROOM