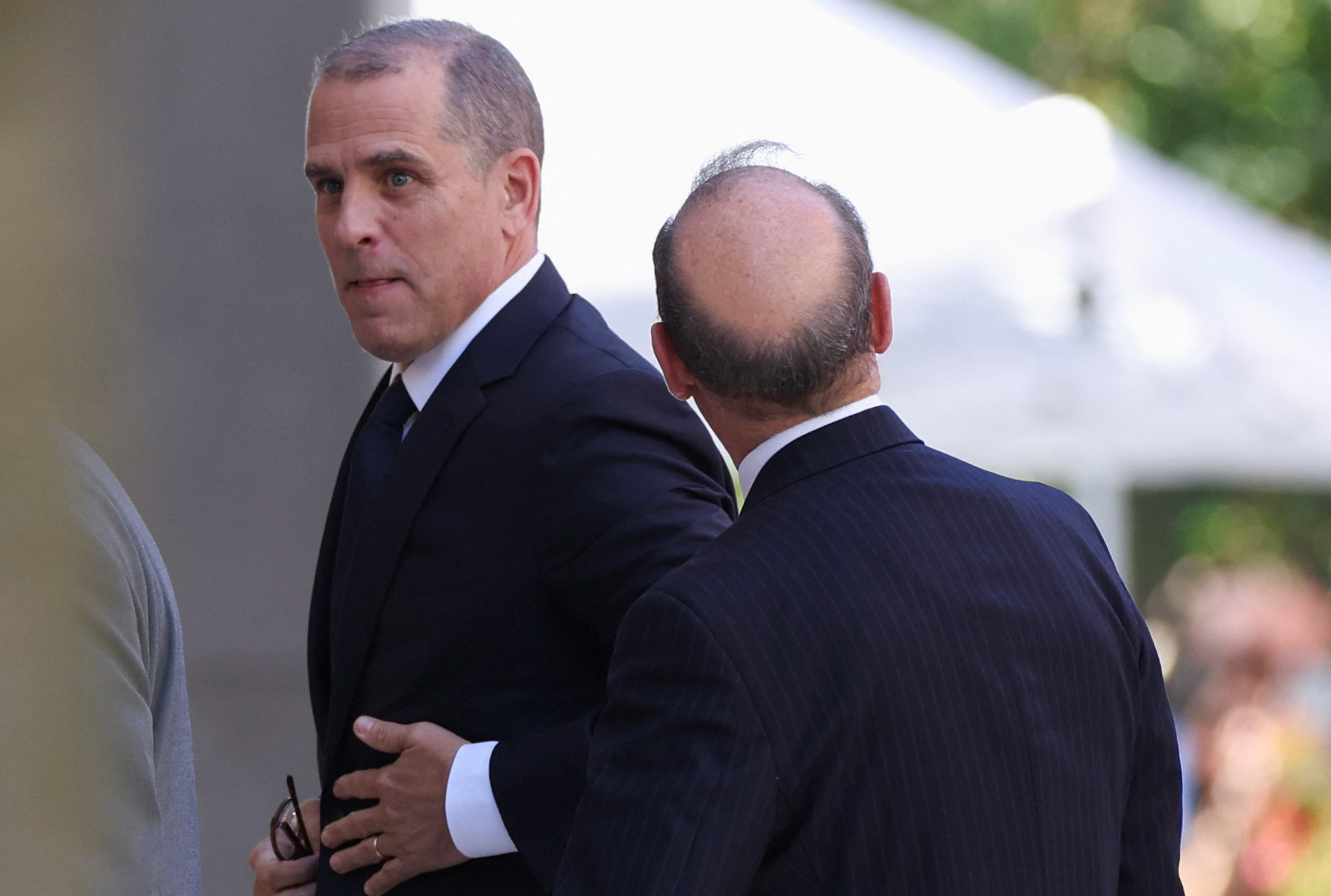 Hunter Biden pleads not guilty to gun charges in Delaware court
PHOTO CAPTION: U.S. President Joe Biden's son, Hunter Biden, walks to appear in a federal court on gun charges in Wilmington, Delaware, U.S., October 3, 2023. REUTERS/Mike Segar
By Tom Hals

WILMINGTON, Delaware(Reuters) -President Joe Biden's son Hunter Biden pleaded not guilty on Tuesday to charges that he lied about his drug use while buying a handgun, in the first-ever criminal prosecution of a sitting U.S. president's child.

Hunter Biden, 53, was charged last month with three counts related to lying on a federal form to acquire a Colt Cobra handgun in 2018 and for being an illegal drug user in possession of the gun.

Biden wore a dark suit and tie during his appearance at the federal courthouse in Wilmington, Delaware, which lasted 25 minutes. "Yes your honor," Biden said in response to U.S. Magistrate Judge Christopher Burke asking if he understood the charges and the not guilty plea entered by his attorney, Abbe Lowell.

He arrived at the courthouse in a motorcade of six black sedans.

Six men wearing earpieces who appeared to be Secret Service agents sat near Hunter Biden during the court proceedings and escorted him out of the courtroom through a side door.


Burke set conditions for Hunter Biden's release pending trial, including clearing travel with a probation officer, abstaining from illegal drugs and alcohol and seeking employment. Burke said Hunter Biden submitted to tests for illegal drug use multiple times recently and had tested negative.

Tuesday's hearing sets the stage for a historic first: The criminal trial of the adult child of a sitting president who is campaigning for reelection.

Biden's likely 2024 Republican rival, Donald Trump, faces four upcoming criminal trials of his own, two of which are tied to his attempts to overturn his 2020 election loss to Biden, which he continues to falsely claim is the result of fraud.

The president's son also attended a hearing in July in Wilmington related to the charges.

In that hearing, an agreement to resolve the gun charges and separate tax charges unraveled when a U.S. District Judge Maryellen Noreika in Wilmington refused to accept it.

Under that deal, Hunter Biden had agreed to plead guilty to misdemeanor tax violations and would avoid punishment on the gun charges if for two years he did not possess a firearm and refrained from using illegal drugs and alcohol.

Lowell, Hunter Biden's attorney, said on Tuesday he would file a motion to dismiss the case because he believed the July agreement remains in effect and because he believed the statute was unconstitutional.

Burke said he would have to file by Nov. 3.

Some legal experts have said that any firearms-related charges against Hunter Biden could be vulnerable to a constitutional challenge, after the U.S. Supreme Court last year in a landmark ruling expanded gun rights under the U.S. Constitution's Second Amendment, which protects the right to bear arms.

The younger Biden for years has been the focus of unrelenting attacks by Republicans, led by former President Trump.

Republicans have accused Hunter Biden, who has worked as a lobbyist, lawyer, investment banker and artist, of wrongdoing relating to Ukraine and China and have made him a focus of a congressional impeachment inquiry of Joe Biden.

The president's son, who has publicly discussed his substance abuse, never held a position in the White House or on his father's campaign. The president has said he has not discussed foreign business dealings with his son and has said his Justice Department would have independence in any investigation of a member of his family.

(Reporting by Tom Hals in Wilmington, Delaware; Editing by Andy Sullivan, Scott Malone and Alistair Bell)
MORE FROM THE
OAF NATION NEWSROOM