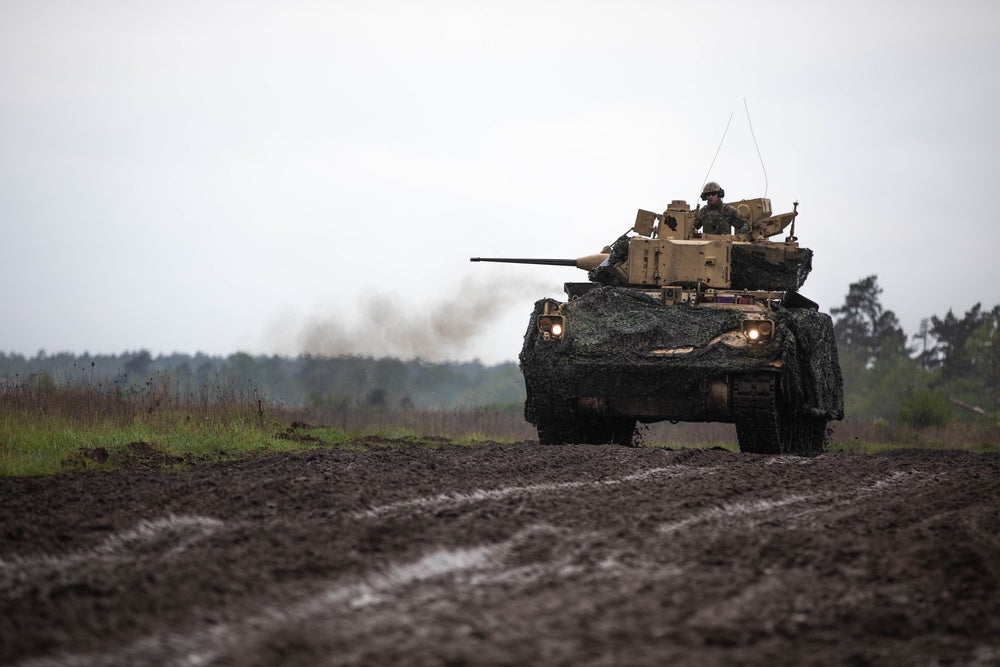 General Dynamics, Rheinmetall to compete for potential Bradley replacement contract with US Army
PHOTO CAPTION: U.S. Soldiers assigned Alpha Company, 1st Battalion, 9 Calvary Regiment, drive an M2 Bradley Fighting Vehicle during a fire support coordination exercise as part of Griffin Shock 23 held at Bemowo Piskie, Poland, May 17, 2023. (U.S. Army National Guard photo by Staff Sgt. Agustín Montañez 
WASHINGTON (Reuters) -The U.S. Army said on Monday it had selected General Dynamics and AmericanRheinmetall to compete to replace the Bradley fighting vehicle, in a deal that could be worth more than $45billion to the winner.
The two, narrowed from an original field of five, will get contracts to develop detailed digital designs and later prototypes for testing. The total award value for both contracts is approximately $1.6 billion.
A single competition winner will be given a production contract in 2027, Army officials said, with fielding of the first vehicles in 2029. The Army said it will decide by 2027 how many of the vehicles it will buy.
Replacing the Bradley is part of a broader modernization plan across the U.S. Army, including efforts to improve firing precision over long distances, upgrading missile defenses and development of a new combat vehicle and a new helicopter.
Dubbed the XM30 mechanized infantry combat vehicle, the new tracked vehicle is expected to have a hybrid-electric engine, carry up to six passengers and include a 50 millimeter turret mounted gun, as well as other machine guns and anti-tank weapons. Ultimately, some of the functions of the vehicle would be autonomous,Army officials said.
The Army has struggled to replace the Bradley over a number of years, with a previous attempt abandoned.
It is anticipated that two of the vehicles could fit in the belly of the C-17 cargo jet, one of the largest planes regularly used by the military to transport equipment.
The awardees will be required to deliver up to 11 prototype vehicles and other equipment.
The original group of five contractors included Point Blank Enterprises, Oshkosh Defense and BAE Systems Land and Armaments.
(Reporting by Mike Stone; Editing by Chris Sanders and Jamie Freed)
MORE FROM THE
OAF NATION NEWSROOM