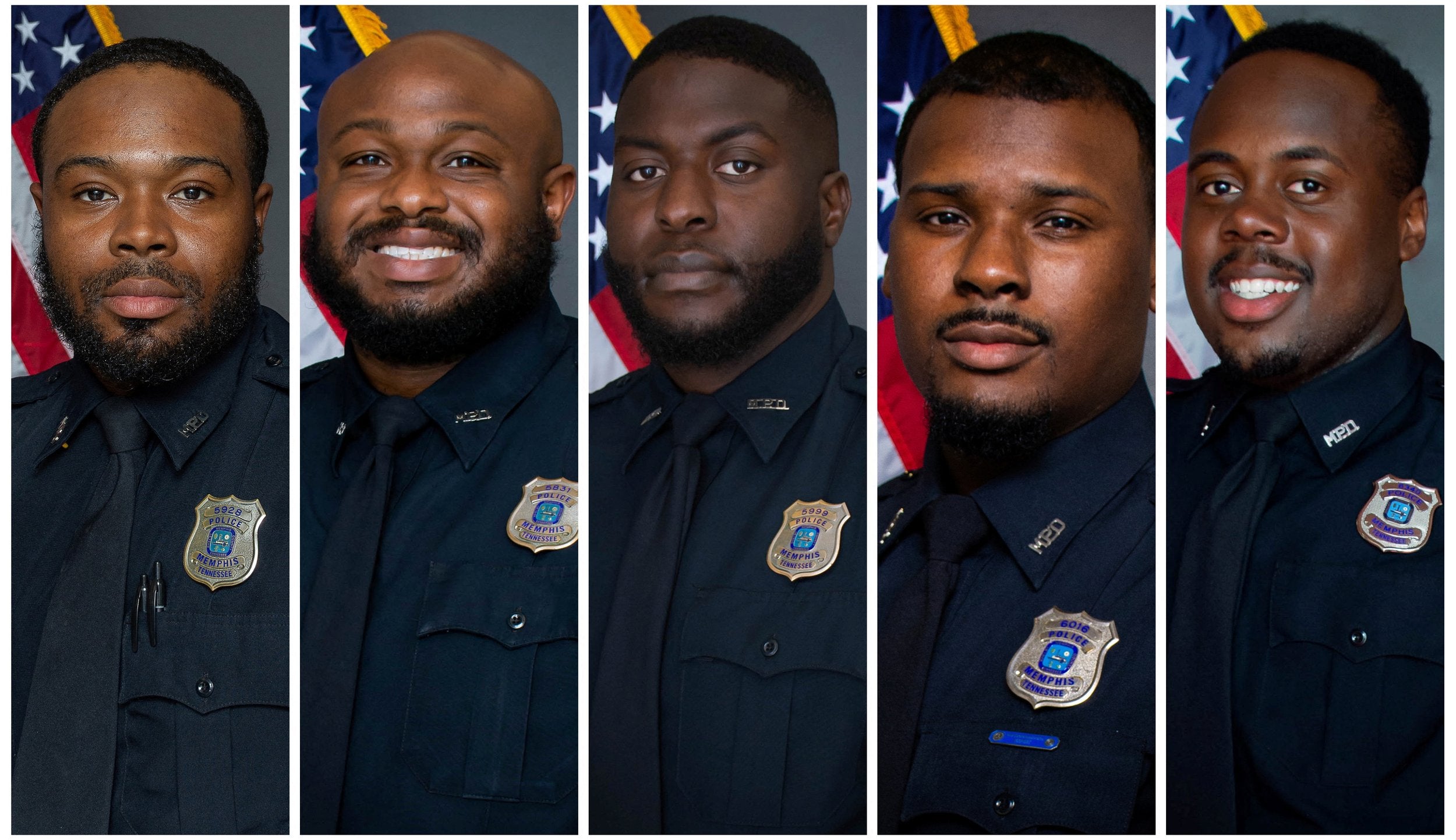 Five ex-Memphis policemen charged with murder in beating death of Tyre Nichols
(Reuters) -Five former Memphis police officers were charged on Thursday with murder in the death of a Black motorist, Tyre Nichols, from injuries he sustained in a violent encounter following a traffic stop, prosecutors said.
Nichols, a 29-year-old father, died while hospitalized on Jan. 10, three days after the confrontation during his arrest by the five police officers.
Officials were expected on Friday evening to release police body-worn camera video of the incident, which a lawyer for Nichols' family likened to the notorious footage of Los Angeles police officers beating Black motorist Rodney King more than 30 years ago.
"We're here today because of a tragedy that wounds one family deeply but also hurts us all," Shelby County District Attorney Steve Mulroy said at a news conference announcing the charges.
The five officers, who are all Black, were each charged with second-degree murder, aggravated assault, aggravated kidnapping, official misconduct and official oppression, Mulroy said.
The Memphis Police Department on Friday identified them as Tadarrius Bean, Demetrius Haley, Emmitt Martin III, Desmond Mills, Jr., and Justin Smith. They range in age from 24 to 32 and each served on the department for about 2 1/2 to five years.
They were dismissed from the force last Saturday after an internal investigation found they had violated multiple departmental policies, including using excessive force, failing to intervene, and failing to render aid. They were taken into custody on Thursday morning, county jail records showed.
Despite the murder charges, the district attorney revealed few additional details known about the circumstances surrounding Nichols' fatal encounter with police.
After Nichols was stopped, there was "an altercation" in which officers doused the motorist with pepper spray, and Nichols tried to flee on foot, Mulroy said, describing what followed in highly elliptical terms.
"There was another altercation at a nearby location at which the serious injuries were experienced by Mr. Nichols," the prosecutor said.
The initial Memphis Police Department statement about the death had said an ambulance was called because Nichols "complained of having a shortness of breath" and that he was taken to a hospital in critical condition.
Mulroy said he would not comment on the legality of the initial traffic stop. He said the investigation would continue, and he would not rule out the possibility of additional charges.
'THIS WAS CRIMINAL'
David Rausch, director of the Tennessee Bureau of Investigation, said at the news conference that he was sickened by what he saw in the bodycam videos.
"What happened here does not at all reflect proper policing," he said. "This was wrong. This was criminal."
The former officers could not be reached for comment.
Blake Ballin, a lawyer representing Mills, said at a separate news conference that his client was "devastated to find himself charged with a crime."
Ballin was joined by William Massey, representing Martin; both lawyers said they had not yet seen the video and were still developing their defenses. Their clients were each posting a bond to be released from jail on Thursday, they said.
Mills and Martin both intended to plead not guilty, their lawyers said. Ballin said it might be another two weeks before the defendants make their initial appearance in court because they were charged by grand jury indictment.
Other Memphis officers remain under investigation for policy infractions, Police Chief Cerelyn Davis said. In a statement posted on YouTube, she asked for calm when the police video is made public.
"I expect you to feel what the Nichols family feels," she said. "I expect you to feel outrage in the disregard of basic human rights."
'PAINFUL REMINDER'
U.S. President Joe Biden, in a statement, said Nichols' death "is a painful reminder that we must do more to ensure that our criminal justice system lives up to the promise of fair and impartial justice, equal treatment, and dignity for all."
Nichols' death marked the latest in a spate of high-profile cases of police officers accused of using excessive force in the deaths of Black people and other minorities in recent years, sparking public outcries against systematic racism in the U.S. criminal justice system.
Protests against racial injustice erupted globally following the May 2020 murder of George Floyd, a Black man who died after a white Minneapolis police officer knelt on his neck for more than 9 minutes, after he was arrested on suspicion of trying to pass a counterfeit bill.
The Nichols family viewed the police footage on Monday with their attorney, Ben Crump, who compared it to the 1991 videotaped Rodney King beating by four police officers whose acquittal of criminal charges the following year sparked several days of riots in Los Angeles.
"This young man lost his life in a particularly disgusting manner that points to the desperate need for change and reform to ensure this violence stops occurring during low-threat procedures, like in this case, a traffic stop," Crump and colleague Antonio Romanucci said in a statement.
The last words heard on the video were Nichols calling for his mother three times, Crump said.
(Reporting by Tyler Clifford in New York and Brendan O'Brien in Chicago; Additonal reporting by Jonathan Allen; Editing by Lisa Shumaker, Daniel Wallis, Grant McCool and Leslie Adler)
MORE FROM THE
OAF NATION NEWSROOM