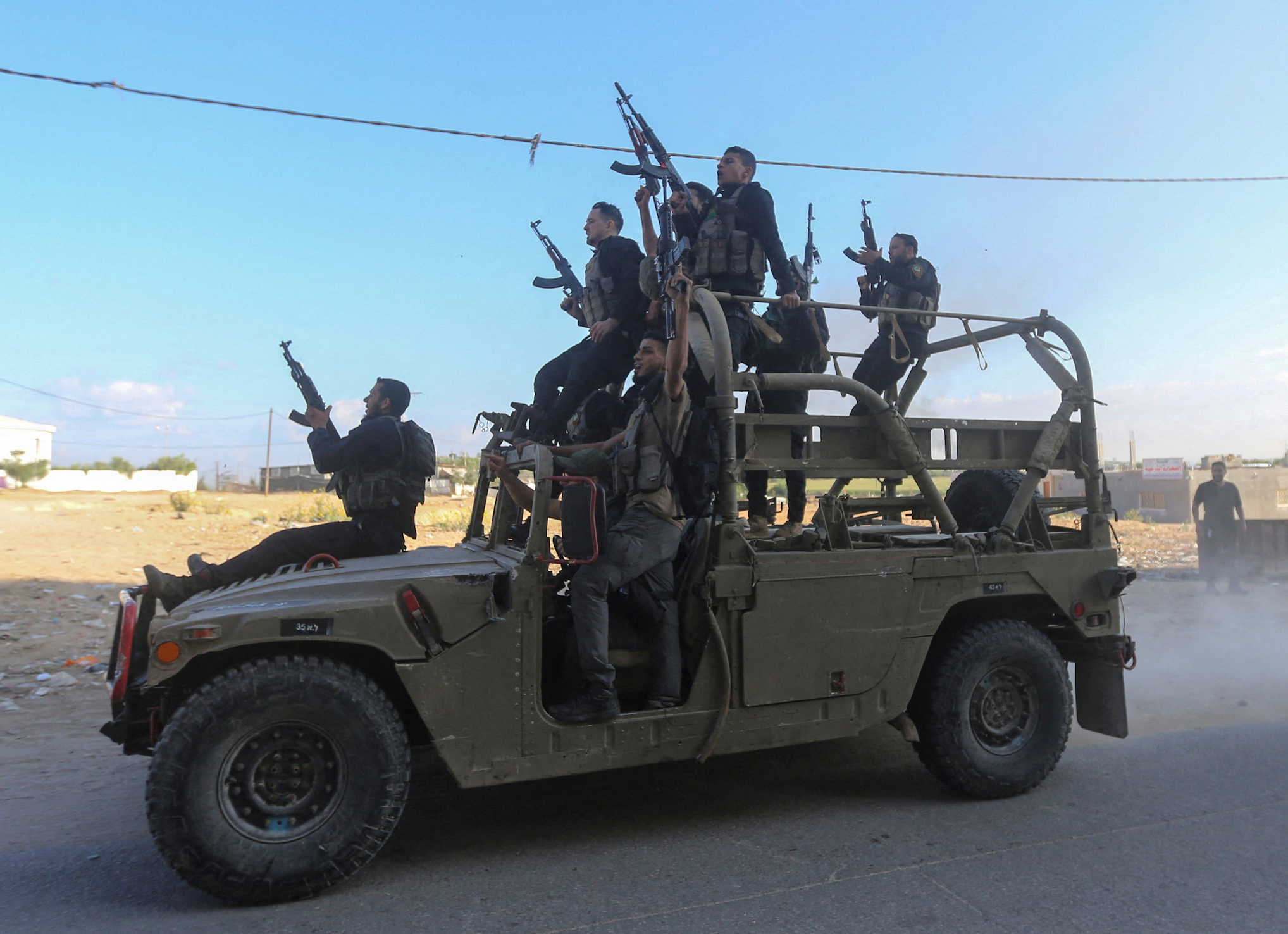 Factbox: The specialized units Hamas used to attack Israel
PHOTO CAPTION: Palestinian militants ride an Israeli military vehicle that was seized by gunmen who infiltrated areas of southern Israel, in the northern Gaza Strip, October 7, 2023. REUTERS/Ahmed Zakot
(Reuters) -Palestinian Islamist group Hamas deployed a force of about 1,000 fighters to stage the most devastating attack on Israel in decades, organising them into specialised units, a source close to the group told Reuters.

Some of the operations or training by the units were caught on videos released by Hamas and its armed wing the Izz el-Deen al-Qassam Brigades. Other footage of the operation came from witnesses.

An Israeli military spokesmen said Israeli troops were fighting Hamas gunmen at half a dozen points around Gaza, more than 48 hours after the assault was launched in the early hours of Saturday morning.


TRAINING

The source close to Hamas said the group's fighters had been training in Gaza since the last conflict in 2021, on occasion conducting drills in plain sight. The exercises involved building a mock Israeli settlement to practice a military landing and training to storm it, the source said.

The Joint Room for Palestinian Resistance Factions, which is led by the military wings of Hamas and Islamic Jihad, released photographs on its Telegram channel on Dec. 28, 2022 showing what it said were images of training for a "raid behind enemy lines", included training to capture Israeli soldiers.


MISSILE UNIT

At the start of the operation, Hamas said it had fired 3,000 rockets in a first barrage. Israel's military said 2,500 rockets were fired, logging the bombardment at about 6.30 a.m (0330 GMT).

The rockets were intended to cause shock and confusion while providing Hamas fighters with cover to break through the fortified fence surrounding Gaza and carry out the operation.


AIRBORNE UNIT

Teams of fighters on hang gliders, or motorised paragliders, flew over the border and secured the terrain for the main ground assault.

Videos released by Hamas showed the unit, with badges carrying the name Air Force Falcon Squadron, in what appeared to be training for the assault. Some militants used one-person paragliders and others used paragliders for two people. It showed them training to land at a target with weapons ready.

ELITE COMMANDO GROUND UNIT

This was a 400-strong elite force, which broke through the fortified Gaza fence using explosives to open up gaps so they could infiltrate to the Israeli side. After some crossed on motorcycles, bulldozers were used to widen the holes so teams could enter Israeli territory in four-wheel drive vehicles.

The commandoes attacked the first Israeli defence lines, raided sleeping quarters of soldiers and seized bases and the headquarters of Israel's military operation for southern Gaza, the source said.

Videos issued by Hamas showed the fighters breaching the security fences, with the dim light and low sun suggesting it was at around the time as the rocket barrage.

DRONE UNIT

Drones were used for border surveillance.

Hamas released a video showing what it described as drones called Zouari, saying they were the ones used to pave the way for the infiltration. It also released a video of militants launching the drones from Gaza.

INTELLIGENCE UNIT

This unit was used to identify the positions and movements of Israeli soldiers and to monitor their headquarters. The source did not provide further details about this unit.

(Reporting by Samia Nakhoul in Dubai; Editing by William Maclean and Edmund Blair)
MORE FROM THE
OAF NATION NEWSROOM