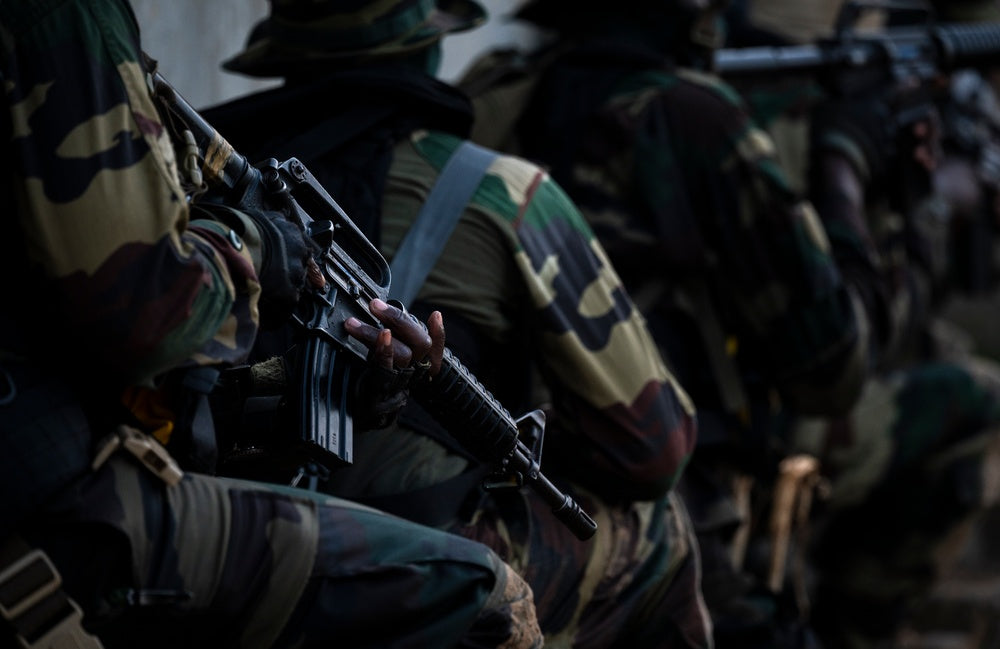 Factbox: Military interventions by West African ECOWAS bloc
PHOTO CAPTION: Senegalese Maritime Special Forces soldiers wait for a signal before moving to an objective during a Joint Combined Exchange Training in Dakar, Senegal, Nov. 16, 2021. (U.S. Air Force photo by Senior Airman Duncan C. Bevan via U.S. Defense Visual Information Distribution Service)
(Reuters) - West African defence chiefs on Friday agreed a plan for intervention in Niger if its coup leaders do not restore constitutional order by a Sunday deadline.

The main regional bloc, the Economic Community of West African States (ECOWAS), has imposed sanctions and said it could authorise the use of force as a last resort if soldiers do not restore ousted president Mohammed Bazoum to power.

Below are previous ECOWAS military interventions:

LIBERIA

In 1990, West African leaders sent a neutral military force to Liberia to intervene in the civil war between the forces of President Samuel Doe and two rebel factions.

The unprecedented deployment of a regional force, the ECOWAS Monitoring Group (ECOMOG), helped restore some security but the troops were complicit in a series of human rights abuses, according to Human Rights Watch.

Troop numbers peaked at around 12,000 and the last ones left Liberia in 1999, two years after former rebel leader Charles Taylor was elected president.

West African forces were deployed again at the tail end of the brutal 14-year conflict, which finished in 2003. Some 3,600 of these troops were then reassigned to a U.N. peacekeeping operation that ran until 2018.


SIERRA LEONE

In 1998, a Nigerian-led ECOMOG force intervened in Sierra Leone's civil war to drive out a junta and rebel allies from the capital Freetown and reinstate President Ahmad Tejan Kabbah, who had been ousted in a coup a year earlier.

In 2000, the force withdrew, handing over peacekeeping operations to a U.N. mission. The decade-long war ended in 2002.

GUINEA-BISSAU

In 1999, ECOWAS sent around 600 ECOMOG troops to preserve a peace deal in coup-prone Guinea-Bissau. Rebels seized power barely three months later and the force was withdrawn.

ECOWAS deployed another mission from 2012 to 2020, after another coup, to help deter the military from intervening in politics and to protect political leaders.

It sent another contingent of 631 personnel in 2022 to help stabilise the country after a failed coup that year.

IVORY COAST

A West African force was sent to Ivory Coast in 2003 to help French troops police a shaky peace deal between rebels and loyalists that in effect split the country in two for the next eight years. In 2004, they were integrated into a U.N. peacekeeping force.


MALI

The bloc sent soldiers to Mali in 2013 as part of a mission to drive al Qaeda-linked fighters from the north. As had happened elsewhere, the force later that year handed over to a U.N. peacekeeping mission.

Central and Northern Mali are now overrun by militants linked to al Qaeda and Islamic State, whose decade-old insurgency has spread to neighbouring Burkina Faso and Niger.

GAMBIA

In 2017, ECOWAS sent 7,000 troops to Gambia from neighbouring Senegal to compel President Yahya Jammeh to go into exile and cede the presidency to Adama Barrow, who had defeated him in an election.

Jammeh's security forces offered no resistance to the mission, which was dubbed Operation Restore Democracy.



(Compiled by Anait Miridzhanian; Editing by Alessandra Prentice and Kevin Liffey)
MORE FROM THE
OAF NATION NEWSROOM