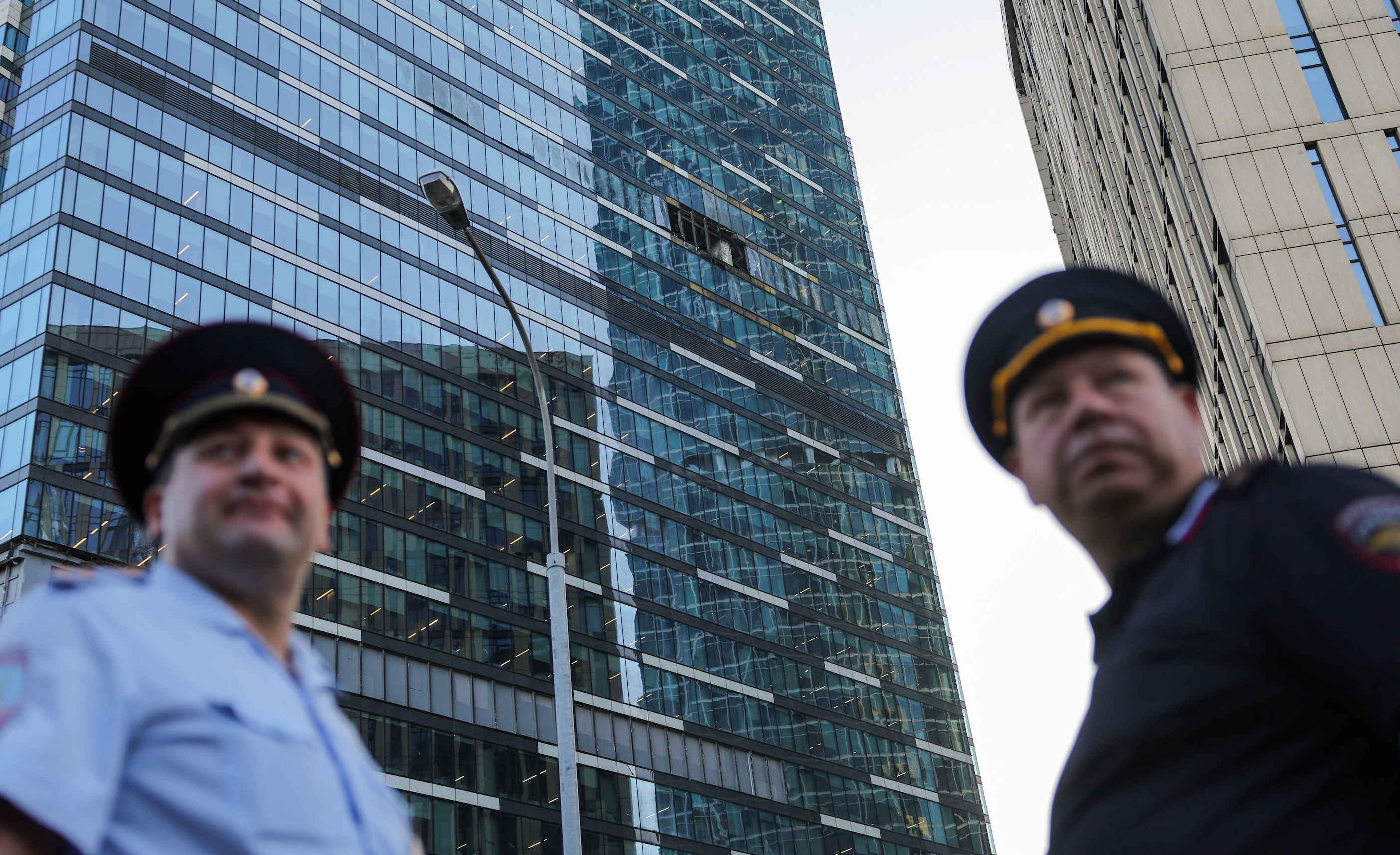 Drone hits tower housing Russian ministries for second time in three days
MOSCOW (Reuters) -A high-rise building in Moscow's business district that houses three Russian government ministries was struck by a drone for the second time in three days on Tuesday, in what Russia called an attempted Ukrainian "terrorist attack".

A Ukrainian presidential adviser said Moscow should expect more drone attacks and "more war".

The building that was hit is known as the "IQ quarter", which houses the ministry of economic development, the digital ministry and the ministry of industry and trade. Video obtained by Reuters showed a section of its glass facade, high above the ground, had been destroyed by the impact.

"At the moment, experts are assessing the damage and the state of the infrastructure for the safety of people in the building. This will take some time," Darya Levchenko, an adviser to the economy minister, said on Telegram. She said staff were working by video-conference.

Moscow has come under repeated drone attacks since early May, when two drones were fired at the roof of a building in the Kremlin complex.

While the incidents have not caused casualties or major damage, they have provoked widespread unease and sit awkwardly with the Kremlin's narrative that Russia's "special military operation" in Ukraine is proceeding according to plan.

"Indeed, a threat exists, it is obvious, but measures are being taken," Kremlin spokesman Dmitry Peskov told reporters, declining to comment further.

Ukraine has drawn satisfaction from the attacks, though without directly claiming responsibility for them.

"Moscow is rapidly getting used to a full-fledged war," Ukrainian presidential adviser Mykhailo Podolyak wrote on X, the social media platform previously known as Twitter.

He said Russia should expect "more unidentified drones, more collapse, more civil conflicts, more war".


'OUT OF CONTROL'

In a statement, the Russian defence ministry said it had thwarted the "attempted terrorist attack" and downed two drones west of the Moscow city centre.

It said another one was foiled by jamming equipment and went "out of control" before crashing into buildings in the Moskva-Citi business district.

Moscow Mayor Sergei Sobyanin said it hit the same tower that had been struck on Sunday. "The facade has been damaged on the 21st floor. Glazing was destroyed over 150 square metres," he said.

A witness told Reuters: "We were going to see the tower where the explosion happened the day before yesterday... Suddenly there was this explosion, and we immediately ran. There were shards of glass, and then smoke rising. Then the security services starting running that way. The shards were really big."

Vnukovo airport, one of three major airports serving the capital, briefly shut down but later resumed full operations.

There are signs that the incidents are causing disquiet among Russian businesses. After the first drone hit Moskva-Citi on Sunday, tech company Yandex sent a memo to staff instructing them not to be in the office at night and urging them to "take care".

(Reporting by Ron Popeski, Olzhas Auyezov, Alexander Marrow and Reuters staff; writing by Mark Trevelyan; Editing by Alex Richardson)
MORE FROM THE
OAF NATION NEWSROOM