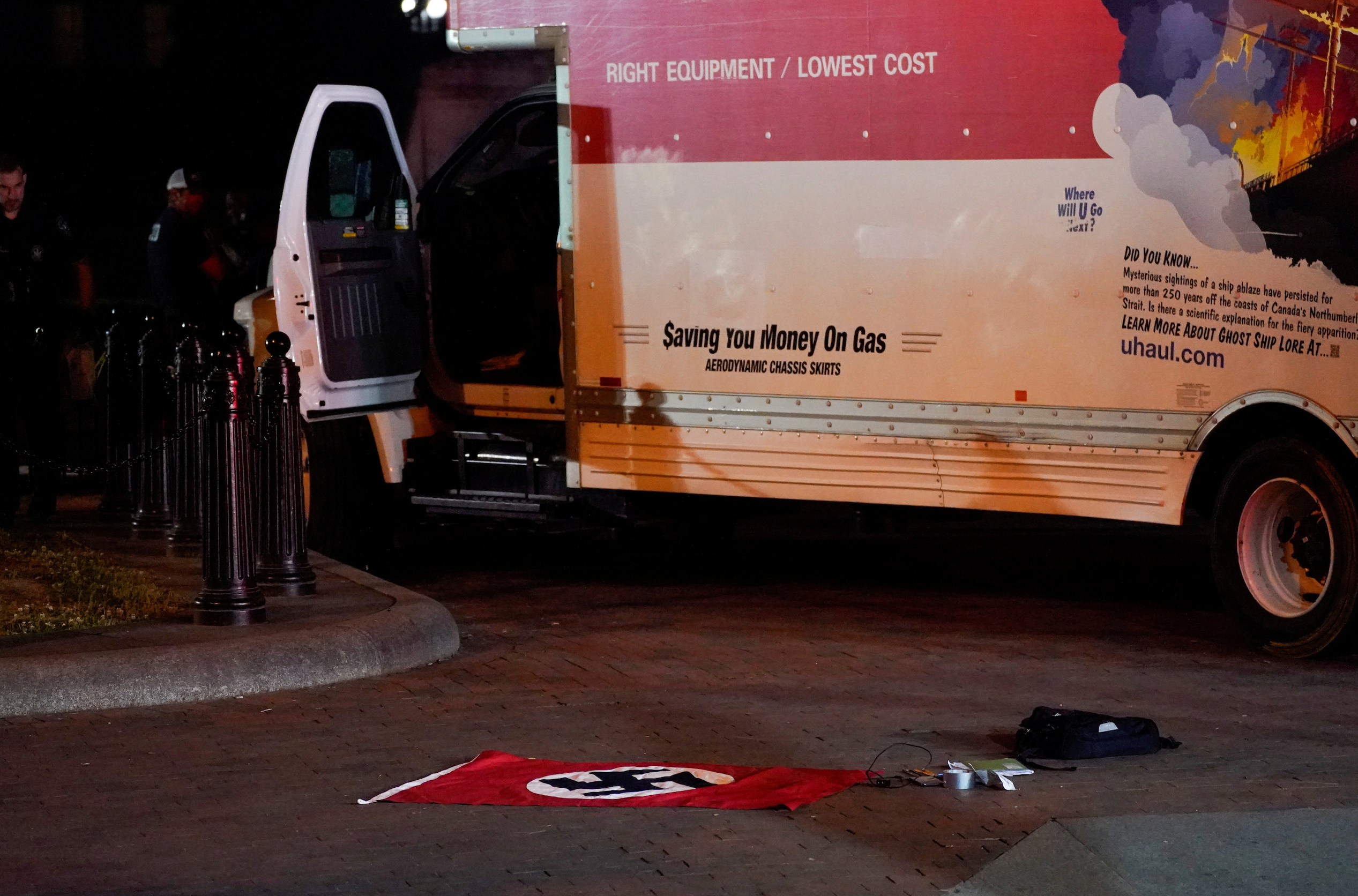 Driver charged after crashing into White House barriers, Nazi flag found
PHOTO CAPTION: A Nazi flag and other objects recovered from a rented box truck are pictured on the ground as the U.S. Secret Service and other law enforcement agencies investigate the truck that crashed into security barriers at Lafayette Park across from the White House in Washington, U.S. May 23, 2023. REUTERS/Nathan Howard
WASHINGTON (Reuters) - A man who crashed a rented box truck into security barriers near the White House faces multiple criminal charges, U.S. Park Police said on Tuesday following an overnight incident that authorities said may have been intentional.
The suspect was charged with threatening to kill, kidnap or inflict harm on the president, vice president or a family member, among other charges, the U.S. Park Police said in a statement. It did not identify the adult male charged.
U.S. Secret Service said it had detained the man following the crash on Monday night but that there was no ongoing danger and no injuries.
A Reuters witness said investigators found a Nazi swastika flag inside the truck, which crashed into barriers at Lafayette Square, adjacent to the White House grounds.
"Preliminary investigation reveals the driver may have intentionally struck the security barriers at Lafayette Square," Secret Service spokesperson Anthony Guglielmi said on Twitter.
The suspect also faces charges of assault with a dangerous weapon, trespassing, destruction of federal property and reckless operation of a vehicle, Park Police said.
WUSA television showed video of authorities approaching a box-type, U-Haul truck. A remote-controlled robot opened its rear door, revealing a dolly but no other obvious cargo.
Chris Zaboji, an airline pilot who lives in Washington and witnessed the crash, posted a brief video on social media later verified by Reuters that showed the truck driving into the barricades as he was walking by on his way home.
"I looked back and saw that the U-Haul van had rammed into the barricade," Zaboji said, adding that he left after the truck rammed barriers a second time.
President Joe Biden's exact location at the time of the crash just before 10 p.m. (0200 GMT Tuesday) was unclear. He had met with Speaker of the U.S. House of Representatives Kevin McCarthy at the White House earlier on Monday evening.
(Reporting by Susan Heavey, Nathan Howard, Daniel Trotta, Costas Pitas and Nur-Azna Sanusi; Editing by Chizu Nomiyama)
MORE FROM THE
OAF NATION NEWSROOM