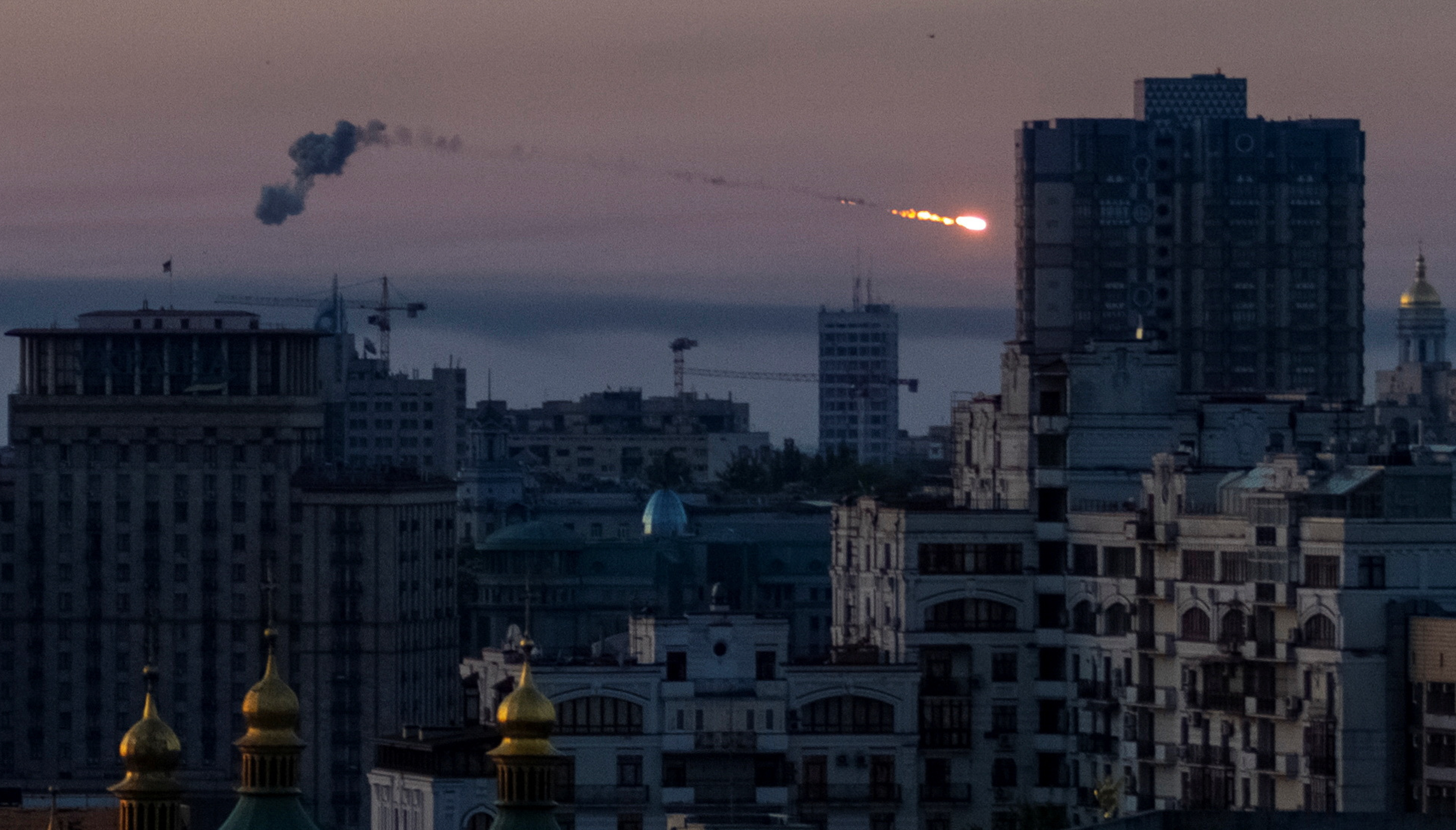 Documents show Russia making progress on drone-building effort, report says
PHOTO CAPTION: An explosion of a missile is seen in the sky over the city during a Russian missile strike, amid Russia's attack on Ukraine, in Kyiv, Ukraine May 18, 2023. REUTERS/Stringer
WASHINGTON (Reuters) - Russia is making steady progress toward its goal of mass producing a type of Iranian attack drone that could travel more than 1,000 miles and target Ukrainian cities, the Washington Post said on Thursday, citing documents about the plan.

Moscow is working on its own version of the Shahed-136, despite delays and sanctions that impact components needed from other countries, according to the documents.

The Post obtained the documents from a source it said was involved in the work at the Russian Republic of Tatarstan's Alabuga Special Economic Zone but who opposes Russia's invasion of Ukraine.


Iran has acknowledged sending drones to Russia but previously said they were sent before Russia's February 2022 invasion of Ukraine.

Russia has previously denied its forces use Iranian drones in Ukraine, though President Vladimir Putin has called for an increase in domestic drone production. In April he said Russia's drone industry could soon be worth more than $20 billion.

Russian officials were not immediately available to comment on the Washington Post report.

The White House earlier this summer said Russia appeared to be deepening its cooperation with Iran and had already received hundreds of Uncrewed Aerial Vehicles (UAVs) from Tehran, which the United States, Ukraine and other Western nations have said violates a 2015 U.N. Security Council resolution enshrining the Iran nuclear deal.

The White House said in June that Iran was building UAVs then shipping them across the Caspian Sea to be used by Russian forces against Ukraine, transferring several hundred drones since last August.

This week, the Financial Times reported Washington was pressing Iran to halt drone sales to Moscow.


The Post report on Thursday, however, highlights Russia's efforts to build its own drone factory in the Tatarstan region 500 miles (800 km) east of Moscow, and aims to manufacture 6,000 drones by the summer of 2025.

The documents, reviewed by researchers at the Washington-based Institute for Science and International Security at the Post's request, showed the Russian facility is about a month behind schedule.

Engineers there are trying to build their version of the Iranian drone on a larger scale and at a higher quality, and are also seeking to add capabilities so that they could launch a coordinated "swarm attack" on a target, the Post reported.

The documents, from winter 2022 to spring 2023, include factory blueprints and technical schematics, among other details, and some were reported last month by the Russian-language news outlet Protokol, according to the report.

Washington has imposed sanctions on both Russia and Iran, including Iranian executives at a defense manufacturer over drone supplies to Russia, among other drone-related entities and individuals.



(Writing by Susan Heavey; Editing by Gareth Jones and Nick Macfie)
MORE FROM THE
OAF NATION NEWSROOM