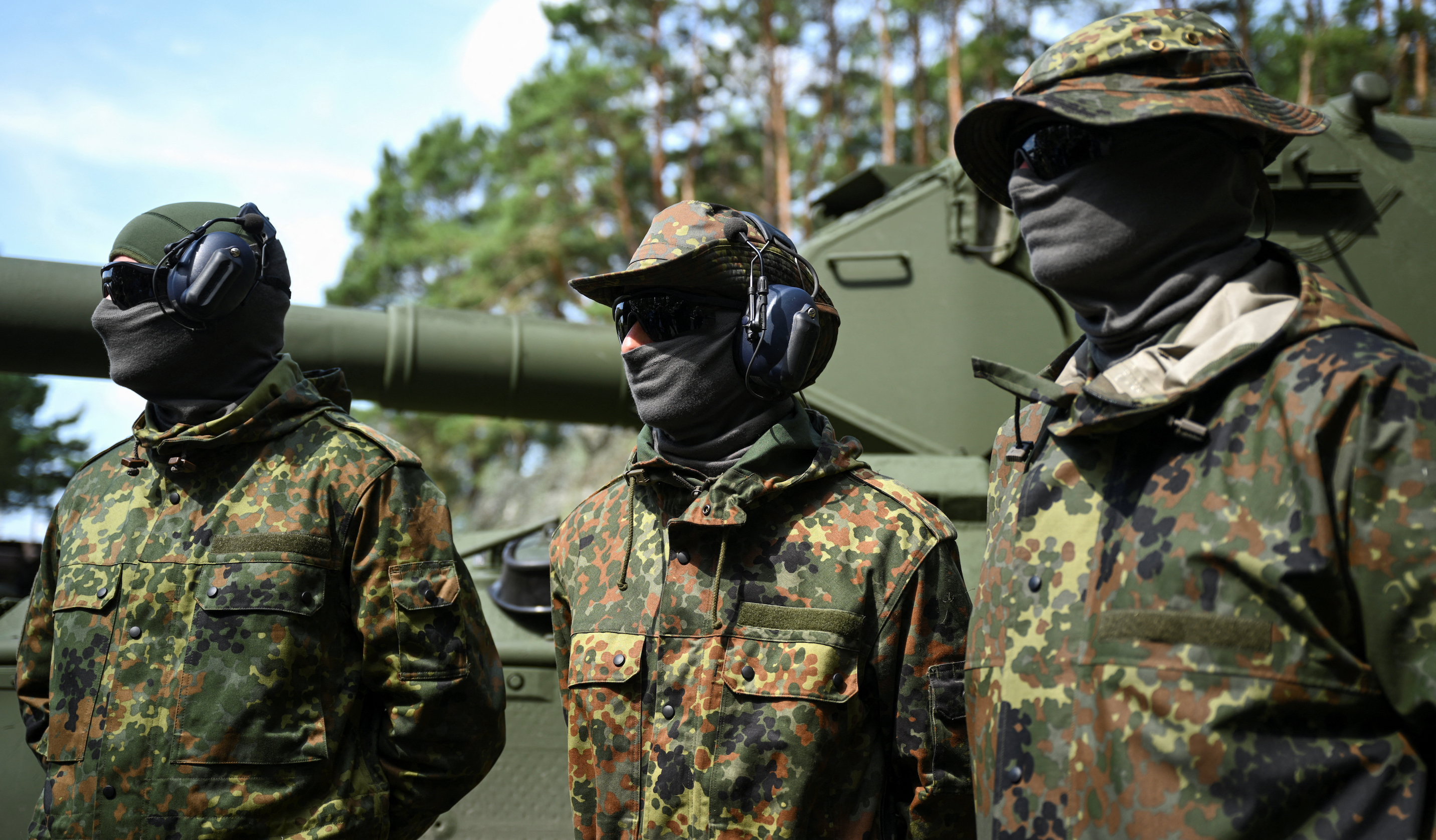 Analysis: Offensive tactics and leadership rise to top of Kyiv's training wish list
PHOTO CAPTION: Ukrainian soldiers stand next to the Leopard 1A5 main battle tank during a media day of the European Union Military Assistance Mission in support of Ukraine (EUMAM Ukraine) in Klietz, Germany August 17, 2023. REUTERS/Annegret Hilse
By Sabine Siebold

KLIETZ TRAINING GROUND, Germany (Reuters) - Minutes after tank muzzles flashed and the crack of guns rang out across muddy grounds, the head of the EU's Special Training Command explained how Ukraine is seeking more training on offensive tactics and the education of military leaders.

Eighteen months after Russia's February 2022 invasion, Kyiv's requests have changed from an initial need for training on defensive tactics and how to fight in urban areas, Lieutenant General Andreas Marlow told reporters on a visit to a training ground in Germany on Thursday.

"The training of sergeants and officers is what moves the Ukrainians most because the professional soldiers have been fighting this war for one and a half years now, and many have died or been wounded – so they need a fresh supply of military leaders," he said.


Marlow was speaking at the Klietz training ground, situated about 100 km (62 miles) west of Berlin, minutes after Ukrainian troops had fired 105mm rounds with the Leopard 1 tanks they had been trained to operate over the past five weeks.

Muzzle flashes could be seen even before the cracks of the shots were heard, and dust clouds rose where the shells hit their wooden targets on a shooting range marked by the tracks of the tanks that rumbled back and forth through the mud.

As part of the EU military mission EUMAM, Western troops have trained some 6,200 Ukrainians in Germany this year, in a wide range of skills stretching from operating advanced air-defence systems such as IRIS-T to driving and firing modern tanks such as the Leopard 2, produced by German arms maker KMW.

In January, Western nations pledged to send to Ukraine several dozen modern Leopard 2 tanks, a scarce asset in most armies today.

Scrambling to find more heavy armour for Kyiv, they later also turned to the industry's mothballed Leopard 1 tanks.

The Leopard 1 has been around since the 1960s, but the embattled nation will receive a more advanced version that was standard at the end of the 1980s.

It still makes sense to deliver the tank to Kyiv despite its age, said Marlow who trained on the Leopard 1 himself in 1982, when he joined Germany's Bundeswehr.

"You know that the Russians cannot use their latest models any longer, either, as they have higher losses than the Ukrainians," he said, adding the Leopard 1 had an edge over Russian tanks, such as the T-72, the T-64 and the T-55 due to its night vision, the way its main gun was stabilised and its mobility.

The Ukrainian troops training in Klietz are already the fifth rotation since Germany and Denmark announced they would pay the industry to refurbish at least 100 Leopard 1 tanks, some of which had been mothballed for 20 years, to send them to Kyiv.

Citing reasons of operational security, Marlow declined to give a number for the Ukrainian tank crews trained and tanks delivered so far.

However, he said that the training of the next Ukrainian Leopard 1 crews would start as soon as the current round of training wraps up next week.

Ukrainian troops arrived in Germany with very different levels of experience, he said, ranging from absolute beginners to skilled tank crews, who with their Soviet-era T-80 and T-64 models, had already been deployed to the frontline, including the Bakhmut area.

One Ukrainian soldier who was set to be sent to the frontline on his return to his war-torn home country said he would have preferred the modern Leopard 2 but did not really mind.

Wearing dark ballistic glasses and a scarf pulled up over his face to hide his identity as he spoke to the media, he played down questions as to whether he was scared.

"We are strongly motivated to defend our fatherland, and this is the best remedy for fear," he said.



(Reporting by Sabine Siebold; Editing by Sharon Singleton)
MORE FROM THE
OAF NATION NEWSROOM