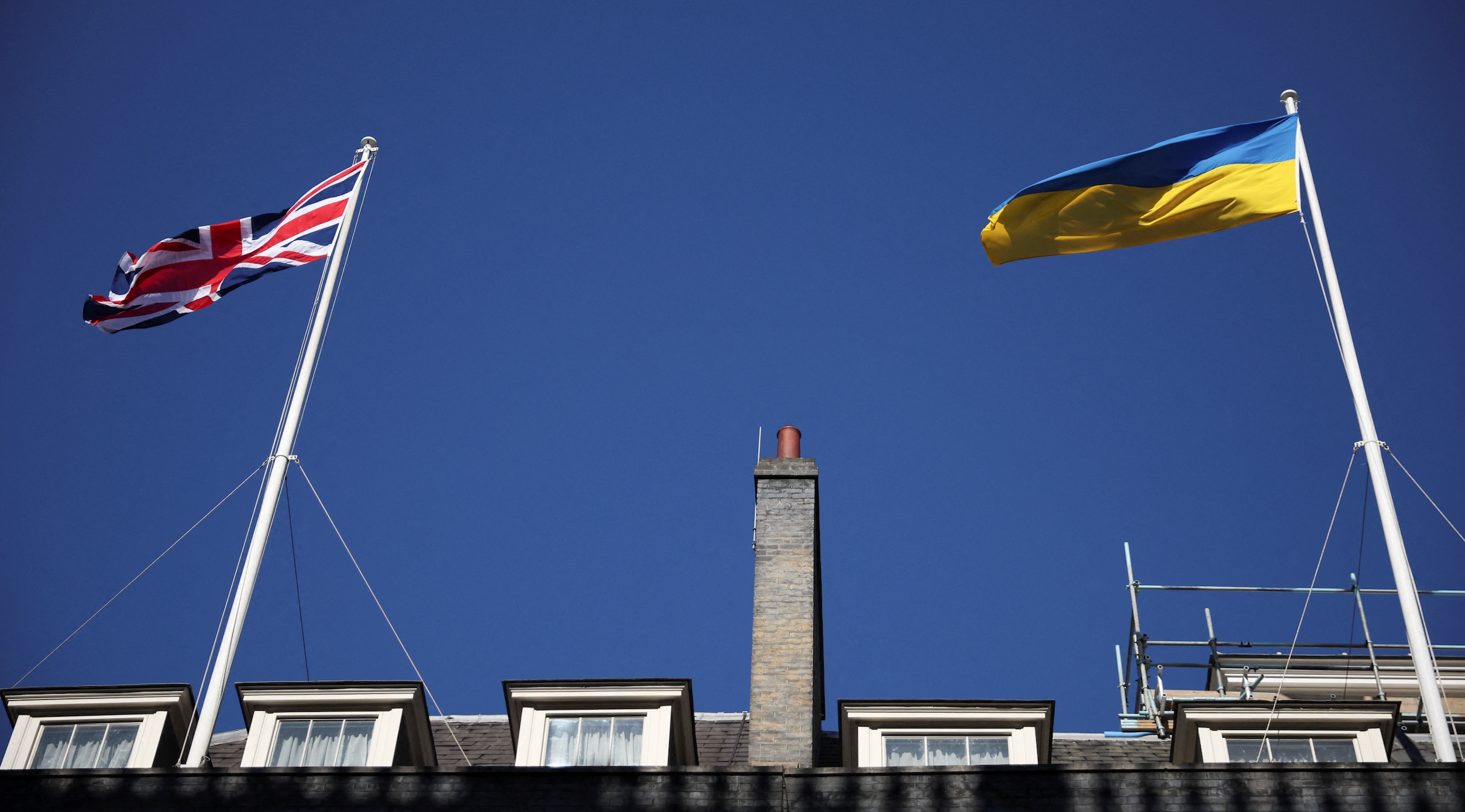 Britain to help Ukraine expand its cyber defenses
PHOTO CAPTION: The British and Ukrainian flags wave outside Downing Street, before Canadian Prime Minister Justin Trudeau, Dutch Prime Minister Mark Rutte and British Prime Minister Boris Johnson arrival, in London, Britain, March 7, 2022. REUTERS/Phil Noble
LONDON (Reuters) - Britain said on Sunday it would expand its programme to help Ukraine's cyber defences as it launches a counter-offensive against Russia.
In the announcement, the British government said it would provide another 16 million pounds ($20.5 million) in funding with the potential for a further 9 million pounds to come from international allies.
London said the package - which adds to 6.35 million pounds announced last year - would better equip Ukraine to defend its critical national infrastructure from crippling Russian attacks as Kyiv mounts a counteroffensive to push back Russian forces from the swathes of southern and eastern Ukraine that they occupy.
"Russia's appalling attacks on Ukraine are not limited to their barbaric land invasion, but also involve sickening attempts to attack their cyber infrastructure that provides vital services, from banking to energy supplies, to innocent Ukrainian people," British Prime Minister Rishi Sunak said.
"This funding is critical to stopping those onslaughts, hardening Ukraine's cyber defences and increasing the country's ability to detect and disable the malware targeted at them."
Next week Sunak will also ask entrepreneurs and businesses to step up their investment in Ukraine at a conference to help it rebuild the country's economy after Russia's invasion.
($1 = 0.7802 pounds)
(Reporting by Michael Holden; Editing by Kirsten Donovan)
MORE FROM THE
OAF NATION NEWSROOM