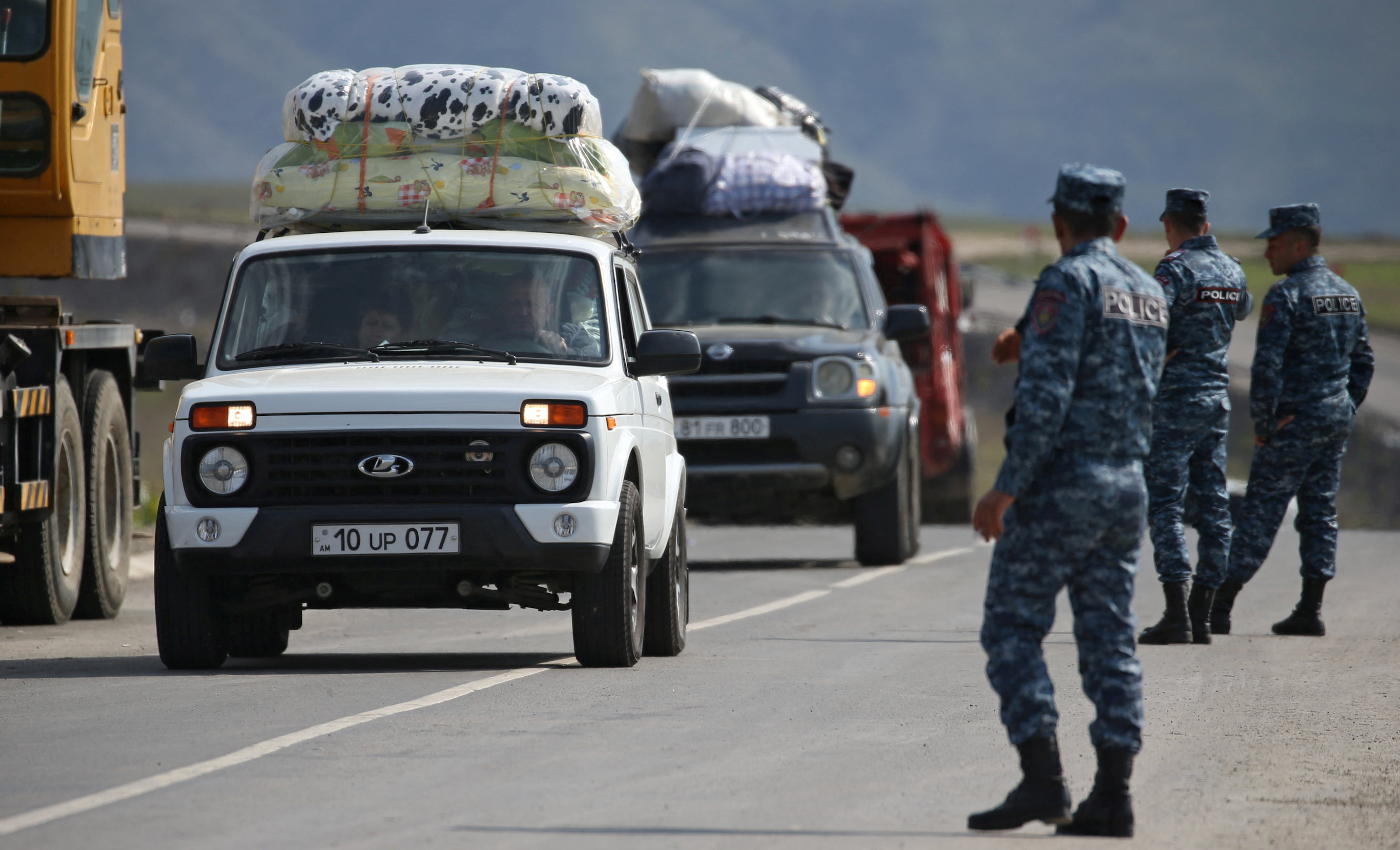 Armenia ratifies statute to accept International Criminal Court jurisdiction
PHOTO CAPTION: Refugees from Nagorno-Karabakh region arrive in the border village of Kornidzor, Armenia, September 29, 2023. REUTERS/Irakli Gedenidze
(Reuters) -Armenia's parliament ratified the founding statute of the International Criminal Court on Tuesday, subjecting itself to the jurisdiction of the court in The Hague and vexing Russia, whose president the ICC wants to arrest.

The Kremlin said the decision was "incorrect" and that it would have questions for Armenia's "current leadership", which it should instead look to its established allies, not least Moscow.

A spokeswoman for the Yerevan parliament said 60 deputies had voted to ratify the Rome Statute of the ICC and 22 had voted against.

Russian-Armenian ties have been badly strained by Moscow's invasion of Ukraine, and Russia's inaction as Armenia's neighbour Azerbaijan recaptured Nagorno-Karabakh, a region controlled for three decades by ethnic Armenians, most of whom have now fled.

Joining the ICC means Armenia will be obliged to arrest Russian President Vladimir Putin if he sets foot there, because the court has issued an arrest warrant for him on suspicion of illegally deporting hundreds or more children from Ukraine - a claim dismissed by the Kremlin as meaningless.

"We would not want the president to have to refuse visits to Armenia for some reason," Kremlin spokesman Dmitry Peskov told reporters on Tuesday.

"Armenia is our ally, a friendly country, our partner ... But at the same time, we will have additional questions for the current leadership of Armenia... We still believe this is an incorrect decision."


RUSSIAN FRUSTRATION

Moscow has voiced increasing frustration with Prime Minister Nikol Pashinyan, who has publicly said landlocked Armenia's policy of solely relying on Russia to guarantee its security was a mistake, and pointedly hosted joint manoeuvres with U.S. forces.

Armenia's sense that Russia has let it down has been sharpened by Azerbaijan's seizure of Nagorno-Karabakh, which followed a nine-month blockade of food and fuel supplies to the enclave that Russian peacekeepers did nothing to relieve.

Armenia says it had discussed its ICC plans with Russia, after Moscow warned in March of "serious consequences". It will take 60 days for the ratification to come into force.

Yerevan has said its move addresses what it says are war crimes committed by Azerbaijan in a long-running conflict with Armenia, although ICC jurisdiction will not be retroactive.

But Peskov chose to focus on Pashinyan's complaints that Armenia's membership of the Collective Security Treaty Organisation (CSTO), a Russian-led military alliance of six ex-Soviet states, and its defence treaty with Moscow, which it relies on for military hardware, were not enough to ensure its security.

"This is not so," said Peskov, suggesting that Pashinyan, who was re-elected in 2021 but has faced limited protests over his inability to protect the Karabakh Armenians, did not speak for most of his people.

"I think that the majority in Armenia understands that the instruments of the CSTO and the Armenian-Russian partnership are absolutely irreplaceable at the moment," Peskov said.

The Armenian news site Aysor.am quoted Armenian Economy Minister Vahan Kerobyan as saying that trucks exporting Armenian brandy to Russia were being held up at the Georgian-Russian border on Tuesday for increased quality checks.

(Reporting by Reuters; Writing by Kevin Liffey; editing by Guy Faulconbridge and Gareth Jones)
MORE FROM THE
OAF NATION NEWSROOM