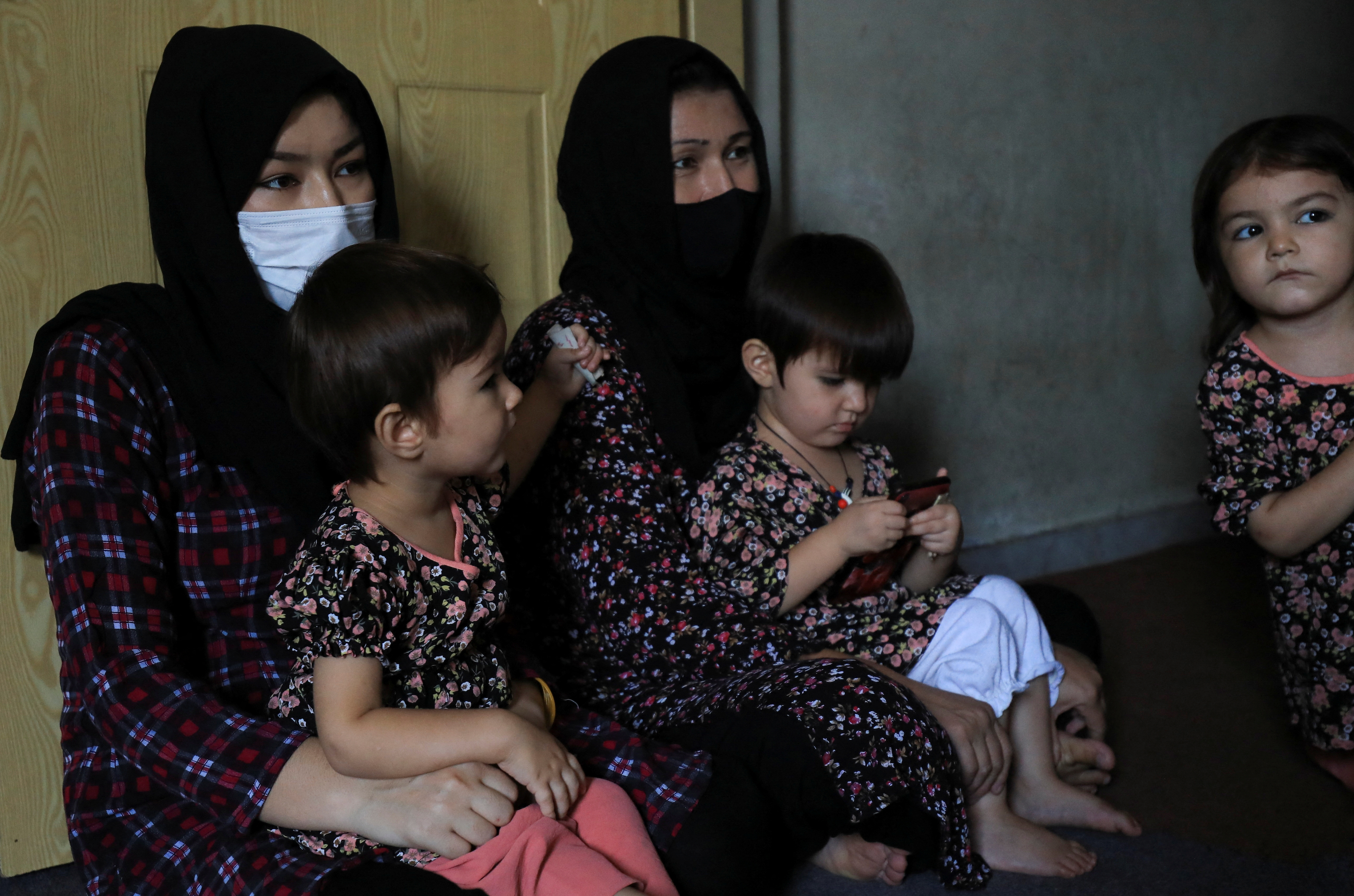 Afghans dreaming of US refuge say they are stuck in processing limbo
PHOTO CAPTION: Marwa, 18, and Rabia, 45, sit with children at a rented house, while waiting for their special visa created by Western governments to protect the Afghans, in Rawalpindi, Pakistan August 7, 2023. REUTERS/Fayaz Aziz
By Charlotte Greenfield

ISLAMABAD (Reuters) - Crowded into a small, rented room near Pakistan's capital, an Afghan family of 12 is waiting, like thousands of others, for progress on their applications to go to the United States as refugees.

As time passes, their money is running out and their worries are growing.

In a small kitchen, 18-year old Marwa, whose father used to work as a guard for an American aid organisation, cuts vegetables.

The family have applied for resettlement in the U.S. under a special programme for Afghans who worked for U.S. organisations, known as P2.

"We cook and eat twice a day, some days we eat even less to save money," she said.

Reuters is withholding the full names of family members for security reasons. They sold their home in Afghanistan and left last year, having been told by U.S. authorities to travel to a third country to get their application processed.

Marwa's husband, Khalilzad, estimates the family's saving would last for at most two more months.

"It's been two years and things have not improved, they should consider our basic need and speed things up, the process is moving very slowly," Khalilzad said.

For thousands of Afghans applying for refugee status and visas in the West, neighbouring Pakistan was their only option. Between 16,000 and 20,000 applicants for the P2 programme are estimated to be in Pakistan, according to community members and advocates.

Most Afghans are not allowed to work and are ineligible for public education and healthcare.

Many had built middle-class lives in Afghanistan in the two decades after the United States and its allies intervened in 2001.

Now they face destitution in Pakistan where the government, grappling with an economic crisis, is increasingly anxious about the number of Afghans arriving, at times at the request of Western governments, Pakistani officials say.

Afghans waiting for their applications say they fear being detained by Pakistani authorities, as many Afghans have anecdotally reported, so they stay indoors as much as they can.


'LIKE PRISON'

The children of the family have not been able to go to school for more than a year.

On a recent stifling summer day, Asra, 14, was going through the alphabet with her younger siblings.

"I teach them sometimes but I'm worried that neither they nor I go to school ... every day I'm at home like a prisoner."

Asra was barred from school in Afghanistan where the Taliban closed girls' high-schools after their return to power in 2021.

"I suffer a lot when I see other girls going to school. I'm very anxious when I see them going and I can't," she said.

"I want to go to America with my family and continue my studies, I want to become a judge," she said.

In the chaotic withdrawal of U.S.-led foreign troops as Taliban forces seized Kabul in 2021, Western countries like the United States and Britain vowed to help, especially those Afghans who had worked for them or on projects they backed. But many have been disappointed.

President Joe Biden pledged to help "Afghan allies" and just before the Taliban takeover, the United States announced the P-2 programme for admission as refugees for Afghans who met certain criteria, including having worked for U.S. organisations and media.

Though the Taliban announced an amnesty for old foes, many Afghans fear reprisals, curtailed freedoms and restrictions on women's education and work, as well as economic hardship.

Human rights and refugee advocates have criticized the slow progress in processing Afghans by Western governments.


'PROBLEMS'

A U.S. government watchdog, the Special Inspector General for Afghanistan Reconstruction, said in April that problems in P2 processing had been identified and lawmakers had required reports on processing times and staffing shortages.

"However, these reports are not public, and problems persist," the agency said.

A spokesperson for the U.S. State Department said: "Our processing capacity in Pakistan remains limited, but we are actively working to try to expand it."

Shawn VanDiver, the founder of #AfghanEvac, a coalition of U.S. volunteer groups helping Afghans resettle, said there had recently been progress in P2 processing.

"It's light years ahead of where we were a month ago," VanDiver said.

But he warned that processing was "limited in scope" and "not going to be fast". He declined to provide details due to concern over triggering a flood of hopeful applicants into Pakistan.

He acknowledged that a major problem had been the failure to keep applicants informed. "Communications ... have been a disaster," he said. "They've served to cause chaos and confusion and despair. The Afghans are just sitting around waiting."

The Khalilzad family's last official contact was a cursory email in May.

"Our remaining money will last one or two more months, if this runs out ... what can we do?" he said. "People have become depressed ... we are in a state of uncertainty with no destiny."



(Reporting by Charlotte Greenfield in Islamabad and Jonathan Landay in Washington; additional reporting by Simon Lewis in Washington and Sayed Hassib in Kabul; editing by Robert Birsel)
MORE FROM THE
OAF NATION NEWSROOM