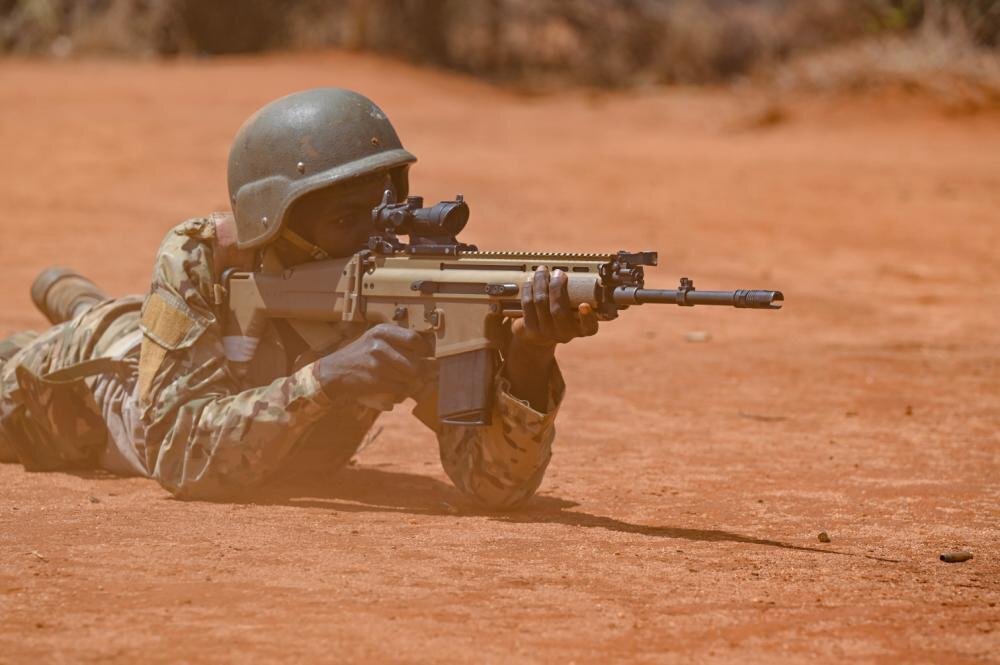 Head of regional force tackling east Congo violence resigns
Representational photo: A Kenyan soldier fires his rifle during a joint exercise with U.S. Marines in Isiolo, Kenya, July 1, 2022. (U.S. Air Force photo by Staff Sgt. Alysia Blake via U.S. Defense Visual Information Distribution Service)
GOMA (Reuters) - The Kenyan commander of a regional force set up to tackle militia violence in eastern Democratic Republic of Congo said he had resigned due to obstruction and threats to his safety, adding to doubts over whether the mission can be effective.
The seven countries of the East African Community (EAC) set up the EACRF military force last April to try to end bloodshed linked to decades of militant activity in Congo's east.
But its mandate expired last month and EAC leaders have expressed differing views on how it should operate, with Congolese President Felix Tshisekedi demanding a more aggressive stance than the peacekeeping mandate proposed by others.
Its commander, Major General Jeff Nyagah, said in a letter dated Thursday he was quitting due to an "aggravated threat" to his safety and a "systematic plan" to frustrate the force's efforts.
Diplomatic and Congolese government sources confirmed the letter's authenticity.
In it, Nyagah alleged foreign military contractors were sent to survey his residence in January, placing monitoring devices that forced him to relocate.
He said he was the target of orchestrated "negative media campaigns" that accused the EACRF of being soft on the M23 rebel group, which launched an offensive in east Congo last year.
He also mentioned a push by Congo's government to rotate the commander role every three months.
"My security as the Force Commander is not guaranteed," Nyagah said. "The ongoing frustration has rendered my mission untenable."
Neither Congo authorities nor the army could be reached for comment. Communications Minister Patrick Muyaya previously acknowledged the presence of foreign military contractors in Congo as "instructors".
An EAC spokesperson did not comment on the allegations.
Kenya's Defence Ministry said on Friday that Nyagah had been appointed to a domestic command role.
Congo has been openly critical of the EACRF since the start of the year, accusing it of failing to rein in the M23, and the renewal of its mandate is still under discussion.
(Reporting by Sonia Rolley, Paul Lorgerie, Djaffar Sabiti; Additional reporting by George Obulutsa in Nairobi; Writing by Sofia Christensen; Editing by Bhargav Acharya and John Stonestreet)
MORE FROM THE
OAF NATION NEWSROOM