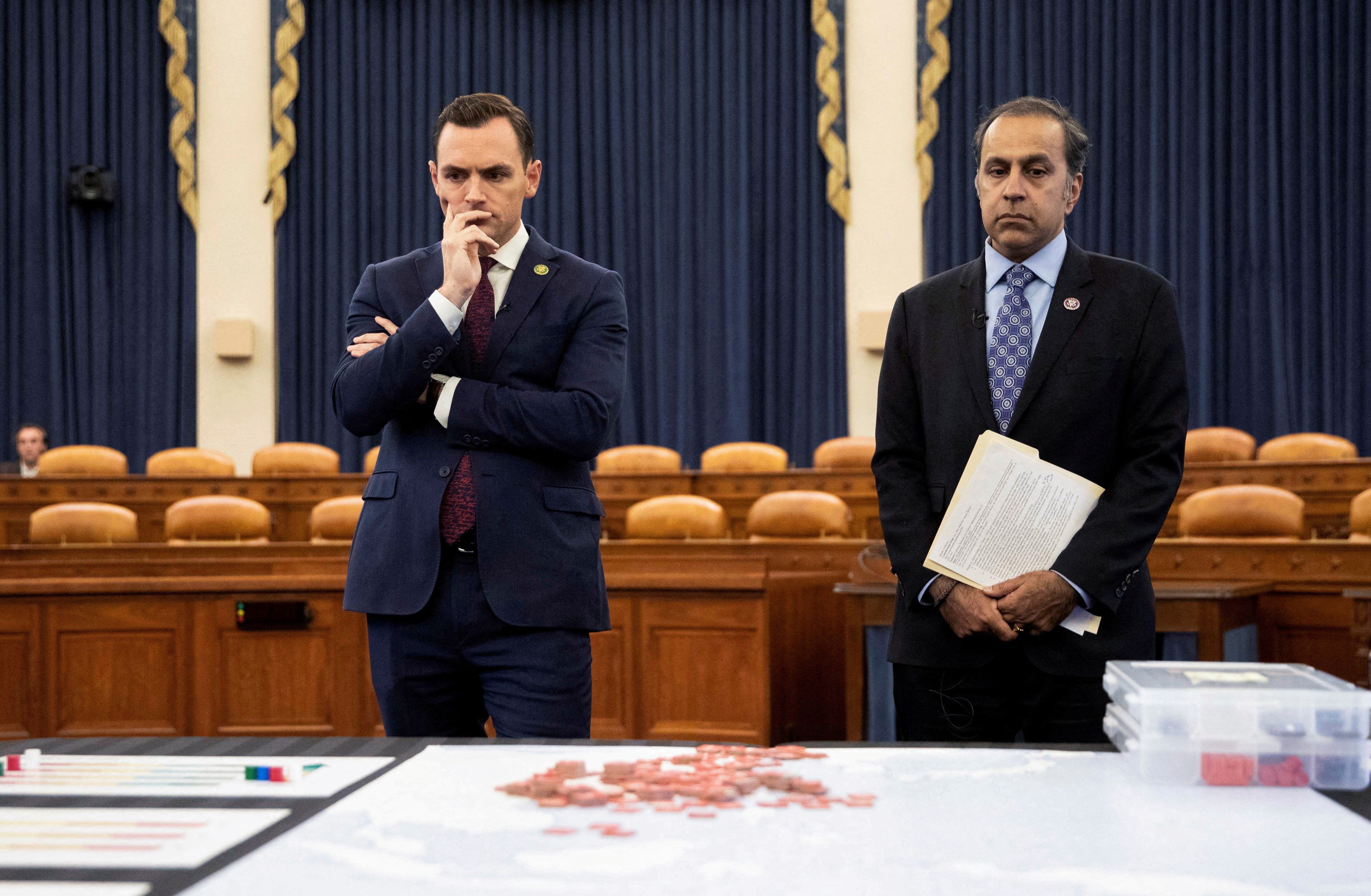 US war game on Taiwan shows need for "decisive action" to boost arms, committee chair says
Committee chairman U.S. Rep. Mike Gallagher (R-WI) and U.S. Rep. Raja Krishnamoorthi (D-IL) look over a map during a House Select Committee on the Strategic Competition Between the United States and the Chinese Communist Party meeting on "Taiwan Tabletop Exercise (TTX)," a war games simulation, on Capitol Hill in Washington, U.S., April 19, 2023. REUTERS/Amanda Andrade Rhoades/File Photo
WASHINGTON (Reuters) - A U.S. congressional war game simulating a Chinese invasion of Taiwan showed the need to arm the island "to the teeth," the chair of a committee on China said on Thursday, after the exercise indicated the U.S. must boost production of long-range missiles and businesses must brace for economic fallout.
The House of Representatives' Select Committee on the Chinese Communist Party, led by Republican Mike Gallagher, conducted the unusual tabletop exercise on Wednesday evening with Washington think tank the Center for a New American Security, the results showing U.S. resupply of the island would be impossible after a conflict begins.
"We are well within the window of maximum danger for a Chinese Communist Party invasion of Taiwan, and yesterday's war game stressed the need to take action to deter CCP aggression and arm Taiwan to the teeth before any crisis begins," Gallagher said in a statement.
The U.S. must clear a $19 billion weapons backlog to Taiwan, conduct enhanced joint military training and reinforce the U.S. military in the region, he said.
Anxiety about a possible conflict over Taiwan, the self-ruled island that China claims as its own, has become a rare bipartisan issue in Washington. U.S. officials say Chinese President Xi Jinping has ordered his military to be ready to invade the island by 2027, but acknowledge this does not mean China has decided to do so.
China has never renounced the use of force to bring Taiwan under its control. The U.S. is Taiwan's most important arms supplier but the island has complained of delayed weapons deliveries.
Taiwan's de facto embassy in Washington did not respond immediately to a request for comment on the war game. 
A person close to the committee outlined for Reuters the war game's conclusions, which included high U.S. losses if Washington did not shore up basing agreements with regional allies, rapid depletion of long-range missile stockpiles, and world markets in "absolute tatters."
"The business community is not taking the threat of a Taiwan crisis seriously enough," Gallagher said ahead of the game, warning such an attitude "verges on dereliction of fiduciary duty."
(Reporting by Michael Martina; Editing by Don Durfee and Josie Kao)
MORE FROM THE
OAF NATION NEWSROOM