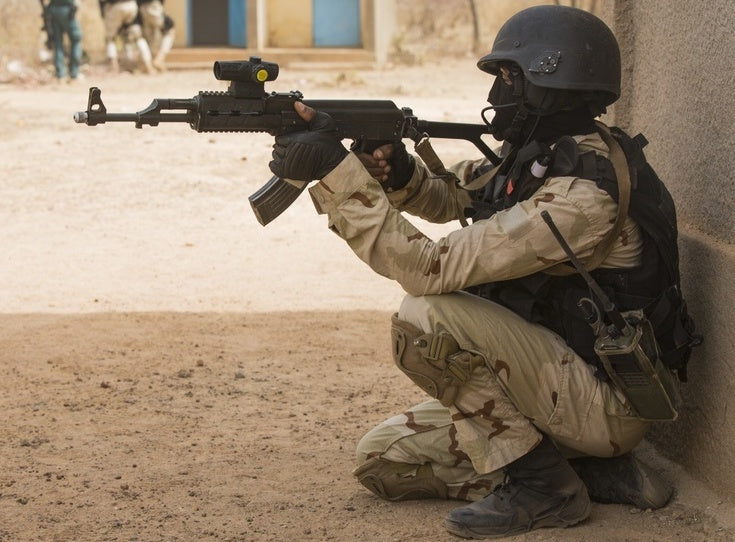 Burkina Faso residents, survivors say army killed 136 in massacre
A Burkinabe soldier pulls security while his teammates clear the area of threats at base camp Zagre, Burkina Faso on Feb. 24, 2019. (U.S. Army photo by Staff Sgt. Anthony Alcantar via U.S. Defense Visual Information Distribution Service)
OUAGADOUGOU (Reuters) - Residents and survivors of a massacre in a Burkina Faso village said on Saturday 136 people including women and infants were killed, blaming the country's security forces for the April 20 attack.
A prosecutor last week launched a probe into the massacre which took place in the northern village of Karma and surrounding areas, following reports that people wearing the uniforms of the Burkinabe armed forces had killed around 60 civilians.
The attack, one of the worst on civilians as the country battles armed militants linked to al Qaeda and the Islamic State, has prompted condemnations, and calls for an investigation by the United Nations Human Rights Office.
Burkina Faso is one of several West African nations struggling with a violent Islamist insurgency that has spread from neighbouring Mali over the past decade, killing thousands and displacing over two million.
The country's military government has launched a large-scale offensive which it says is aimed at reclaiming swathes of territory controlled by armed insurgents.
The government condemned the attack on Karma in a statement on April 27, but gave no details on casualties.
Since then, more details have emerged.
A statement issued by the residents and survivors on Saturday said the village was surrounded early in the morning of April 20 by heavily armed men in Burkinabe military uniforms, on motorcycles, pick-up trucks and armoured vehicles.
"The villagers initially rejoiced at their arrival, but their joy was quickly shattered by gunfire," the statement said, adding they have counted 136 civilians killed and nine injured.
Neither Burkina Faso's army nor the government responded to a Reuters request for comment on Saturday.
A representative of the residents and survivors, speaking at a press conference in Ouahigouya, the provincial capital around 15 km (9.32 miles) from Karma village, said the government's statement bordered on indifference and contempt for the residents of Karma.
The statement sows confusion about the responsibility of security and defence forces for the massacre, he said.
"We, population and survivors of the events of Karma and surroundings, have no doubt that it is the security and defence forces that are responsible for this carnage. We are not fooled, we know our security and defence forces well," the statement said.
(Reporting by Thiam Ndiaga; Writing by Bate Felix; Editing by Clelia Oziel)
MORE FROM THE
OAF NATION NEWSROOM