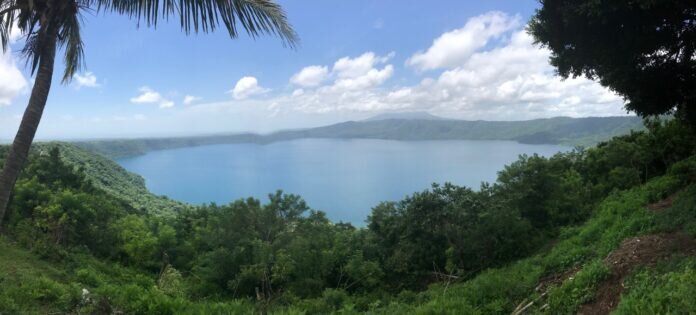 Nicaragua: A Degenerate American's Paradise
Travel is what you make of it. Most of my generation is ignorant of the Iran-Contra scandal, the Sandinistas, bloody El Salvador wars, Daniel Ortega, and may brush off Nicaragua as just another poor Latin American country. Which is a shame, because if you want to party on heaps of cheap booze, dance until the wee hours of zero-dark-retarded at a treehouse rave, surf the world's best waves, bar crawl with gorgeous women from all over the world, then snowboard down the igneous shale of a fucking volcano, Nicaragua is the only place you can do it all.
There's the other side of traveling here, too, of course… the intensity of being followed by a Nicaraguan military officer around the airport as you depart, where the Sandinista Youth reenact a gunfight in Leon as you sit down for dinner, anti-American and anti-capitalism murals are emblazonedacross public edifices,  military checkpoints on all the back roads, and the backpackers you meet, most of whom are more concerned about paying a "fine" to get their cocaine back. #BoogerSugarOrBust. Don't let all that off the wall shit discourage you; it just adds to the country's spiciness.
In August 2019, fresh off an accounting internship with some money to burn, I set my sights on a cheap flight to Managua, the capital, with dreams of cheap drinks, beautiful beaches, and the tattooed hippie backpacking girls I love so much. That being said, I did my homework before going—a wise choice if you plan on visiting not so stable countries.
From April through December of 2018, Nicaragua experienced violent protests over the government's social security reform, which led to the killing of several hundred protestors and the arrest of over a thousand others. Students took refuge in church compounds as they fired homemade mortars at police, and the Sandinista Youth were dispatched to secure markets in towns like Granada. The Human Rights Watch released reports on the deplorable treatment of political prisoners. Naturally, many of these reports were suppressed and instead I heard these accounts firsthand from the locals that felt comfortable enough to open up in San Juan del Sur and Granada. To them, summer 2018 was not a protest, but a "civil war." Oh, and the Nicaraguan government has directly blamed the CIA for this uprising. #80sVibes
As I landed, the heat and humidity hit me like a ton of bricks as did the Russian military aircraft on the side of the runway at the Managua airport; I was in a different world. Not knowing a thing about Managua, I decided to splurge and spend $10 on a private ride from Managua to San Juan del Sur, and I am glad I did. As we pulled out of the city and onto the backroads, I watched all the typical tourist rides get stopped at the checkpoint while some cop with an AK hassled them for money… ya gotta love bypassing that, riding in a beat-to-shit Toyota.
Despite the unrest, military presence, and graft, the Nicaraguan people are resilient and take pride in their country. Nicaragua is not a country where they burn their beloved nation's flag in protest, but instead proudly fly the blue and white colors as a form of dissidence. On a personal level, I never felt the kindness and welcoming spirit more than I did at a small family-owned restaurant in the Granada market. Immediately upon entering, I was greeted with a hug from the owner, an elderly woman who excitedly detailed where the ingredients of their famous plantain burgers came from and beamed with pride as she showed me pictures of her family, to include a grandson attending university in America. The lunch hour that I spent with her epitomized the beauty and hospitality of the nation as a whole and is one that I will never forget.
Of course, there is a hell of a lot of fun to be had as well (which you will never talk about for legal reasons). Want to spend a Friday night dancing to house music in a treehouse on the side of a fucking volcano? Oh yeah, drink specials are 100 cords, or US $2.50, for 3 shots – just be sure you can still walk down the mountain to get in your rickshaw ride home. Better yet, stay in your own private treehouse for a quick exfil with the, uh, "open", Dutch girl you just met. If surfing is more your thing, or you have any interest to try, Popoyo and San Juan Del Sur are the places to be. Board rentals for the day are just a few dollars, as are a full day of lessons. You'll meet people from all over the world that go down there to surf and chill on the cheap. And then there are the Aussies and Kiwis… one in the same, solid dudes, a little rowdy, and always a good time. Speaking of the Aussies, one of these crazy bastards came up with "volcano boarding."
The morning I left for volcano boarding was the same morning I left the debauchery of the treehouse party. In fact, my travel companion, Emma, and I went straight from the thumping house music to the back seat of a dusty cab. An hour long ride to Leon turned into three when the roads were closed for a church procession, the two of us fighting the urge to get sick the whole way from a lack of air con and a whole lotta rum. As soon as we arrived at Bigfoot Hostel in Leon, Emma went to bed. On the other hand, I figured that, if nothing else, my previous life prepared me to accomplish whatever physical challenge is thrown at me while still drunk, hungover, and/or puking.
In all honesty, that morning wasn't much different than the military—I clung to my water bottle as I jumped in the back of an old deuce and held down my vomit like a Goddamn man with every bump that we hit. After what felt like an eternity, we arrived at the base of Cerro Negro, an active volcano due to erupt any day. After getting issued our bags full of gear and a sled, we started the steep hike to the top. Somehow, I got my second wind despite being drenched in sweat from the sun beating down on the black sand surrounding me. At the top, our guide gave us a quick lesson and told us to gear up: orange prison jumpsuit, high school lab goggles, and the orange sled I lugged up the mountain. Next comes the real fun, when you sled down a 750m stretch of volcano (the record is 102 km/hour). The slowest boarder gets a special surprise, and everyone earnsa a cold Tona, the beloved Nicaraguan lager. It's hot, it's a hike, and you WILL eat shit at least once, but it is one hell of a ride.
All in all, Nicaragua is one dope ass place. The people welcome you into their homes with open arms, despite all the hardship they have experienced through the years. It is cheap for foreigners, and you will find plenty of fellow backpackers. If you are interested in the political history of the last forty years, there is no shortage of murals and signs that tell the story the government wants you to hear; just be careful taking pictures of some of these things. The cops aren't a fan of big white tattooed Americans doing that.
Written By Hatch
5/22/20
MORE FROM THE
OAF NATION NEWSROOM