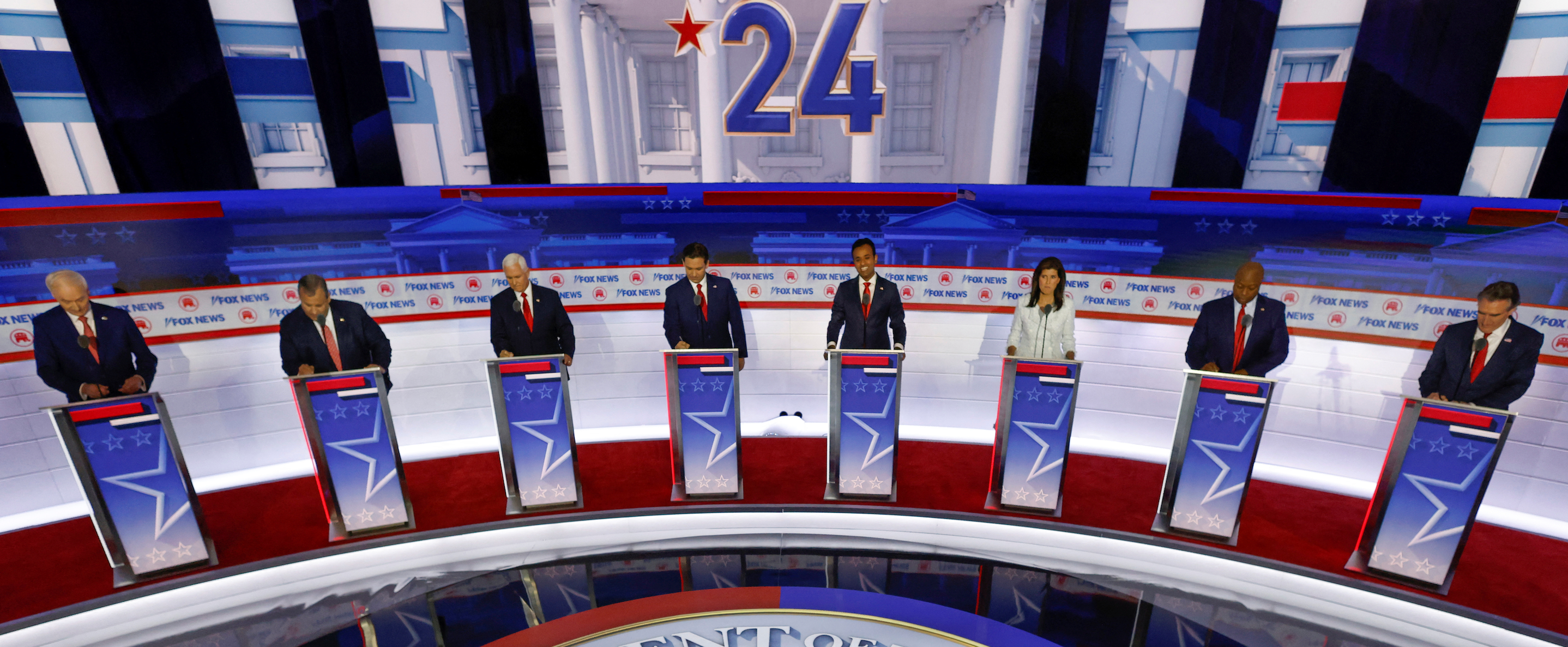 What 2024 GOP presidential candidates said at their first debate
PHOTO CAPTION: Former Arkansas Governor Asa Hutchinson, former New Jersey Governor Chris Christie, former U.S. Vice President Mike Pence, Florida Governor Ron DeSantis, businessman Vivek Ramaswamy, former South Carolina Governor Nikki Haley, U.S. Senator Tim Scott (R-SC) and North Dakota Governor Doug Burgum debate at the first Republican candidates' debate of the 2024 U.S. presidential campaign in Milwaukee, Wisconsin, U.S. August 23, 2023. REUTERS/Jonathan Ernst
By Josephine Walker

MILWAUKEE (Reuters) -Here is a selection of quotes from the 2024 Republican presidential candidates at their first debate in Milwaukee on Wednesday.

FLORIDA GOVERNOR RON DESANTIS

"I am not going to send troops to Ukraine but I am going to send them to our southern border. When these drug pushers are bringing fentanyl across the border, that's going to be the last thing they do."

TECH ENTREPRENEUR VIVEK RAMASWAMY

"The real choice we face in this primary is this: Do you want a Super PAC puppet? Or do you want a patriot who speaks the truth? Do you want incremental reform, which is what you're hearing about, or do you want revolution?"

FORMER NEW JERSEY GOVERNOR CHRIS CHRISTIE

On Ramaswamy: "I've had enough, already tonight, of a guy who sounds like ChatGPT standing up here. And the last person in one of these debates, Brett, who stood in the middle of the stage and said, 'What's a skinny guy with an odd last name doing up here?' was Barack Obama, and I'm afraid we're dealing with the same type of amateur standing on the stage tonight."


FORMER VICE PRESIDENT MIKE PENCE

On Ramaswamy: "Now is not the time for on-the-job training. We don't need to bring in a rookie, we don't need to bring in people without experience."

On former President Donald Trump: "He asked me to put him over the Constitution. And I chose the Constitution. And I always will. I had no right to overturn the election."

FORMER U.N. AMBASSADOR NIKKI HALEY

"We have to look at the fact that three quarters of Americans don't want a rematch between Trump and Biden. And we have to face the fact that Trump is the most disliked politician in America. We can't win a general election that way."

US SENATOR TIM SCOTT OF SOUTH CAROLINA

"The only way we change education in this nation is to break the backs of the teachers unions. They are standing in the door house of our kids, locking them into failing schools and locking them out of the greatest future they can have."


FORMER ARKANSAS GOVERNOR ASA HUTCHINSON

On Trump: "We have to have respect for our justice system and the rule of law, and it starts at the top with the president of the United States."

NORTH DAKOTA GOVERNOR DOUG BURGUM

"I think I took it a little too literally when they said, 'Go to Milwaukee and break a leg.'"

(Reporting By Josephine Walker in Washington; Editing by Ross Colvin and Andy Sullivan)
MORE FROM THE
OAF NATION NEWSROOM