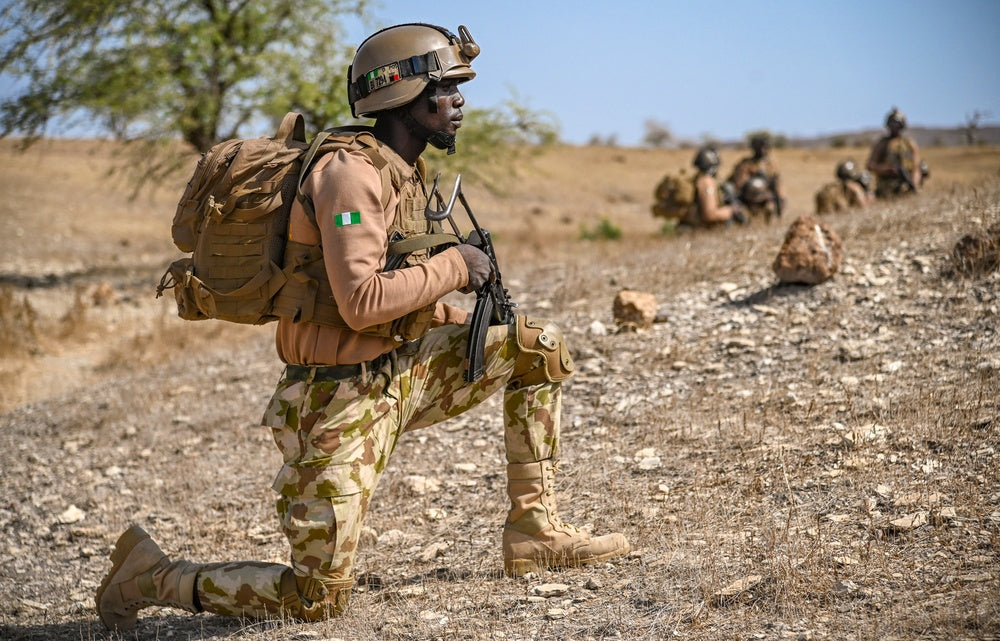 West African bloc prepares standby force for possible Niger intervention
PHOTO CAPTION: A Soldier in the Nigerian Army is seen during a drill as part of FLINTLOCK 20 in Thies, Senegal Feb. 16, 2020. (U.S. Navy photo by Mass Communication Specialist 2nd Class Sean Castellano via U.S. Defense Visual Information Distribution Service)
By Boureima Balima

NIAMEY (Reuters) - West African nations on Friday worked on gathering troops for a possible military intervention in Niger as the leaders of an army coup resisted international calls for them to step down and restore the ousted president to office.

However, it was not yet clear how big the force could be, how long it could take to assemble, and if it would actually invade.

The regional bloc ECOWAS ordered the activation of the standby force on Thursday, two weeks after generals ousted President Mohamed Bazoum in the seventh coup in West and Central Africa in three years.

It marks the first time that such a force would be used and has raised the spectre of deepening conflict in a region where global powers have strategic interests.


ECOWAS (the Economic Community of West African States) said all options were on the table and they still hoped for a peaceful resolution to the Niger crisis.

Security analysts said an ECOWAS force could take weeks or longer to assemble, potentially leaving room for negotiations.

Ivory Coast President Alassane Ouattara on Thursday promised to supply a battalion of troops to the standby force. Asked how many troops that would involve, an Ivorian army spokesperson said a battalion consisted of 850 troops.

Senegal said last week it would contribute troops if there were an intervention. A spokesperson for Senegal's army declined to comment on possible contributions on Friday.

Gambia's defence minister Sering Modou Njie and Liberia's minister of information Ledgerhood Rennie told Reuters on Friday that they had not yet taken a decision to send troops.

Other ECOWAS nations did not immediately respond to requests for comment.

The bloc has planned to create a standby force of thousands of troops for years but was held back by funding delays and insufficient troop commitments, said Ikemesit Effiong, a researcher at SBM Intelligence in Nigeria.

The African Union welcomed ECOWAS' decision to activate a regional force and continue to seek a diplomatic solution. The junta was yet to react.


'NO FEAR'

The coup in uranium-rich Niger, one of the world's poorest countries but a key ally for the West in the fight against Islamist militants in the Sahel region, was triggered by internal politics but has repercussions far beyond its borders.

U.S., French, German and Italian troops are stationed in Niger as part of the fight against the Islamist insurgency.

The capital Niamey was calm on Friday morning. Some residents said they were not afraid of military intervention, but were angered by ECOWAS.

"We have no fear of that because our defence and security forces and the people are together," said student Hama Moussa.

"From the moment they took sanctions against the people of Niger and afterwards, they saw that the people rose up to fight these decisions."

Another student, Issa Seydou, also angry with ECOWAS, said: "I do not believe in military intervention."

Since the coup, many Nigeriens have turned up at junta-organised rallies to show support for the generals, criticising Western powers and lauding Russia. The embassy of former colonial power France has also been the target of protests.

France said it fully backed all the conclusions of the ECOWAS emergency summit held in the Nigeria capital Abuja on Thursday. But it stayed clear of outlining any concrete support it could give to any potential intervention.

There has still been no official request from ECOWAS to either the French or the United States for any help for a military operation, a French source said. It was not clear for now what the reaction would be to any potential request, they added.

Military governments in neighbouring Mali and Burkina Faso have said they will defend the junta in Niger.

Reiterating support for the efforts by ECOWAS, U.S. Secretary of State Antony Blinken said the United States would hold the junta accountable for the safety of Bazoum and his family. The EU also called for his immediate release.

Human Rights Watch said it had spoken to Bazoum this week and that the ousted president, who is being held captive by the junta with his wife and son, had told them that his family's treatment in custody was "inhuman and cruel".

"My son is sick, has a serious heart condition, and needs to see a doctor," HRW quoted Bazoum as telling them. "They've refused to let him get medical treatment."



(Additional reporting by Pap Saine in Banjul, Ange Aboa in Abidjan, Alberto Dabo in Bissau, Alphonso Toweh in Monrivia, Diadie Ba in Dakar, and Edward McAllister, Anait Miridzhanian, Nellie Peyton, David Lewis; Writing by Ingrid Melander and Edward McAllister; Editing by Angus MacSwan)
MORE FROM THE
OAF NATION NEWSROOM