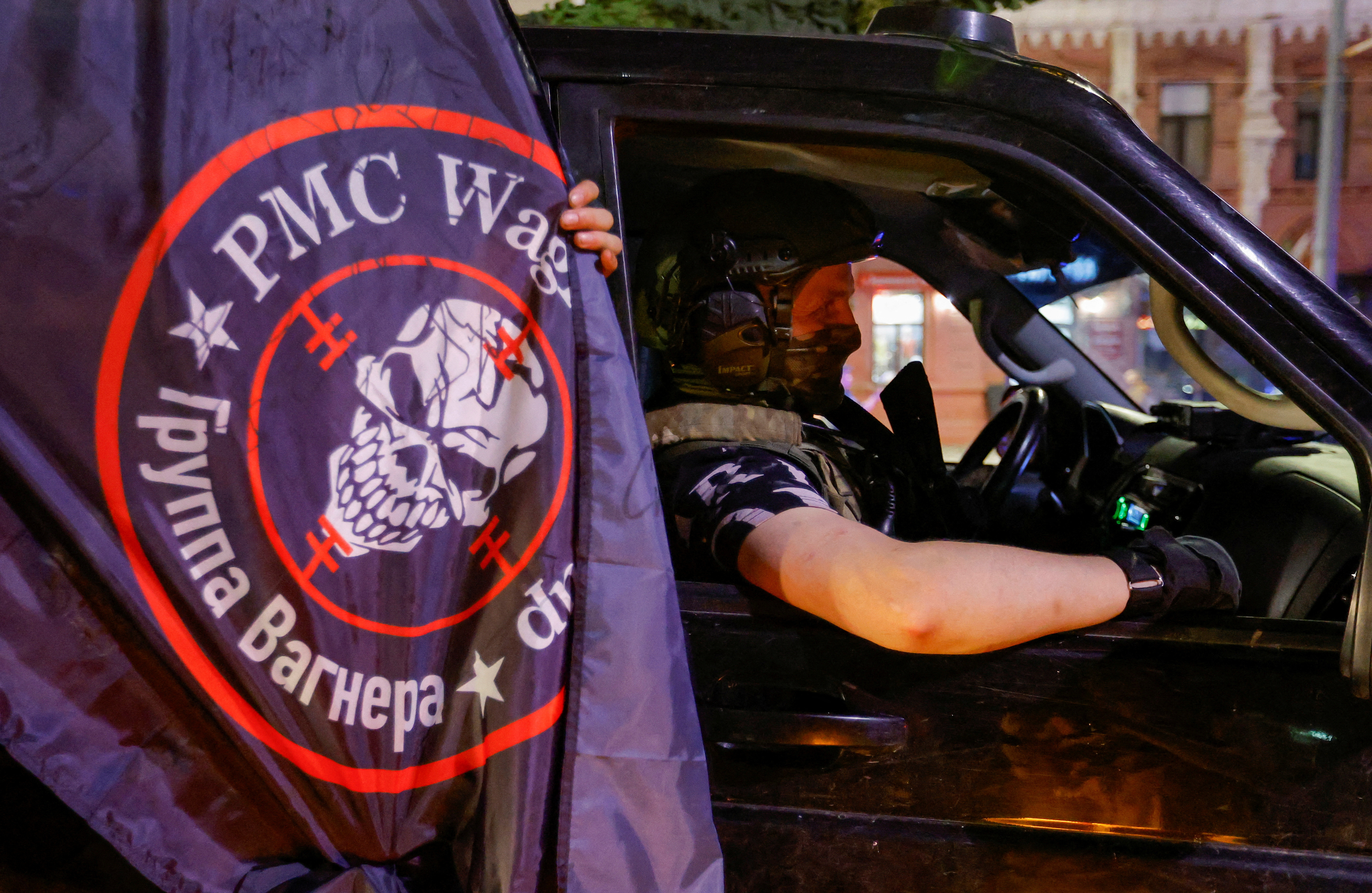 Wagner channels say Russian arrested in Finland is a top fighter with neo-Nazi background
PHOTO CAPTION: Representational photo — Fighters of Wagner private mercenary group pull out of the headquarters of the Southern Military District to return to base, in the city of Rostov-on-Don, Russia, June 24, 2023. REUTERS/Alexander Ermochenko
HELSINKI (Reuters) -Social media channels linked to Russia's Wagner Group mercenaries said on Friday a top fighter in one of the group's subunits had been detained in Finland at Ukraine's request.

Rusich, a far-right subunit affiliated to Wagner, identified him as Yan Petrovsky, a founding member and leader of the unit who has been under European Union and United States sanctions since last year.

It said on the messaging app Telegram that Petrovsky, who has fought in Ukraine since 2014, was initially arrested on July 20 for a visa violation, and could now be extradited to Ukraine.


Petrovsky, who was previously a resident of Norway, is a long-time far-right activist who helped found Rusich as an explicitly neo-Nazi unit during the opening stages of the conflict in the Donbas in 2014.

It is unclear how Petrovsky was able to enter Finland while under European Union sanctions.

Wagner, which has fought for Russia in Ukraine and runs mercenary operations in several African nations, has had sanctions imposed on it by a number of Western countries for alleged atrocities.

Its leader Yevgeny Prigozhin and several other top figures are presumed to have died in a plane crash this week, although the Kremlin has not definitively confirmed that.

A district court in Vantaa near Helsinki was expected to extend Petrovsky's detention in custody at the request of the Finnish National Bureau of Investigation on Friday afternoon, a court official said.


The bureau sought the detention of Petrovsky, who also uses the name Voislav Torden, on suspicion of participating in a terrorist group's activities as well as supporting terrorism, the official said.

Ukraine's prosecutor general did not immediately reply to a request for comment. On Telegram, Rusich published part of what it said was the Ukrainian request for Petrovsky's arrest.

Earlier on Friday, Russian state news agency RIA cited the Russian embassy in Helsinki as saying it was aware of the detention of a Russian citizen in Finland on Ukraine's request and was taking steps to offer consular assistance.

(Reporting by Felix Light in Tbilisi, Pavel Polityuk in Kyiv and Anne Kauranen in Helsinki; Editing by Mark Trevelyan)
MORE FROM THE
OAF NATION NEWSROOM