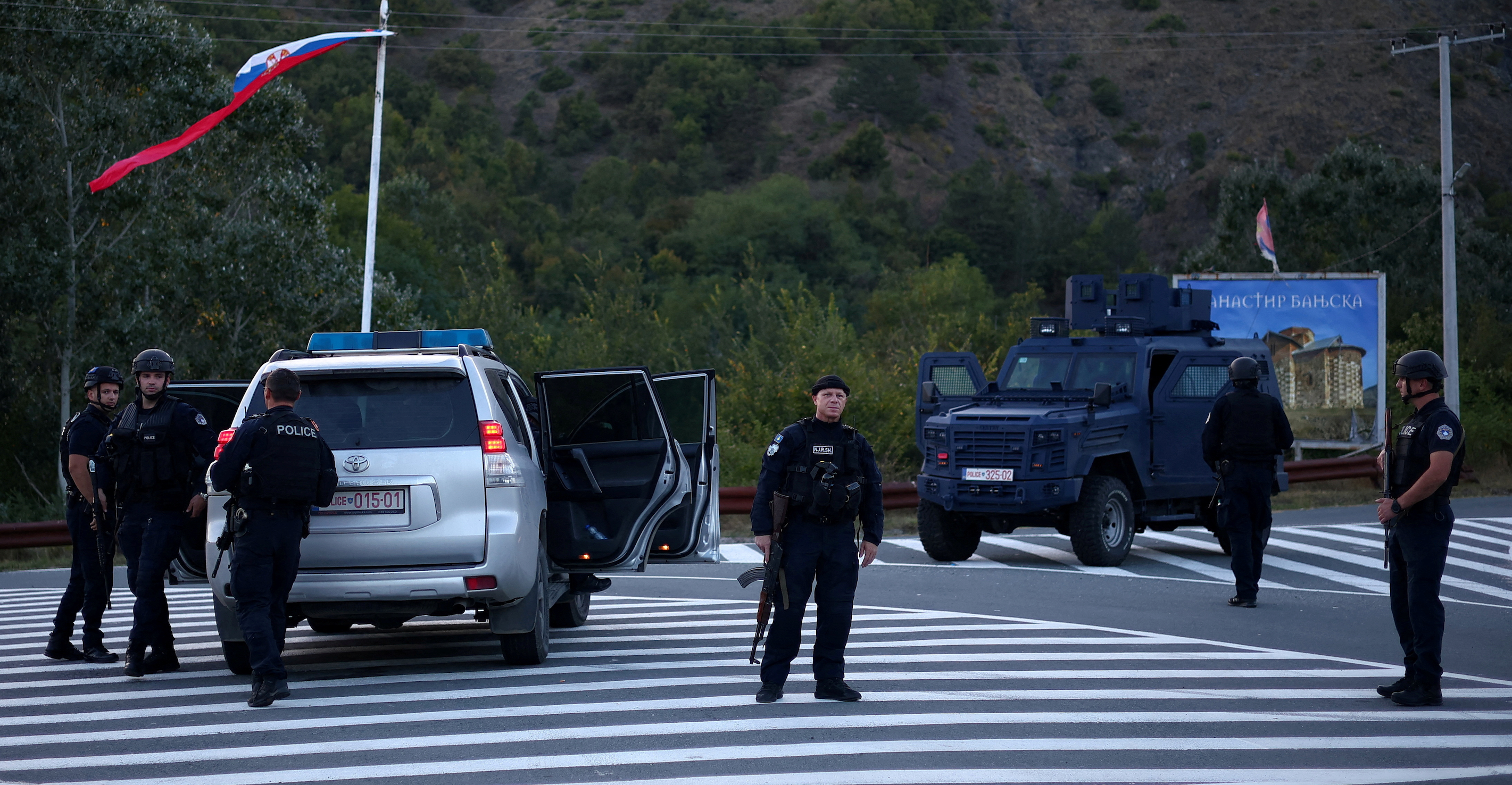 US working with Kosovo to investigate attackers' motives
PHOTO CAPTION: Kosovo special police officers patrol a road to Banjska monastery, in the aftermath of a shooting incident, near Zvecan, Kosovo September 26, 2023. REUTERS/Florion Goga
By Fatos Bytyci

PRISTINA (Reuters) - The U.S. is working with Kosovo to investigate a shootout that killed four people last weekend, the U.S. ambassador to Kosovo said on Tuesday, speaking after the deadliest violence to hit the contested region in years.

Kosovo authorities said around 30 heavily armed Serbs stormed the village of Banjska on Sunday, battling police and barricading themselves into a Serbian Orthodox monastery. Police recaptured the monastery late on Sunday after three attackers and one police officer were killed.

"We are still doing our hard work to figure out exactly how and who is responsible and why," Ambassador Jeffrey M. Hovenier said after meeting Kosovo President Vjosa Osmani.

The violence has prompted new international concern over stability in Kosovo, which has an ethnic Albanian majority and declared independence from Serbia in 2008 after a guerrilla uprising and a 1999 NATO intervention.

Belgrade has never recognised Kosovo's independence. Around 50,000 ethnic Serbs live in the north and largely reject rule from Pristina.

"This was not a group of individual citizens spontaneously coming together to express concern," Hovenier said, talking about equipment and weapons seized by the police.

"This was a trained, organised group. And that means that there are some structures behind them giving them the training and equipment."


No group has come forward to claim responsibility for the attack or explain the motives.

On Tuesday, Kosovo police said they arrested two more suspects in a hotel in the predominantly Serb north of the country and seized a cache of weapons including assault rifles and a heavy machine gun.

Police had also searched houses in Banjska and displayed weapons and equipment they said they had seized. They released drone footage they said showed a group of armed men resting inside the monastery compound on Sunday.

Kosovo has accused Serbia of backing the armed militants; Serbia says Kosovo is to blame for mistreating residents in the Serb-majority area.

"We know that there was an attack," Hovenier said. "That attack was done by a group that was well-organised, that was trained, that was professional. They had military grade equipment."

"We want to get to the bottom of all this and we will hold accountable those responsible."



(Reporting by Fatos Bytyci; writing by Daria Sito-Sucic; Editing by Josie Kao)
MORE FROM THE
OAF NATION NEWSROOM