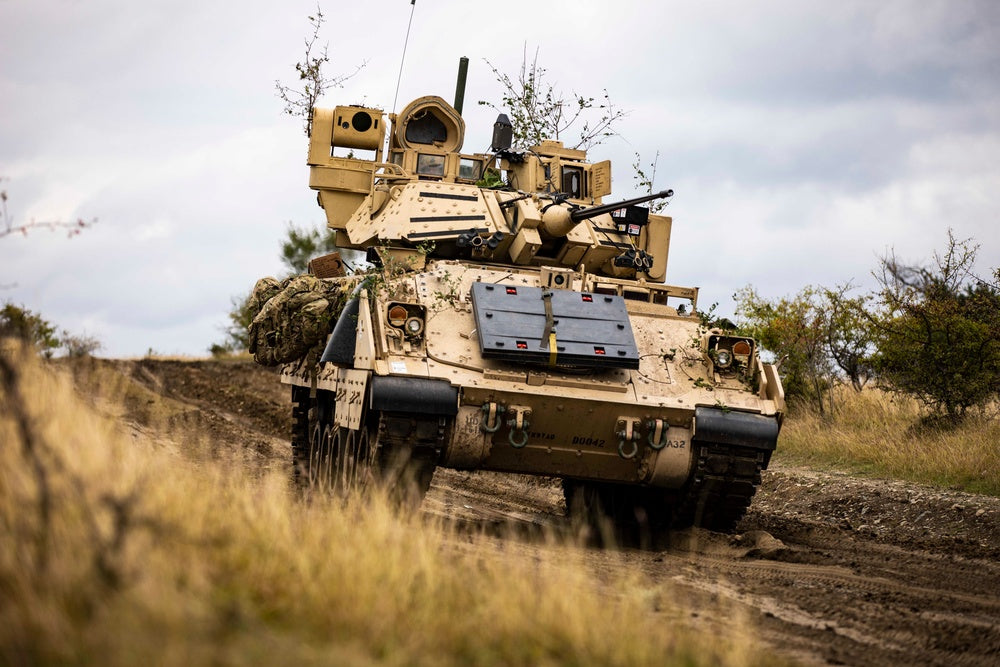 US to send Ukraine more Bradleys, Strikers, HIMARS ammo
PHOTO CAPTION: Illustrative photo — A M2 Bradley Infantry Fighting Vehicle assigned to 1st Battalion, 16th Infantry Regiment "Iron Rangers," 1st Armored Brigade Combat Team, 1st Infantry Division moves toward an objective during a multinational situational training exercise in Cincu, Romania, Sept. 23, 2021. (U.S. Army photo by Spc. Joshua Cowden via U.S. Defense Visual Information Distribution Service)
WASHINGTON (Reuters) -The United States will provide Kyiv with a new military package worth up to $500 million, the Pentagon said on Tuesday, in a show of support for Ukraine's fight against Russia as Moscow deals with the aftermath of a mutiny by mercenary fighters.
The package will include ground vehicles including Bradley fighting vehicles and Stryker armored personnel carriers, and munitions for High Mobility Artillery Rocket Systems, according to a statement from the Pentagon.
The package "includes key capabilities to support Ukraine's counteroffensive operations, strengthen its air defenses ... and other equipment to helpUkraine push back on Russia's war of aggression," the Pentagon said.
"I am sincerely grateful," Ukrainian President Volodymyr Zelenskiy said in a Twitter post "for another $500 million defense assistance package.Additional Bradley and Stryker armored vehicles, ammunition for HIMARS, Patriots and Stingers will add even more power."
Russia's embassy in the U.S. said on its Telegram messaging app that with the aid, "Washington only confirms the obsession with the idea of inflicting a strategic defeat on the Russian Federation."
The package is being funded using Presidential Drawdown Authority, or PDA, which authorizes the president to transfer articles and services from U.S. stocks without congressional approval during an emergency. The material will come from U.S. excess inventory.
The security assistance package is the 41st approved by the United States for Ukraine since the Russian invasion in February 2022, for a total of more than $40 billion.
(Reporting by Mike Stone in Washington; Additional reporting by Paul Grant, Rami Ayyub, Ronald Popeski, Lidia Kelly and Ismail Shakil; Editing by Alistair Bell and Stephen Coates)
MORE FROM THE
OAF NATION NEWSROOM