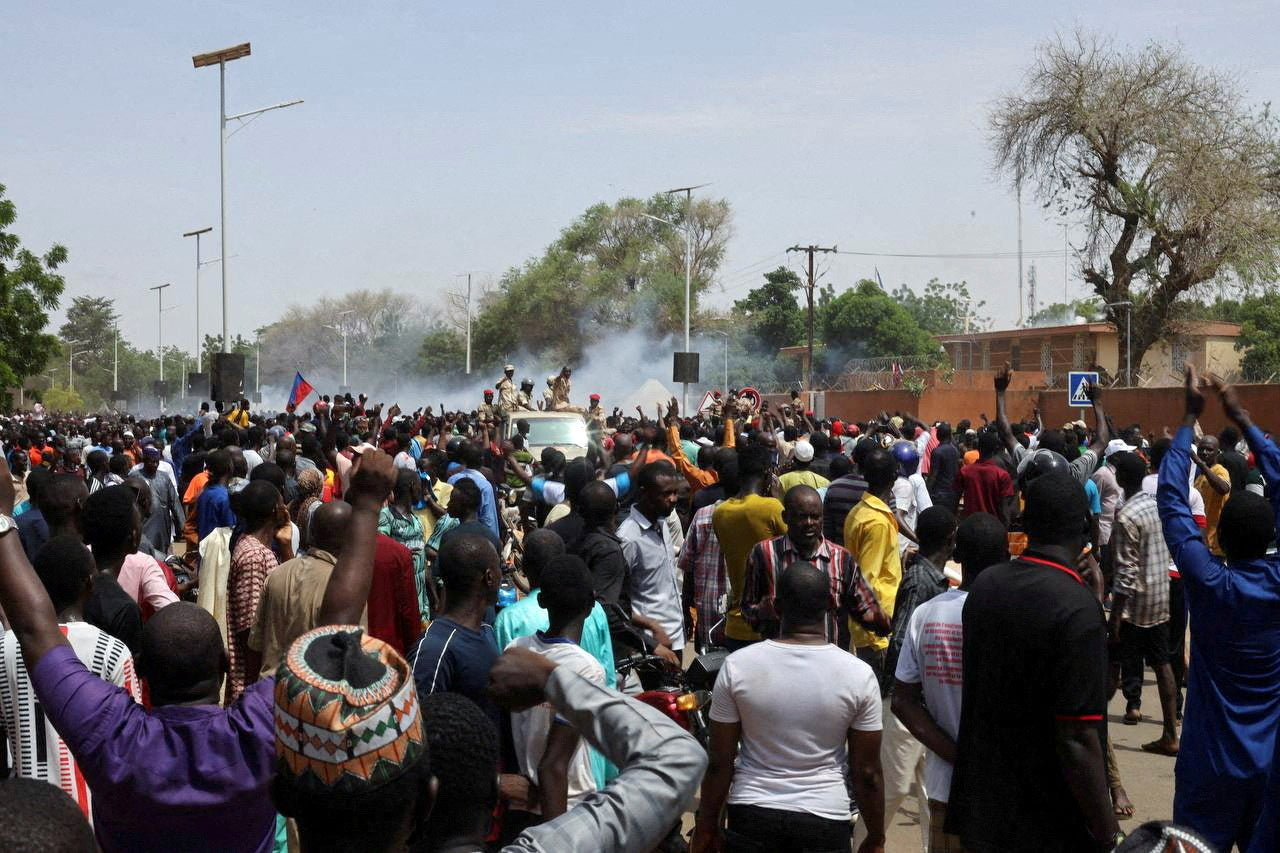 US says it sees narrow chance to reverse Niger coup
PHOTO CAPTION: Nigerien security forces launch tear gas to disperse pro-junta demonstrators gathered outside the French embassy, in Niamey, the capital city of Niger July 30, 2023. REUTERS/Souleymane Ag Anara
By Daphne Psaledakis and Simon Lewis

WASHINGTON (Reuters) - There is a narrow opportunity to reverse last week's military takeover in Niger and U.S. diplomatic and military posture there will depend on whether the democratically elected government is reinstated in the coming days and week, a senior U.S. official said on Monday.

The U.S. has condemned the junta's overthrow of elected President Mohamed Bazoum - the seventh military takeover in less than three years in West and Central Africa - which has raised fears for the security of the surrounding Sahel region.

Washington's objective is to support West Africa's regional bloc ECOWAS in its efforts to reverse the takeover, the senior State Department official said, speaking on condition of anonymity.

"We don't think it's fully successful, and we think there's a narrow opportunity to reverse it," the official told reporters.

"Our posture will depend on what happens over the next days and week in terms of whether or not we're able to help the region and the Nigeriens reverse this."


ECOWAS on Sunday gave Niger coup leaders one week to reinstate ousted Bazoum or face sanctions and the possible use of force.

The U.S., former colonial power France and other Western states have troops in Niger and had been working with the government battling militant forces linked to Islamic State and al Qaeda.

There are about 1,100 U.S. troops in Niger, where the U.S. military operates from two bases, and so far there have not been any announcements of a change in posture.

U.S. law on foreign aid prohibits most assistance to any country where the elected head of government has been deposed in a coup d'etat or by decree, unless the Secretary of State determines that providing aid is in the national security interest of the U.S.

The official on Monday said that if Washington concludes that a coup has taken place, it would comply with U.S. law, but added that the situation is very fluid and dynamic.

A change in government would affect Washington's ability to engage in Niger, though there are some exceptions to the law for counterterrorism, the official said.

"But we would prefer to have a good partner and an elected government. That's the best way to fight terrorism," the official said.

Niger and its neighbors Mali, Burkina Faso, Nigeria and Chad are all struggling to repel Islamist insurgents. U.S. military personnel have been training local forces to fight militant groups.



(Reporting by Daphne Psaledakis, Humeyra Pamuk and Simon Lewis; Editing by Marguerita Choy)
MORE FROM THE
OAF NATION NEWSROOM