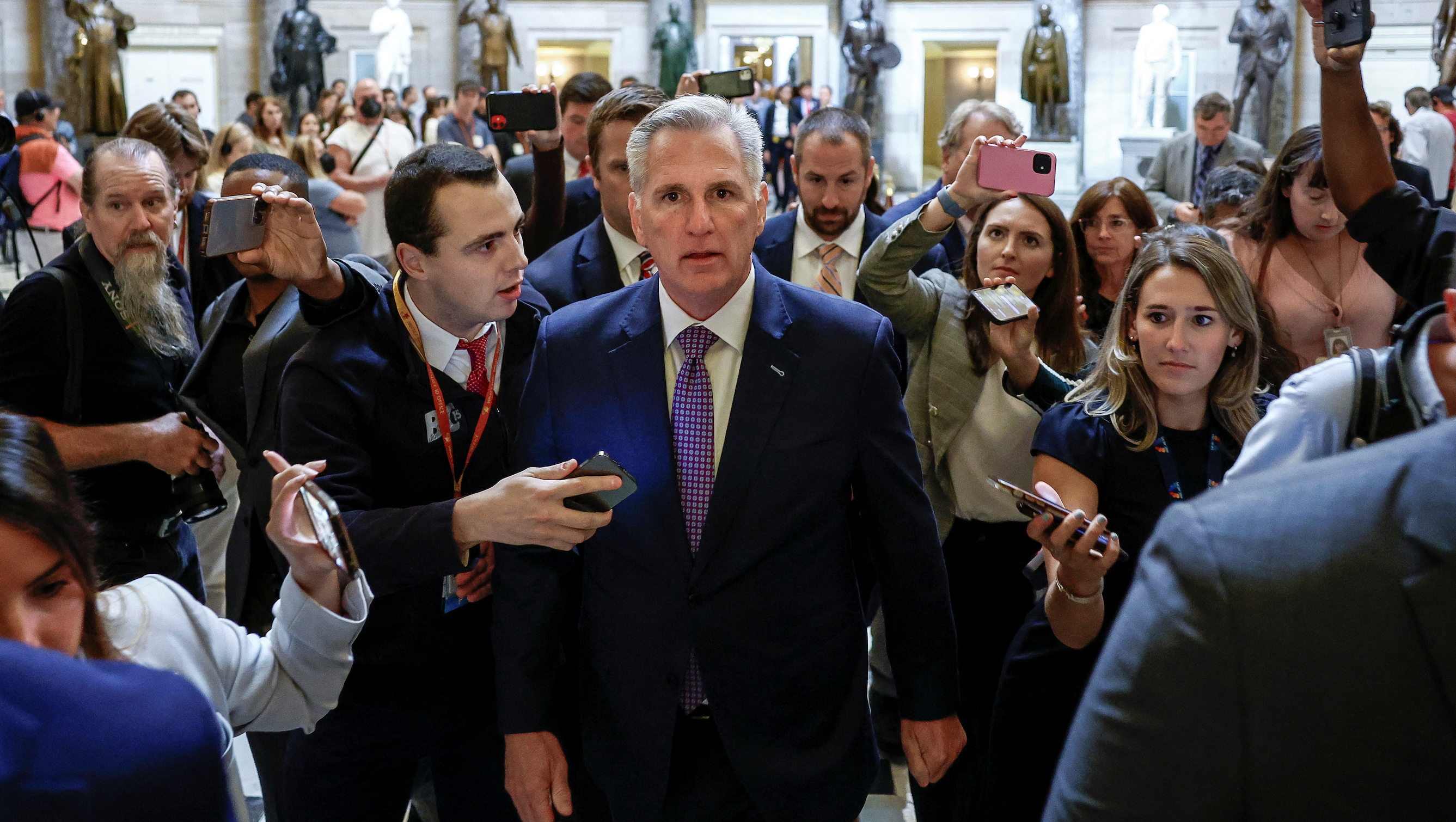 US House to press forward with spending cuts despite shutdown risk
PHOTO CAPTION: U.S. House Speaker Kevin McCarthy (R-CA) speaks with reporters after opening the House floor at the U.S. Capitol in Washington, U.S., September 18, 2023. REUTERS/Evelyn Hockstein
By Andy Sullivan and David Morgan

WASHINGTON (Reuters) -The Republican-controlled House of Representatives is due to try to advance steep spending cuts this week that stand no chance of becoming law and could force a partial shutdown of the U.S. government by next Sunday.

House Speaker Kevin McCarthy sought to avoid that scenario when he hammered out a spending agreement with Democratic President Joe Biden this spring. But some members of his own party have threatened to depose him if he does not support steeper cuts that are sure to be rejected by the Democratic-controlled Senate.

Hundreds of thousands of federal workers will be furloughed and a wide range of services, from financial oversight to medical research, will be suspended if Congress does not provide funding for the new fiscal year that starts Oct. 1.

Congress typically misses that deadline and passes stopgap spending bills to avoid disruption while they finish their work.

But McCarthy has been unable so far to muster support for a temporary spending extension as a group of hardline Republicans have refused to go along. Republicans control the House by a narrow 221-212 majority and have few votes to spare.

McCarthy has put the stopgap bill on hold and instead will advance legislation that reflects conservative priorities.


When the House returns on Tuesday, lawmakers will take up four spending bills for the coming fiscal year that would impose new restrictions on abortion access, undo an $11 billion Biden administration climate initiative, and resume construction of the Mexico-U.S. border wall, a signature initiative of former President Donald Trump.

McCarthy said lawmakers who had blocked spending bills last week were now more willing to cooperate. "Apparently they're willing to work now. So we could have an opportunity," he told reporters on Monday.

Those bills are certain to get rejected by the Senate, and the White House has said Biden would veto two of them.

McCarthy has said he hopes the effort would buy goodwill and allow him to pass a stopgap that would avoid a shutdown.

But Representative Matt Gaetz, a prominent McCarthy antagonist, said on Sunday he would not back a stopgap, even if it results in a shutdown.

"If the departments of Labor and Education have to shut down for a few days as we get their appropriations in line, that's certainly not something that is optimal. But I think it's better than continuing on the current path," he said on Fox News.

Another hardliner, Representative Marjorie Taylor Greene, said in a statement she would not even support bringing the spending bills up for debate on the House floor, because Ukraine aid is included with them.

Greene and other members of the hardline House Freedom Caucus have pushed to cut agency spending to $1.47 trillion, which is $120 billion less than Biden and McCarthy agreed to in their May compromise.

That only accounts for a fraction of the total U.S. budget, which will come to $6.4 trillion for this fiscal year. Lawmakers are not considering cuts to popular benefit programs like Social Security and Medicare, which are projected to grow dramatically as the population ages.

The Senate, meanwhile, is scheduled to advance a stopgap spending measure on Tuesday. If it passes, that could force McCarthy to rely on Democratic votes to pass it as well and avoid a shutdown before Oct. 1, which would incur the anger of his right flank and potentially put his job at risk.

Trump has urged Republicans to force a shutdown to interfere with his two federal criminal cases. The Justice Department says criminal prosecutions would continue in the event of a shutdown.

(Reporting by Andy Sullivan; Editing by Lincoln Feast and Alistair Bell)
MORE FROM THE
OAF NATION NEWSROOM