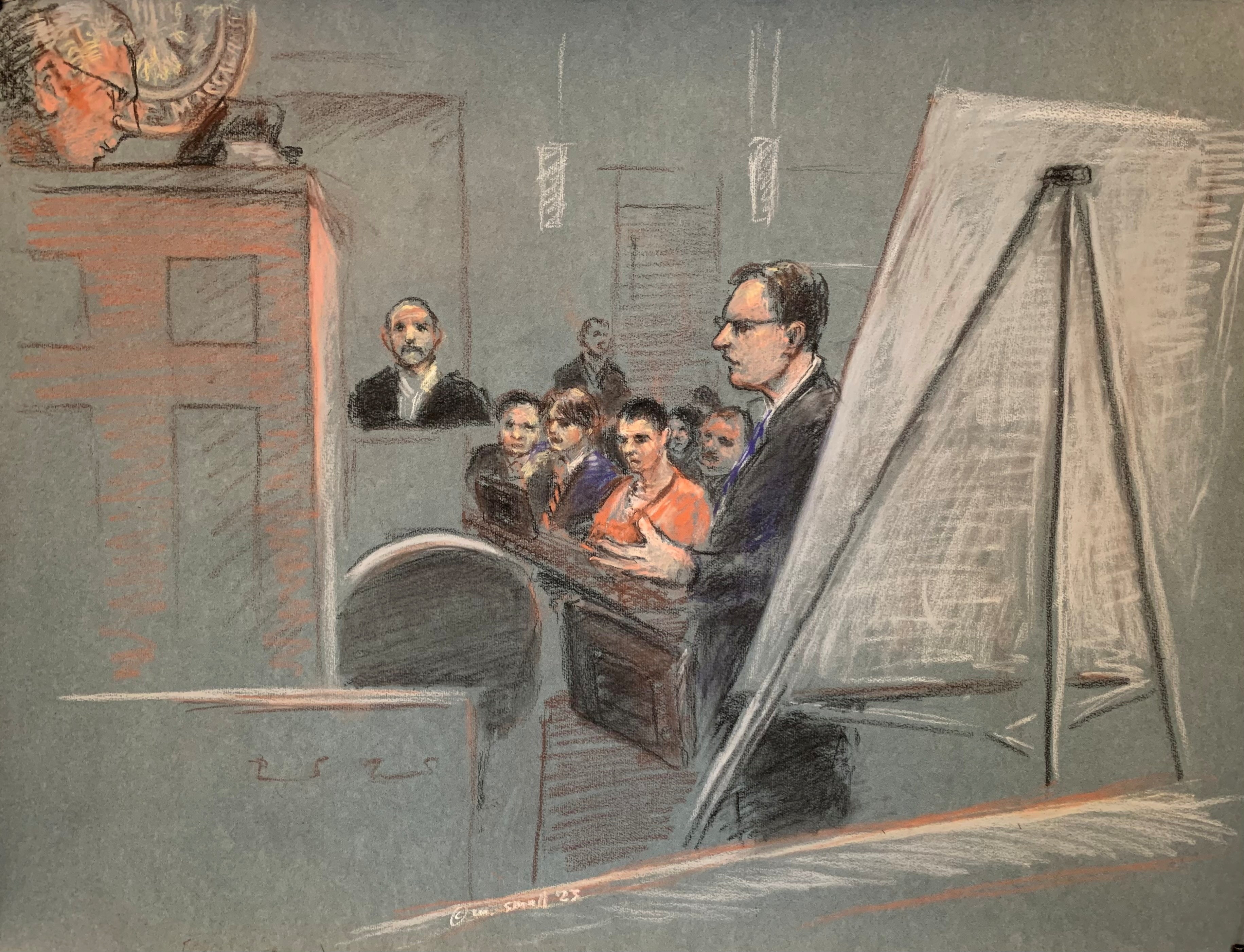 US grand jury indicts Pentagon leak suspect Teixeira, Justice Department says
PHOTO CAPTION: Jack Teixeira's father answers questions from his attorney as he takes the stand during a detention hearing for Jack Teixeira, a member of the U.S. Air National Guard who is facing criminal charges for leaking top-secret military intelligence records online, at the federal courthouse in Worcester, Massachusetts, U.S., April 27, 2023 in this courtroom sketch. REUTERS/Margaret Small
By Sarah N. Lynch and Kanishka Singh
WASHINGTON (Reuters) -A federal grand jury has indicted a U.S. Air National Guardsman accused of leaking top-secret military intelligence records online, the Justice Department said in a statement on Thursday.
Jack Douglas Teixeira, 21, of North Dighton, Massachusetts, was indicted on six counts of willful retention and transmission of classified information relating to national defense, the statement said.
Each charge of unauthorized retention and transmission of national defense information provides for a sentence of up to 10 years in prison, up to three years of supervised release, and a fine of up to $250,000, the department added.
Teixeira is accused of committing one of the most serious U.S. security breaches since more than 700,000 documents, videos and diplomatic cables appeared on the WikiLeaks website in 2010.
He was arrested in April after allegedly posting highly classified material on the messaging app Discord, prompting concerns about how a low-level airman could have such broad access to military secrets. Two commanders in his unit were later suspended.
Federal law requires the government to secure an indictment within 30 days of a person's arrest, and Thursday marked the 30-day deadline.
The leaked documents held highly classified information on allies and adversaries, with details ranging from Ukraine's air defenses during the Russian invasion to Israel's Mossad spy agency. U.S. President Joe Biden has ordered an investigation into why the alleged leaker had access to the sensitive information.
A member of the Massachusetts Air National Guard's 102nd Intelligence Wing, Teixeira had earlier waived his right to a preliminary hearing.
He had been charged in a criminal complaint with one count of violating the Espionage Act for unlawful copying and transmitting sensitive defense material, and a second charge related to unlawful removal of defense material to an unauthorized location.
(Reporting by Kanishka Singh, Sarah N. Lynch, Rami Ayyub and Susan Heavey; editing by Paul Grant and Eric Beech)
MORE FROM THE
OAF NATION NEWSROOM